NEWS: WordPress Version IS OUT!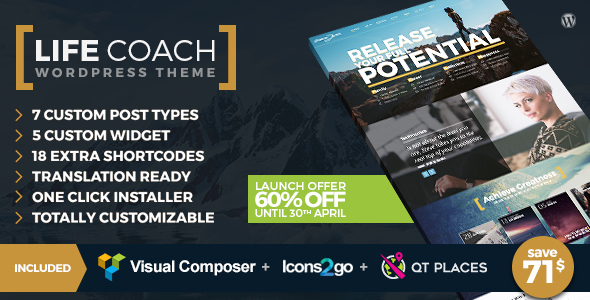 Discover now the powerful Life coach WordPress Theme"
This PSD template project is an elegant solution for a Life Coaching website. The product contains 4 PSD files:
TYPO: is a utility file containing the typography guidelines, font sizes, font families, list of icons and the color palette.
HOME: is the main template file which you can edit with your own contents
BLOG: Example of blog archive with sidebar
POST: Example of single post display with sidebar
COLOR PALETTE.aco: is a palette file for photoshop that
All the fonts are open source and included in the project, implementable via Google Fonts or webfont (provided).
Please install all the provided fonts before opening the project. The icons are created via QTicons and Dripicons (all open source and provided).
PHOTOS NOT INCLUDED. All the demo pictures are from unsplash.com (No copyright restrictions)
The new HTML version is out!
NEWS: WordPress Version coming soon!