Flexible email sets for slick and mobile-friendly Shopify email notifications. Packed with 3 themes, 9 email sets, handy branding options, preview text hacks and thumb-friendly buttons.
A complete responsive solution for online shops, service providers, mobile app makers, startups, entrepreneurs, email marketers and anyone who interacts with their customers via transactional emails.
Spend less time testing and more designing! The templates use a hybrid layout, progressive enhancement and graceful degradations to ensure compatibility with over 60 apps and clients. Popular clients include: Apple iPhone, Gmail, Apple iPad, Google Android, GmailApp, Apple Mail, Outlook, Yahoo! Mail, Outlook.com. Let Lil Commerce do all the hard work for you and watch your conversion rates skyrocket!
Upgrade your store's emails with a easy copy-and-paste install process. Customize your emails with native Shopify settings. Additionally, you can use the template's extra styling options to update the email background color, spice-up your CTA buttons or add your social accounts to the email's footer.

What you get
3 starter themes: default, material, bootstrap
9 email sets with different branding options
3 demo themes
18 notifications all Shopify notification emails
psd files for hero background images

9 email sets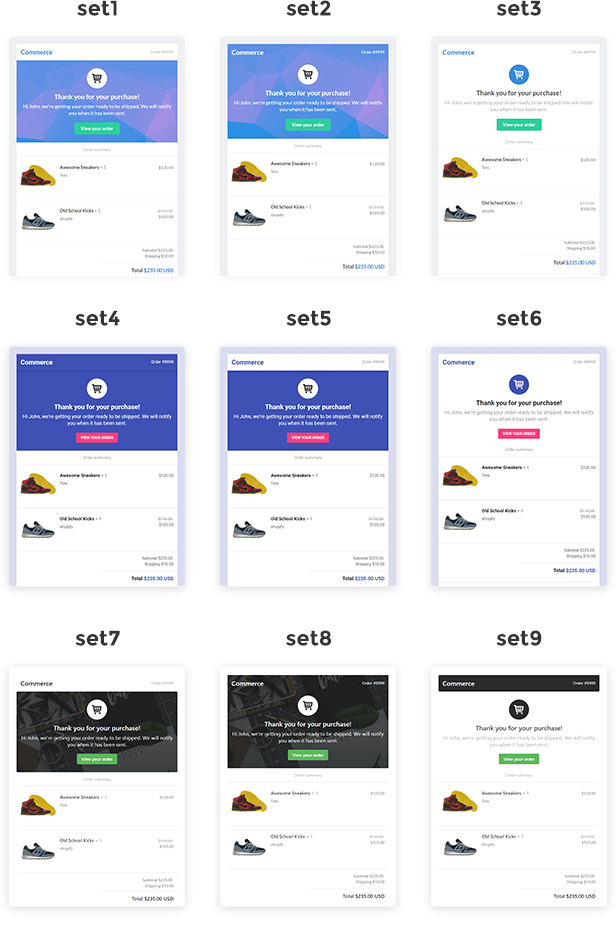 Covered notifications
Order Confirmation
Order Canceled
Order Refund
Draft Order Invoice
Abandoned Checkout
POS and Mobile Receipt
Gift Card Created
Fulfillment Request
Shipping Confirmation
Shipping Update
Shipment Out for Delivery
Shipment Delivered
Customer Account Invite
Customer Account Welcome
Customer Account Password Reset
Contact Customer
New Order
New Order (Mobile)

High quality stuff

I regularly update my items, either for platforms updates, reported bugs, or… you know… just for fun! Seriously, I ❤ all my items! Just check my track record.

Support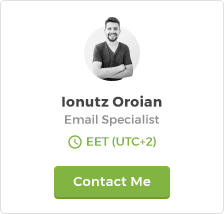 To get in touch with me use the official contact form. You can:
ask me technical stuff
get help with a displaying glitch
hire me for a custom job – I'm pretty pricey
ask me a weird question
Response time might take up to 1 business day, but I try to answer right away. I'm based in Romania, EET (UTC+2), so please mind the time difference.

Leave a rating
If you want to support my work or if you just thought my item was helpful, leave a 5 star rating and a short blurb on what you like the most about it. It means the world to me!

Compatibility
Desktop clients
Apple Mail 9, Apple Mail 10, Lotus Notes 8, Lotus Notes 8.5, IBM Notes 9, Outlook 2000, Outlook 2002, Outlook 2003, Outlook 2007, Outlook 2010, Outlook 2011, Outlook 2013, Outlook 2016, Windows 10 Mail, Thunderbird 45.
Mobile clients
Android 4.4, Gmail App (Android), Gmail App IMAP , Android 5.1, Android 6.0, iPhone 5s, iPhone 6, iPhone 6 Plus, iPhone 6s, iPhone 6s Plus, iPhone 7, iPhone 7 Plus
Tablet clients
iPad (Retina), iPad Mini, iPad Pro (12.9inch)
Web-based clients
AOL Mail, Comcast, freenet.de, G Suite, Gmail, Inbox by Gmail, GMX.de, Mail.ru, Office 365, Outlook.com, T-Online.de, Terra Mail, Web.de, Yahoo! Mail 
(tests performed in Explorer, Firefox and Chrome).

Stuff I Do
Envato × Twitter × Dribbble × Instagram × Behance × Facebook × Email Collection

Resources

Changelog
2017 May 21
order confirmation update ( transaction authorization snippet removed )
2017 May 10
Themes update + extra sets