NEW UPDATE – 12+ DIFFERENT HOMEPAGE LAYOUTS
Market – The Best eCommerce Magento 2.1.1, 2.0.x and 1.9 Shopping Theme
Market is a responsive Magento 2 & 1.9 theme which is fully customizable and suitable for online stores, especially for multi-category store with multiple branches and products such as online market store, supermarket store, digital store, hi-tech store, watch store, fashion store, clothing store, furniture store, book store, cosmetics shop, luxury jewelry & accessories store or mega stores.
Integrating with many premium Magento extensions like SM Camera Slider with a smooth transition effect, Vertical Mega Menu with multiple columns and static blocks with a nice image, SM Tab Listing shows products of each category in each tab with the slider. SM Categories helps you show many categories with the display image. Static blocks with nice images and texts bring helpful information about your store. Layered navigation ajax, ajax cart pro extension help customers purchase more quickly, multi-language, multi-currency, product hover effect and so on.
ONE-CLICK IMPORT DEMO PAGES, STATIC BLOCKS AND CMS PAGES
No need to waste time struggling to create Demo Pages, Static Blocks or CMS pages. We integrated One-click import function in this Magento 2 theme. Just simple with once-click you can import any pages with sample content from the demo easily.
12 HEADER STYLES
This theme includes 12 header styles for you choose from. You can choose the header style, which is suitable for your eCommerce store.
UNLIMITED COLOR OPTIONS
The Magento 2.0 and 1.9 theme comes with a lot of color styles. Besides, it gives you the full control in customizing color schemes in the back-end.
MENU STYLES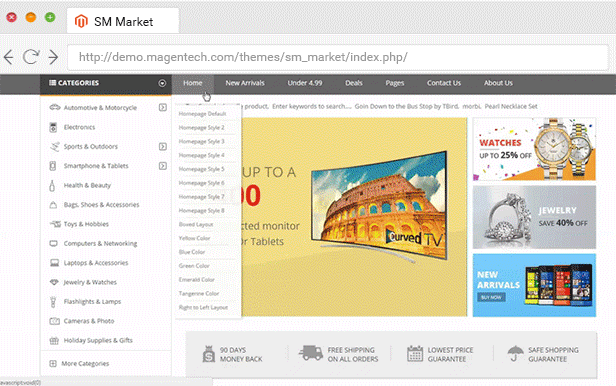 With our Magento 2 mega menu, you can create a menu with up to 6 columns to display categories and products with description, price, image, video, effects… or even add links to any page, static blocks with promotion banners and modules.
RESPONSIVE DESIGN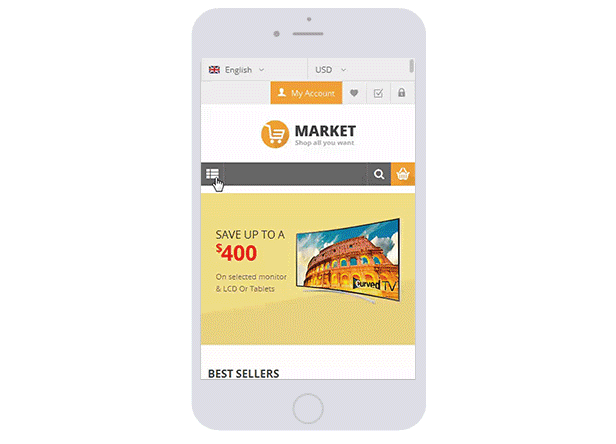 Market magento theme is designed to be fully responsive. It will make your site have amazing look on different screen resolutions such as: mobile, iPhone, iPad and other tablets.
QUICK VIEW PRODUCT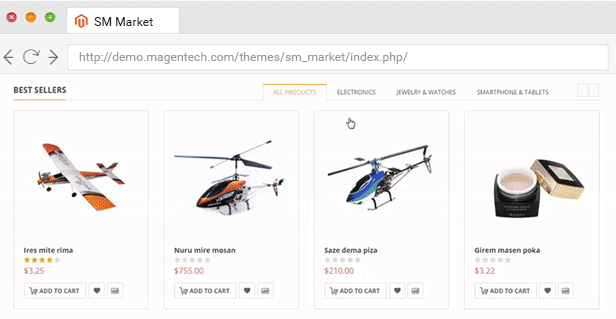 It's so convenient for customers to view quickly detail product on the Homepage, Listing page without leaving the current page. Your product detail will open with full necessary information like: image product, product price, description, product reviews, product attributes and link to the product detail page, etc.
MINICART PRO
Be built-in SM Cart Pro extension, you can select product to buy without leaving current page, instantly add product to basket. Increase user experience and sales.
Allow visitors to remove product to the cart without redirecting to the checkout page.
Supports layout on top and left or right-hand slide.
SEARCH BOX PRO
Your customer can easily find product according to category or child category or find what they are looking for by entering directly the product name, description, price, sku…
RICH SNIPPETS
Allows you to control the appearance of your product such as product name, image, reviews and other useful information in organic Google search results, increasing click-through rates and improve quality traffic to your store.
VARIOUS CATEGORY PAGE STYLES
To enhance the customer's shopping experience, we are integrated SM Shop By extension – a great extension come with Ajax technology that helps customer filtering products without reloading the page. By selecting Category, Color, Price or Manufacture, your customer can find the exact product they want faster.
PRODUCT DETAIL PAGE
Your customers can easily find deeper information about a product before making a decision to order
Image Cloud-Zoom:  Allow you to zoom-in product image just mouse hover on the image. It also works well on iPad and other tablet devices…
Pop-up Image:  Allow customer to quickly view a full product image on the fancy box popup. Display as a gallery slider to show all related images of this product.
Related Products:  Allow you to display more related products in a category with product images, descriptions and more as well as access detail product page to purchase these items.
Up-sell products: Display more recommended products with slider
Social network : The best way to share your product to the world. We are integrated many social channels and share button to you.
+12 EXTRA PAGE DESIGNS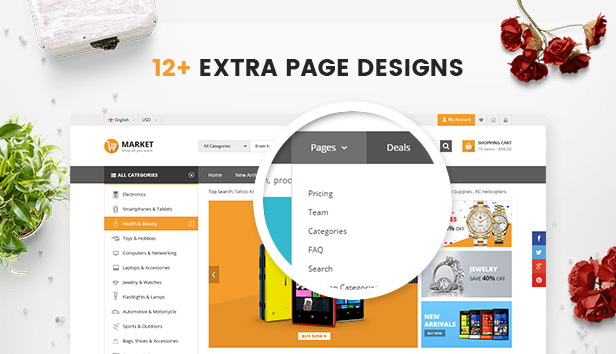 There are 12+ well-designed pages added to this theme for you choose from.
POWERFUL ADMIN PANEL
With our Magento 2 Admin Panel, you will have full permissions to configure/update your online Magento store theme as you want without any coding experiences required.
FULL LIST OF FEATURES:
Multiple homepage layouts (12+ Unique designs)
Multiple layouts and setting options for Category page, product page
Unlimited Color Options for Magento 2.1 Theme
Easy to install Sample Data
Support 3 layouts for pages: 1, 2 or 3 columns
Select one among 8 available header styles for your site
Support wide and boxed layout
Support Mega Menu and Css Menu:

Set-up rows and columns
Display extension; thumbnail image for category/product
Display static blocks contain texts and images below menu items

Google Rich Snippets supported for Magento 1.9
Ajax Layer Navigation
Grid & List view

Allow to display your items in either list or grid view

Support multi-currency, multi-language
Integrated Google Fonts
Include Free Premium Magento Extensions:

For Magento 1.9.x Package: SM Shop By, SM Quickview, SM Cart Pro, SM Basic Products, SM Search Box, SM Mega Menu, SM Camera Slider, SM Tab Listing, SM Categories, SM Listing Deals, SM Listing Extend, SM Deals.

Configurable Swatches: Just click the swatch option and the product image will change immediately (only available for Magento 1.9.1.x)
AJAX Add to Cart – AJAX Add to Whislist
Custom image product with Inner Zoom/ Out Zoom/ Lens Zoom
Support 6 different types of product profile
Responsive layout for PCs and Mobiles
Various color styles and typography by powerful C-panel
Custom wishlist page, cart page and contact page
Support Cloud Zoom and Pop-up images on the detail page
Support various Preset Color Styles: Yellow, Blue, Green, Emerald and Tangerine.
Cross-browser: IE 10+, Safari, Mozilla Firefox, Opera 9+ and Chrome
PSD theme files included for FREE!
100% table-less design, based on CSS3 with many animated effects
Social networks integration
Additional Footer, Back to top button and Navigation links
Compatible with Magento: Magento CE 1.9.0.0, Magento CE 1.9.0.1, Magento CE 1.9.1.0, Magento CE 1.9.1.1, Magento CE 1.9.2.0, Magento CE 1.9.2.1, Magento CE 1.9.2.2, Magento CE 1.9.2.3, Magento CE 1.9.2.4, Magento CE 2.0.0, Magento CE 2.0.1, Magento CE 2.0.2, Magento CE 2.0.4, Magento CE 2.0.5, Magento CE 2.0.6, Magento CE 2.0.7, Magento CE 2.1.0, Magento CE 2.1.1, Magento CE 2.1.2
WHAT ARE INCLUDED?
Market Magento 2 Store Theme Package
This package includes modules, theme. Use this package to install to your current site
QuickStart Installation Package
This package includes modules, theme, sample data. By using this package, you will have a complete site look like demo site.
PSD Sources
All PSD design themes
Detailed Documentation
Provide all detailed steps to configure eCommerce theme
CHANGE LOGS
------------ VERSION - 2.5.1: Release on Oct-15-2016 ------------
[+] Upgraded to Magento 2.1.2
------------ VERSION - 2.5.0: Release on Sep-30-2016 ------------
[+] Upgraded to Magento 2.1.1
[+] Display add to cart, add to compare, add to wishlist in the module: configuration theme 
[+] Added parameter max-width configuration for website
[+] Using default image box on the detail page and including other settings (that library supports)
[+] Font size turned to select option type
[+] Updated newsletter popup: Added show/hide parameter
[+] Added hide/show new/sale icon parameter
[+] Right to Left support
------------ VERSION - 2.4.0-Update: Release on Sep-15-2016 ------------
[+] Fixed bug: Rich snippets on Magento 1.9.x package

------------ VERSION - 2.4.0: Release on Aug-20-2016 ------------
[+] Added 04 Hompage designs
[+] Updated: import demo function in the backend

Update Version 2.3.0 for Magento 2.1.0 – Jul-23-2016
------------ VERSION - 2.3.0: Release on Jul-23-2016 ------------
[+] Compatible with Magento 2.1.0
Note: With the Magento 2.1.0 package, please run PHP version 7.0.2 up to 7.1.0, except for 7.0.3, 7.0.4, 7.0.5. 
There is an issue that affects code compiler; to avoid the issue, do not use PHP 7.0.3, 7.0.4, 7.0.5
For more information related to other system requirements for Magento 2.x, please check here: http://devdocs.magento.com/guides/v2.0/install-gde/system-requirements.html

------------ VERSION - 2.2.1: Release on Jul-18-2016 ------------
[+] Updated SM Mega Menu 
[+] Fixed active css issue for all headers' item 
[+] Fixed other small style issues 

------------ VERSION - 2.2.0: Release on Jun-27-2016 ------------
[+] Update 4 remain homepages to compatible with Magento 2.0
[+] Update 4 remain headers to compatible with Magento 2.0
[+] Update 3 product detail styles (2 thumbnail styles, 3 tab styles, 3 popup fancy box styles)
[+] Update 12 bonus pages
[+] Update Listing Deal page
[+] Update New Arrivals page
[+] Update Under price page
[+] Update all modules to the latest version 
[#] Fixed bug: compile
------------ VERSION - 2.1.0 - Update: Release on May-27-2016 ------------
[+] Upgraded theme to be compatible with Magento 2.0.7
------------ VERSION - 2.0.0 - Update: Release on May-25-2016 ------------
[+] Upgraded theme to be compatible with Magento 1.9.2.4 
[+] Added 4 homepage layouts
[+] Added cyan color
[+] Added 12 bonus pages
------------ VERSION - 1.4.0 - Update: Release on Apr-29-2016 ------------
[+] Fixed bug: SM Megamenu error on Linux
------------ VERSION - 1.4.0: Release on Apr-18-2016 ------------
[+] Upgraded theme to be compatible with Magento 2.0.4
------------ VERSION - 1.3.0: Release on Nov-13-2015 ------------
[+] Upgraded theme to be compatible with Magento 1.9.2.2
[#] Fixed bug of Menu Deals: The "Load More" button doesn't show when clicking on
[#] Fixed bug: Discounted time ended, but "Sale" icon still display on frontend. 
[#] Fixed bug: Broken layout on the ipad sreen
[#] Fixed bug: Next and Prev buttons of slider broken
------------ VERSION - 1.2.5: Release on Aug-26-2015 ------------
[+] Upgraded theme to be compatible with Magento 1.9.2.1
[^] Replace SM Dynamic Slideshow by SM Camera Slider
[#] Fixed bug: Couldn't access to Menu item of SM Mega Menu module when upgrading theme to Magento 1.9.2.1
[#] Fixed bug: Saving cache when upgrading theme to Magento's latest version
[#] Fixed bug: Configurable product can't add to cart 
[#] Fixed bug: Brake layout on New Arrivals, Deals and Blog pages
------------  VERSION - 1.2.4:  Release on Mar-24-2015  ------------
[+] Removed Blog - Community Edition by aheadWorks. To download this extension, please go here: http://www.magentocommerce.com/magento-connect/blog-community-edition-by-aheadworks.html

------------  VERSION - 1.2.3:  Release on Feb-6-2015  ------------
[+] Add Deals page
[+] Add Under specific price page (demo: $4.99)
[+] Add New arrivals page
[^] Update Color Swatches
[#] Fixed: Search issue on mobile
[#] Fixed: Can't add Configurable Product
[^] Update 404 page

------------  VERSION - 1.2.2:  Release on December-31-2014  ------------
[+] Update core to be compatible with Magento 1.9.1.0, using database Magento 1.9.1.0
[+] Update layout to be compatible with Magento 1.9.1.0
[#] Fixed bugs:
Mega Menu module
No display compare param error.  Add to compare was hidden but compare block on left wasn't hidden
In case merge JS, an error has occurred when creating or editing new slider 
Vertical menu is empty but child menu still have menu icon
Create a widget instance of category link, in the widget options the category selector button is not displaying
On Home style 3 error: Vertical menu doesn't show when selecting css menu
tangerine.css lack of classes for .header4-wrap
summary-details on the shopping cart page displaying none
Tagged list haven't pagination

------------  VERSION - 1.2.1:  Release on December-3-2014  ------------
[#] Fixed Right To Left style 
[#] Fixed vertical menu style

------------  VERSION - 1.2.0:  Release on November-22-2014  ------------
[+] Support Rich Snippet
[+] Added: Righ To Left Direction

------------  VERSION - 1.1.4: Release on November-05-2014  ------------
[#] Fixed: Mega Menu configuration error when changing language
[#] Fixed: Menu error when using theme with non_responsive
[#] Fixed: Menu on top error with header styles

------------  VERSION - 1.1.3: Release on October-28-2014  ------------
[+] Added "sm_market_theme_v1.1.2_to_v1.1.3-patch" file. This file helps customers who customized site knows which files are being modified on version 1.1.2.
[^] Updated JS, CSS Compress
[^] Updated Theme Configuration  (remove responsive/non-responsive configuration on devices) This function will be configured on child theme.
[#] Fixed Searchbox pro issue when no-responsive is active

------------  VERSION - 1.1.2: Release on October-21-2014  ------------
[#] Fixed:
Popup Image in detail page
Enable Flat Categories and Products
Merge CSS and JS Files
Enable Compilation
Caching Magento
Check Speed

------------  VERSION - 1.1.1: Release on October-17-2014  ------------
[#] Fixed:
SM Dynamic slideshow error (Lack of transparent.png, so console log increase when loading page)
NetworkError: 404 Not Found 
Search box was hidden when clicking on other part on page (In case user didn't install Quickstart and select "Enale Device Responsive")

------------  VERSION - 1.1.0: Release on September-27-2014  ------------
[+] Added 3 new header styles
[+] Added 3 new homepage layouts
[#] Fixed:
Quickstart installation and create new admin account issue
Dynamic Slideshow redirect to Not Found page in the Admin Panel
Fatal error:Class 'Mage_Adminhtml_Controller_action' not found in app/code/local/Sm/Megamenu/controllers/Adminhtml/MenuitemsController.php on line 11
404 Error when accessing to SM Deals in Admin Panel
Validate quantity prodcut when Inventory doesn't manage stock

------------  VERSION - 1.0.0: Release on September-23-2014  ------------
[+] Initial Release

Connect with Us to Get Updates
More Magento Magento 2.1.1, Magento 2.0 and 1.9 eCommerce Themes from Magentech
Tags
best ecommerce theme, premium responsive magento, top magento theme, fashion store, fashion shopping, free magento 2 extension,