17/11/2016 – An updated version is ready to be downloaded. Happy updating!
NAYMA is a stylish, multi-purpose and responsive WordPress theme suited for many, many different types of websites. Project showcasing, Shopping sites, Business websites, you name it. It was developed along WordPress best practices, with great attention to details to make your work easier than ever! With lots of options, an extremely flexible framework and still highly intuitive. Scroll down to see what's inside.
Wonder what our users are saying?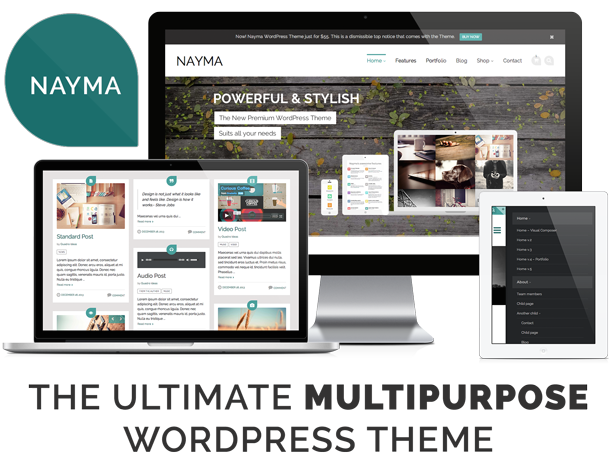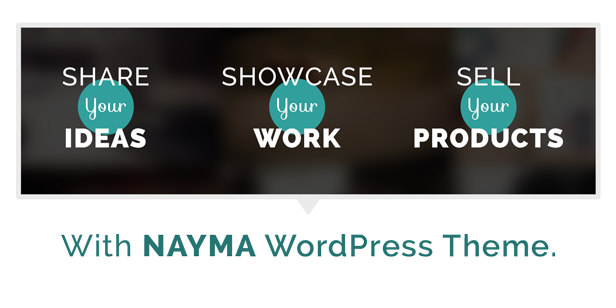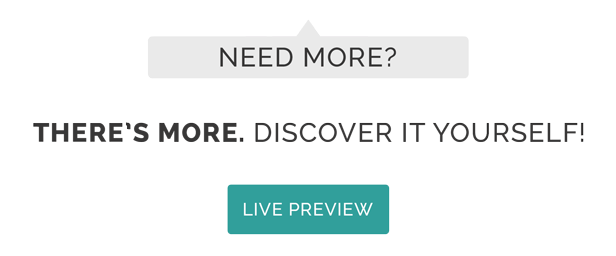 Still in doubt?




And now, for the readers, the full list of features
Responsive & Retina ready
Multilingual & Translation ready – Compatible with WPML
WooCommerce Integration – Fully implemented into the theme
Free Premium Support!
One Page Site creation
12 custom Builder Modules – NAYMA is loaded with 12 special modules. Create with them endless layout combinations Modules available are:

3 Custom Crafted Sliders
Crelly Slider
Empty Canvas (free text, HTML & Page Builder)
Carousel (showcase any type of post!)
Recent Posts
Blog (masonry, classic or teasers styles)
Portfolio (with tons of available layout options)
Slogan + Call to Action
Team
Testimonials
Featured Post (a great way to feature a post)
Clients Carousel

Crelly Slider plugin integration
SiteOrigin's Page Builder plugin integration
600+ Google Fonts implemented
Custom Font upload
360+ icons from the great FontAwesome!
70+ Background Patterns for you to choose in every section!
4 Styilish Header Types
Sticky header functionality
Top Dismissible Notice
Widgetized areas on Footer and Topper Header
Multiple Widget areas layout
5 Custom QuadroIdeas Widgets (Twitter, Video, Image, Google Maps, Recent Posts)
Infinite sidebars available for every page
Contact Form 7 plugin integration. Already styled for NAYMA!
Export/Import Options Functionality
Options BackUp integrated
Demo Content + 1 click install!
Boxed & Stretched layouts
Social Icons with customizable styles
WordPress Post Formats support
Extremely flexible & useful Portfolio, with multiple layouts combinations, 4 single post layouts and Custom Fields creator
Easy and intuitive Options Panel
Ajax "Load More" functionality on Blogs & Portfolios
Layout, Design & Typography options
Page headers special styles
Parallax Background in Modules
Custom Backgrounds for every page
Note for pre 2.1.0 users: As you have probably read in our blog, Nayma won't ship with Slider Revolution, nor with Visual Composer plugin anymore (we are switching over to a couple of exciting plugins) but it will still support them for a limited time. If you have questions concerning this switch, come over to our forum and let us know. We want to hear you!
Credits & Warm Thanks
Changelog

---- V 2.4.3 —— 17/11/2016 ----
- Updated FAQ copy
    */inc/getting-started/theme-faqs.php
- Added a new Getting started area
    */inc/qi-framework/framework-styles.css
    */inc/qi-framework/gs-helper.php
    */inc/getting-started/getting-started.php
- Added license and domain to update request on framework
    */inc/qi-framework/update.php
- Styled NEW WooCommerce My Account Page Tabs
- WC Login From Adjustment
    */inc/woocommerce-styles.css
- Added new Ready Made Site: Traveling Diary
    */inc/dcontent/diary/*
    */inc/dcontent/dcontent_available.php
- Fixed Vimeo URL on helpers
- Fixed multiple line quote fetching
    */inc/qi-framework/extras.php
- Fixed video SSL URL on helpers
- Fixed double search not submitting on submit click
- Removed imagesLoaded script from bundled scripts
- Added images loaded check to blog gallery (fixes wrong height on gallery post format)
- Removed mediaelement call on Blog's load more, which prevented flexslider galleries from working properly
- Fixed Quotes slider showing controls when only one quote
- Fixed missing smooth height on Load More for gallery posts
- Fixed: don't run slider script on Slider Module when there's just 1 slide (so it doesn't show the navigation controls neither)
    */js/scripts.js
- CSS Little Adjustments
- Limited Contact Form 7 form width
- Adjusted colors of links in posts (meta data, title, etc.), the only element with the link color should be the "Read more" link, the rest is greyscale now
- Adjusted Menus so they look good also when there's no custom menu created yet, just regular page links
- Increased Header's z-index so Crelly Slider loader bar doesn't pass above it
- Added hover status and style to Headline Caption button on Slider Module
- Adjusted hamburger menu icon color - So now it uses the same color the menu has. In Header Layout 4 it also respects the background color of the navigation bar
- Added "background-size:cover" to body when there's an image background
- Fixed Drop Caption on Slider Module so it stays in the middle (vertically) always
- Refactored Slider Module Captions (all 3 styles) so they position themselves in the middle vertically (instead of a position from the top)
- Adjusted Video and Audio WP Embeds Controls
- Adjusted category links on single post
- Adjusted images size and position on single post in smaller devices
    *style.css
    */inc/css-functions.php
- Added Background Overlay Feature in Module Style
    */inc/custom-fields-definition.php
    */inc/theme-functions.php
    *(+ all module-*.php files)
- Changed name for modular template to Modular Template
    *template-modular.php

---- V 2.4.2 —— 14/9/2016 ----
- Added new Gallery module
     */images/admin/gallery-styles/*
     */inc/custom-field-definitions.php
     *module-gallery.php
     *style.css
     */js/scripts.js
- Ditched bundled version of jQuery Masonry in favor of WordPress' native one
     *functions.php
- Adjusted gallery function to accept caption and link
     */inc/qi-framework/extras.php
- Fixed errors in the import process
     */inc/qi-framework/dcontent_importerx.php
     */inc/qi-framework/wordpress-importer.php
- Updated language files
     */languages/*

---- V 2.4.0 —— 5/8/2016 ----
- Added new module: Call To Action
- Added Size option for Slogan Module (Regular/Giant)
     *module-slogan.php
     *module-cta.php
     */inc/custom-fields-definition.php
     *style.css
- Added new RMS functionality and 4 Ready Made Sites (Landscape, Give, Reception and Coffee)
- Updated Main Demo Export Files
     */inc/dcontent/
- Fixed responsive WooCommerce cart page
     */inc/woocommerce-styles.css
- Updated language files
     */languages/nayma.pot
- Updated syntax for get_terms function
     *module-portfolio.php
- Fixed Nayma WP native gallery columns
- Crelly Slider styles adjustments (loader and others)
     *style.css
     */inc/qi-framework/plugins/crelly-slider-styles.css
- Updated syntax for get_terms function
- Added check for sidebars existance
- Added LinkedIn to Team Social Networks in Framework
     */inc/qi-framework/custom-fields-functions.php

---- V 2.3.7 —— 29/6/2016 ----
- Modified company name and links in framework
- Fixed services icon picker in framework
     */inc/qi-framework/dashboard-helper.php
     */inc/qi-framework/framework-styles.css
     */inc/qi-framework/options-herlper.php
     */inc/qi-framework/gs-helper.php
     */inc/qi-framework/update.php
     */inc/qi-framework/images/at-logo.png
     */inc/qi-framework/js/admin-scripts.js
- Fixed Revolution Slider shortcode not working
     *module-revolution.php
- Modified company name and links in theme
- Added option for deferring scripts
- Fixed z-index for slider navs
- Added license option to Theme Options
     *functions.php
     *style.css
     */inc/dcontent_available.php
     */inc/getting-started/getting-started.php
     */inc/getting-started/theme-faqs.php
     */inc/quadro-widgets.php
     */inc/options-definition.php
     */inc/theme-functions.php
- Removed unnecessary step on GoogleFonts enqueuing
     */inc/css-functions.php
- Modified SE crawling block on single mods
     *single-quadro_mods.php
     */inc/custom-post-types.php
- Removed WooCommerce cart template from theme
     */woocommerce/cart/

---- V 2.3.6 —— 24/4/2016 ----
- Modified variables prefix
     */inc/custom-fields-definition.php
     */inc/custom-post-types.php
- Adding imagesloaded check to slider
     */js/scripts.js
- Added empty content check to slider module
     *module-slider.php
- Created function to define options group name
     *functions.php
- Fixed Font Awesome loading folder path
- Removed deprecated screen_icon function from wordpress-importer plugin
- Added pseudo "cache" to $quadro_options variable output
- Removed $quadro_options group from global space in framework
- Fixing upload images error bug when retina enabled
- Removing unneeded call to quadro_get_options
- Enqueuing Font Awesome from bundled files
- Adding header layouts filter to qi_framework
- Prefixed Global Variables
- Prefixed global variables
- Replaced add_submenu_page for proper theme_page function
- Adding Instagram and Pinterest for Nayma Team members in proper field section
- Fixing user test in all themes
- Adding Instagram and Pinterest to old Social custom field
- Fixed internal-preview parameter not being added inside modules posts-pickers.
- Fixed module type filter for backend
- Fixed translation issues
- Added message to editor to double update modules to properly display HTML content
- Modified Font Awesome script name to allow for other plugins to use it too
- Fixed CBox styles conflicting with other plugins
- Removed sticky posts from custom posts selected queries in all modules
     */inc/qi-framework/extras.php
     */inc/qi-framework/class-tgm-plugin-activation.php
     */inc/qi-framework/custom-fields-functions.php
     */inc/qi-framework/dashboard-helper.php
     */inc/qi-framework/framework-styles.css
     */inc/qi-framework/gs-helper.php
     */inc/qi-framework/hooks.php
     */inc/qi-framework/js/admin-scripts.php
     */inc/qi-framework/qi-framework.php
     */inc/qi-framework/template-tags.php
     */inc/qi-framework/welcome-msg.php
     */inc/qi-framework/fonts/font-awesome/font-awesome.min.css
     */inc/qi-framework/options.php
     */inc/qi-framework/options-helper.php
     */inc/qi-framework/update.php
     */inc/qi-framework/wordpres-importer.php

---- V 2.3.5 —— 21/1/2016 ----
- Fixed Modules Filter on backend
     */inc/custom-post-types.php
- Updated WooCommerce templates to 2.5
     */woocommerce/cart/cart.php
     *style.css
- Added easing to scrolling effects
     *functions.php
     */js/scripts.js
- Fixed check for gallery existence before outputting its content
     *module-featured.php
- Added Instagram and Pinterest to social area for Team members
     */inc/qi-framework/custom-field-functions.php
- Fixed repeatables bug when there are no editors to repeat
- Fixed module type filter for backend
- Fixed internal-preview parameter not being added inside modules posts-pickers
     */inc/qi-framework/js/admin-scripts.js
- Fixed CBox styles conflicting with other plugins
- Further Improved Backend UI
     */inc/qi-framework/framework-styles.css
- Modified Font Awesome script name to allow for other plugins to use it too
     */inc/qi-framework/qi-framework.php

---- V 2.3.4 —— 18/12/2015 ----
- Adapted headings hierarchy for 4.4 WordPress release
     */inc/qi-framework/custom-fields-functions.php
     */inc/qi-framework/framework-styles.css
- Fixing bug on repeatables - radio inputs missing values when adding new items
     */inc/qi-framework/js/admin-scripts.js
- Updated Font Awesome in framework to 4.5.0
     */inc/qi-framework/font-awesome-list.php
     */inc/qi-framework/qi-framework.php
- Re-enabling modules preview for WP 4.4
     */inc/qi-framework/framework-styles.css
     */inc/qi-framework/js/admin-scripts.js
     */inc/custom-post-types.php
- Added modules type filter to Posts Picker on Modules mode
     */inc/qi-framework/js/admin-scripts.js
     */inc/qi-framework/custom-fields-functions.php
     */inc/qi-framework/framework-styles.css

---- V 2.3.3 —— 16/11/2015 ----
- Updated Google fonts list
     */inc/qi-framework/google-fonts-list.php
- Added Site Origins Widgets Bundle to recommended plugins.
- Fixed bug that prevented plugins from being installed on Getting Started page.
- Enabled title-tag theme support
     *functions.php
     *header.php

---- V 2.3.2 —— 28/10/2015 ----
- Fixed textarea for previous repeatables
     */inc/qi-framework/custom-fields-functions.php
- Updated theme screenshot
- Fixed bug that prevented the addition of new modules into a page
     */inc/qi-framework/js/admin-scripts.js

---- V 2.3.1 —— 22/8/2015 ----
- Fixed textarea for previous repeatables
     */inc/qi-framework/custom-fields-functions.php
- Enabled sorting on Posts Pickers after loading via AJAX
     */inc/qi-framework/modules-admin.php
- Updating googleMaps scripts and API url
     *functions.php
     */js/scripts.js
- Fixed posts picker
- Avoid 'defer' loading on Google Maps scripts
     */inc/qi-framework/qi-framework.php

---- V 2.3.0 —— 18/8/2015 ----
- Updated widgets to use PHP5 object constructors for WP4.3 compat.
     */inc/quadro-widgets.php
- Included new plugin descriptions
     *functions.php
- Adapted custom fields definitions for new framework AJAX loading modules
     */inc/custom-field-definitions.php
- Included new getting started folder and files
     */inc/getting-started/
- Fixed slogan not appearing on frontend
     *module-slogan.php
- Replacing Slogan Editor
- Added conditional for modules specific custom fields to be saved only when dealing with modules
- Enabled Custom Fields on Modules via AJAX. Replaced editors via AJAX. Separated Modules custom fields on a new array, and enabled functions file to save them
- Added visual editor functionality for repeatables
     */inc/qi-framework/custom-fields-functions.php
- Replacing Slogan Editor
- Added conditional for modules specific custom fields to be saved only when dealing with modules
- Added modules custom fields filter. Moved AJAX metabox creation function to modules-admin.php
- Enabled Custom Fields on Modules via AJAX. Replaced editors via AJAX. Separated Modules custom fields on a new array, and enabled functions file to save them
- Added fix for "Add to page" comma issue in Modules Admin (for modules getting erased when added)
     */inc/qi-framework/modules-admin.php
- Framework Backend CSS Adjustments
     */inc/qi-framework/framework-styles.css
- Added Getting Started Page
     */inc/getting-started/getting-started.php
     */inc/getting-started/theme-faqs.php
     */inc/qi-framework/gs-helper.php
     */inc/qi-framework/dashboard-helper.php
- Enabled Custom Fields on Modules via AJAX. Replaced editors via AJAX. Separated Modules custom fields on a new array, and enabled functions file to save them
- Added visual editor functionality for repeatables
     */inc/qi-framework/js/admin-scripts.js
     */inc/qi-framework/options-helper.php
- Added DEFER parameter for scripts loading
     */inc/qi-framework/qi-framework.php
- Added modules custom fields filter
     */inc/qi-framework/hooks.php
- Added function to retrieve galleries as background images
     */inc/qi-framework/extras.php
- Wrapping plugin description in table inside div, Added classes for TGM columns.
     */inc/qi-framework/class-tgm-plugin-activation.php

---- V 2.2.4 —— 16/7/2015 ----
- Removed duplicated totals in cart
     */woocommerce/cart/cart.php
- Fixed missing slogan text field
     */inc/custom-fields-definition.php
- Fixed gallery items width for single posts
     *style.css

---- V 2.2.3 —— 5/5/2015 ----
- Updated Flexslider to 2.4.0
- Fixed testimonials auto height
     */js/scripts.js
     *style.css
- Fixed parse error
     */inc/theme-functions.php

---- V 2.2.2 —— 4/5/2015 ----
- Fixed repeatables field type incompatibility
     */inc/custom-fields-definition.php
     */inc/qi-framework/custom-fields-functions.php
     *module-clients.php
     *module-team.php
     *module-testimonials.php
- Added hold for loaded images on AJAX portfolio slider
     */js/scripts.js

---- V 2.2.1 —— 2/5/2015 ----
- Renamed header extras function name
     */inc/qi-framework/hooks.php

---- V 2.2.0 —— 1/5/2015 ----
- Reverted old VC adjustments on Portf. Items for galleries
     *content-portfolio.php
- Removed old scripts function for Visual Composer
     */js/scripts.js
     *functions.php
- Enabled modules preview
- Excluded modules from search
     */inc/custom-post-types.php
- Fixed slogan link escaping
     *module-slogan.php
- Adapted files for newer repeatables architecture
- Added filter for all custom fields and for available modules
     */inc/custom-fields-definition
     *module-clients.php
     *module-team.php
     *module-testimonials.php
- Added query filters to Recent Posts widget for WPML compatibility
     */inc/quadro-widgets.php
- Implemented transients option for modules
     */inc/options-definition.php
     *template-modular.php
- Updated retina.js script
     */js/retina.js
- Updated WooCommerce cart template to 2.3.8
     */woocommerce/cart/cart.php
- Updated mod_content function to match framework's new features
- Improved AJAX Portfolio loading to load only required content
- Added keep navigation in same category option
- Added filters for Portfolio content, media, fields, and title in Portfolio view
     */inc/theme-functions.php
     */js/scripts.js
     *content-portfolio.php (deleted)
     *module-portfolio.php
     *single-quadro_nym_portfolio.php
- Replaced bop_breadcrumbs for quadro_breadcrumbs
     */inc/quadro-woocommerce.php
     *page.php
     *search.php
     *template-blog.php
     *template-contact.php
     *template-full-width.php
     *template-left-sidebar.php
     *template-modular.php
     *template-portfolio.php
     *archive.php
     *style.css
(on QI Framework)
- Upgraded Font Awesome to 4.3.0
- Improved framework & modules UI
- Added modules preview & edit functionality
- Added "Add module to page" functionality
- Added hooks and filters
- Removed Font Awesome external loading and check
- Improved compatibility with Crelly Slider newer versions
- Added option to disable thumbs in posts nav
- Replaced bop_breadcrumbs for quadro_breadcrumbs function
- Escaped home_url instances
- Updated TGM class version
     */inc/qi-framework/class-tgm-plugin-activation.php
     */inc/qi-framework/update.php
     */inc/qi-framework/template-tags.php
     */inc/qi-framework/transient-cache.php
     */inc/qi-framework/custom-field-functions.php
     */inc/qi-framework/extras.php
     */inc/qi-framework/dashboard-helper.php
     */inc/qi-framework/font-awesome-list.php
     */inc/qi-framework/fonts (folder)
     */inc/qi-framework/hooks.php
     */inc/qi-framework/framework-styles.php
     */inc/qi-framework/modules-admin.php
     */inc/qi-framework/options-helper.php
     */inc/qi-framework/qi-framework.php
     */inc/qi-framework/js/admin-scripts.js
     */inc/qi-framework/plugins/crelly-slider-styles.css

---- V 2.1.2 ---- 17/2/2015 ----
- Made Options Definition functions pluggable
     */inc/options-definition.php
- Eliminated multiple get_template_directory calls
     *functions.php
     */inc/qi-framework/qi-framework.php
- Added conditional for lack of authors in quote
     */inc/qi-framework/extras.php
- Updated Crelly Slider styles for newer versions
     */inc/qi-framework/plugins/crelly-slider-syles.css
- Updated WooCommerce version support to 2.3
     *functions.php
     */inc/quadro-woocommerce.php
     */inc/woocommerce-styles.php
     */inc/woocommerce-styles-pre23.php
     */woocommerce/cart/cart.php

---- V 2.1.1 ---- 27/11/2014 ----
- Fixed video transparent mode
       */inc/qi-framework/extras.php

---- V 2.1.0 ---- 24/11/2014 ----
- Enabled Google Maps over SSL
- Enabled HTML5 support for native WordPress elements
- Fixed missing post ID error in thumb sizes management
       *functions.php
- Added Modules Filter in Modules page
       */inc/custom-post-types.php
- Added wmode transparent for Youtube and IE overlaps (in extras.php)
- Fixed Related products amount issue
       */inc/quadro-woocommerce.php
- Dropped Revolution Slider and Visual Composer plugins bundling
- Enabled pre & after post content hooks
- Reestructured Theme Framework
       * Most files inside /inc/ folder have been separated between theme specific functions and general purpose functions. Also several scripts that were called in functions.php have been moved over the framework files. Please check your files for previous modifications (if you did some) and re-adjust them.

---- V 2.0.4 ---- 10/7/2014 ----
- Changed Google Fonts to https for ltIE9
       */inc/css-functions.php
- Fixed repeatable Content fields order
       */js/admin-scripts.js
- Updated TGMPA version to enable easier plugin updates
       */inc/class-tgm-plugin-activation.php
       http://themeforest.net/forums/thread/modified-tgm-plugin-added-option-to-update-the-plugins/105830
       http://pastebin.com/b9t1YQLC#
- Updated Slider Revolution version to 4.5.4
- Added shortcuts to admin toolbar
       *functions.php
       */inc/dashboard-helper.php
- Fixed map controls issue (when added)
- Enabled more room in Cart for bigger fonts
- Updated Slider Revolution's controls
       *style.css
- Fixed WPML strings output
       *footer.php
       *404.php
- Enabled content in Team module via the_content filter
       *module-team.php
- Fixed empty links showing up in Clients module
       *module-clients.php

---- V 2.0.3 ---- 2/6/2014 ----
- Modified Theme Screenshot
       *screenshot.png
- Changed Visual Composer plugin version to 4.1.3.1
       *functions.php

---- V 2.0.2 ---- 21/4/2014 ----
- Added double check for retina attachments deletion
- Changed Visual Composer plugin version to 4.1.1
       *functions.php

---- V 2.0.1 ---- 10/4/2014 ----
- Fixed links being filtered in Link post format on blogs
- Fixed missing argument message
- Fixed empty content when no galleries on gallery posts
       *content.php
       *inc/template-tags.php
- Tweaked moving title in services (Firefox)
       *styles.css
- Modified Portfolio Items order (newest first)
       *module-portfolio.php
- Added backend updates & options
       */inc/options.php
       */inc/options-helper.php
       */inc/updates.php
       */inc/back-styles.css
       */js/admin-scripts.js
- Enabled ">" in Custom CSS Box
       */inc/css-functions.php
- Modified Carousel Module ID
       *module-carousel.php
- Bundled Plugins Update
       *functions.php
- Added links to icons where used
       *module-services.php

---- V 2.0 ---- 24/2/2014 ----
- Enabled shortcodes in widgets
       *functions.php
- Fixed not-array for repeatable options
- Added conditionals w/ function_exists to enable more edits in child themes
- Fixed empty products category bug in breadcrumbs
- Added Copyright text to WPML strings
       *inc/extras.php
       *footer.php
- Enabled more rules into Custom CSS Box
- Small refactor of options retrieving for performance improvement
       *inc/options.php
- Fixed load more functionality when two modules on the same page
- Added auto close functionality to search bar on outside click
       *js/scripts.js
- Fixed WooCommerce deprecated functions
       *inc/quadro-woocommerce.php
- Fixed navigation when blog page set as front page
- Added category filtering feature to blog modules
       *module-blog.php
       *inc/custom-fields-definition.php
       *inc/extras.php
- Fixed msg for missing restore_next
       *inc/options-helper.php
- Fixed Font Awesome not offline issue
       *functions.php

---- V 1.0.3 ---- 18/1/2014 ----
- Fixed portfolio items slug in plugin (+version in plugin)
       *nayma-portfolio.php
- Modified plugin required version
- Disabled native background color
       *functions.php
- Added target option to social icons
- Added subset option for Google Fonts
       *inc/options.php
       *inc/extras.php
       *inc/css-functions.php
- Added link option to slides and timer option to slider modules
       *inc/custom-fields-definitions.php
       *module-slider.php
- Fixed large slider margin in Firefox and IE
- Fixed logo max-width in smaller devices
- Tweaked Rev. Slider navigation, caption links and carousels
       *style.css
- Fixed WooCommerce sidebar on mobile
       *inc/woocommerce-styles.css
- Fixed Demo Content issue with previous WordPress Importer plugin
       *inc/dcontent/dcontent_importer.php
- Compressed Demo Content file to help with PHP timeouts
       *inc/dcontent/nayma_dcontent.xml.gz
- Fixed WordPress Importer issues with Strict Standars (to get fixed in future version)
       *inc/dcontent/wordpress-importer.php
       *inc/dcontent/parsers.php
- Added link to service wrapper for touch devices
       *module-services.php
- Modified Carousel quantity on smaller devices
       *js/scripts.js

---- V 1.0.2 ---- 9/1/2014 ----
- Fixed wp_kses issue on Theme Options
       *inc/options-helper.php
- Minor tweaks
       *style.css

---- V 1.0.1 ---- 7/1/2014 ----
- Fixed Slider Revolution Navigation for W3 Cache
- Minor tweaks
       *style.css
       *inc/back-styles.css
       *js/admin-scripts.js
       *inc/vcomposer-styles.css
- Fixed Page header backgrounds
       *inc/extras.php
- Fixed links sanitization in footer
       *inc/options-helper.php
- Improved Modules UI
       *functions.php
       *inc/custom-fields-functions.php
       *inc/custom-post-types.php
- Fixed retina logo issue
       *header.php