If you are looking for a modern and lightweight design with an accommodation booking option for your hospitality business, Oceanica Hotel WordPress Theme will serve your needs perfectly. This theme is packed with all necessary functionality to run hotels, apartments, villas, vacation rental, hostels, etc.
Oceanica is powered by our custom MotoPress Hotel Booking engine WordPress Reservation plugin for various kinds of rental properties (the plugin is included for free!) that will help you add accommodations listing and enable online reservation for them without any technical help.
You may easily add real-time search availability form, rates, create seasonal pricing strategy, accept online payments and let guests pay after arrival, sell extra offers, disable booking for particular dates, create discount coupons and more.
Oceanica theme also supports direct website bookings synchronization with OTAs like Airbnb and Booking.com (via iCalendar).
You'll have a full control over the Oceanica – add content, tweak design and automate your bookings management. The WordPress booking plugin for hotels that comes with Oceanica is professionally translated into multiple languages.
Hotel Booking WordPress Theme Highlights:
Accommodation Reservation Engine
Rent out Multiple Accommodations
Real-time Search Availability Form
Seasonal Pricing and Rates
Per-Guest Pricing Variables
Weekly and Monthly Rates
Online and Offline Payments (built-in PayPal, 2Checkout, Braintree, Stripe, Beanstream etc.)
Payment Request Addon (not included into the theme)
WooCommerce Payments Addon (not included into the theme)
Packages and Services
Flexible Booking Rules
Manual and Automatic Booking Confirmation
Automatic Reservation Emails
Discount Coupons
iCal Support to Sync Bookings Across OTAs
Admin Calendar of Bookings
Guest Reviews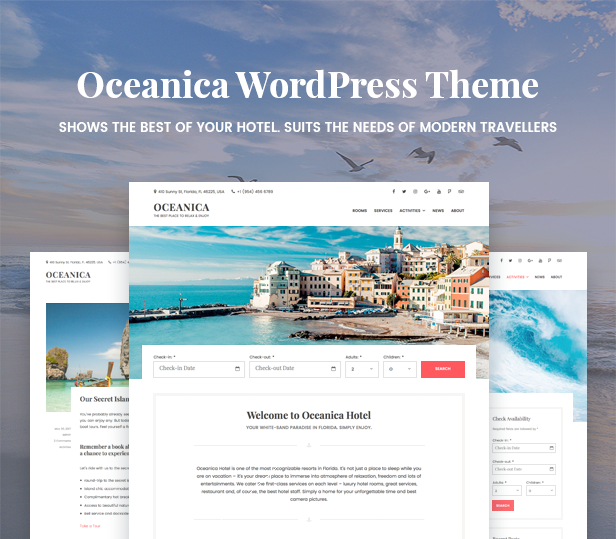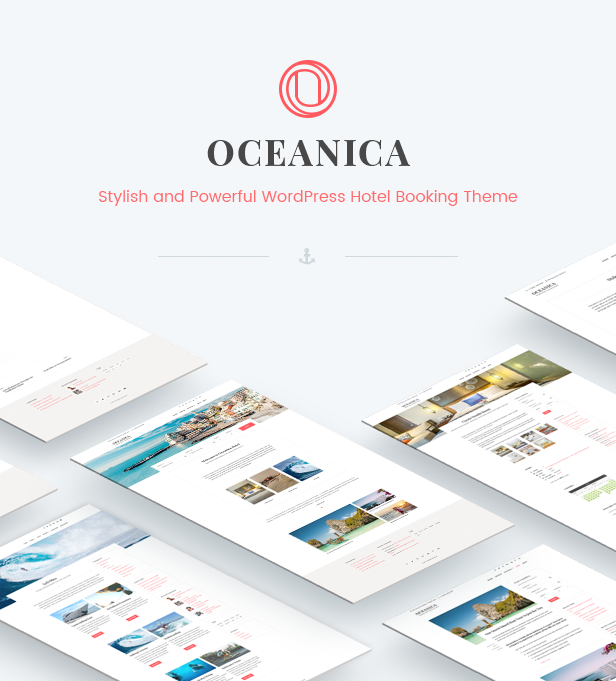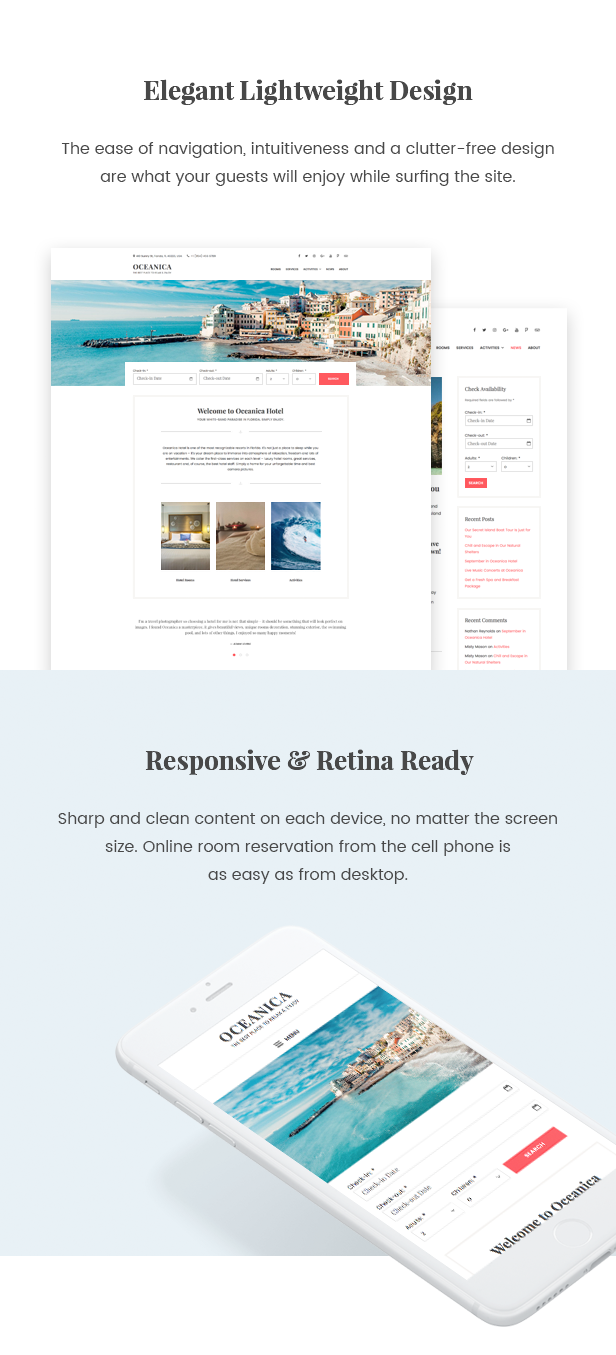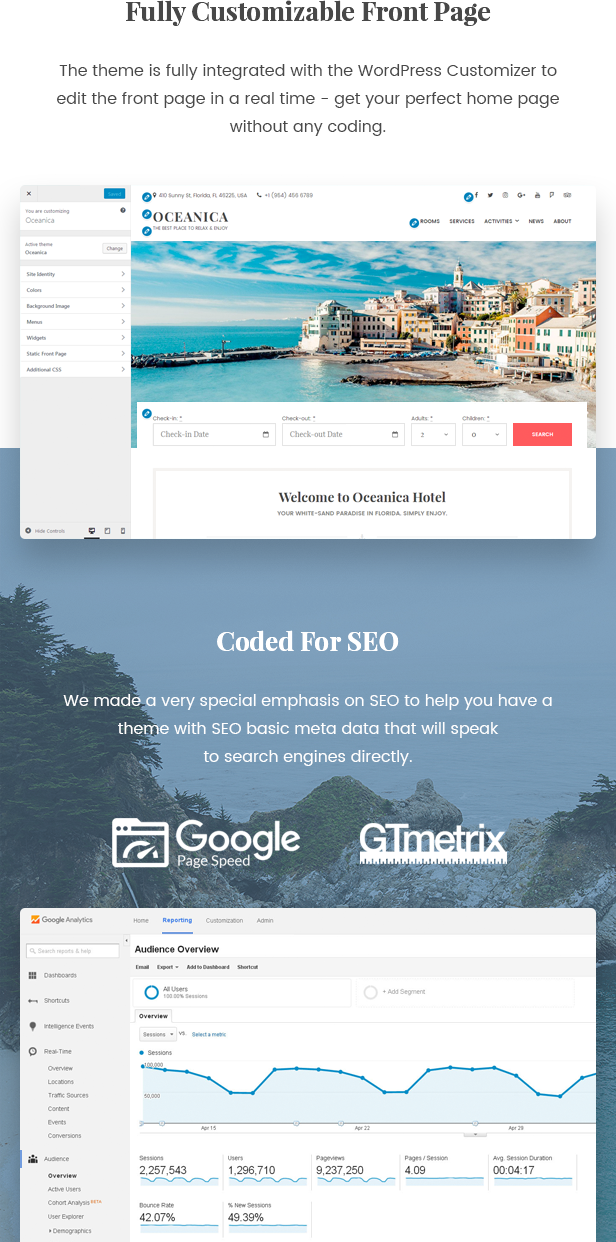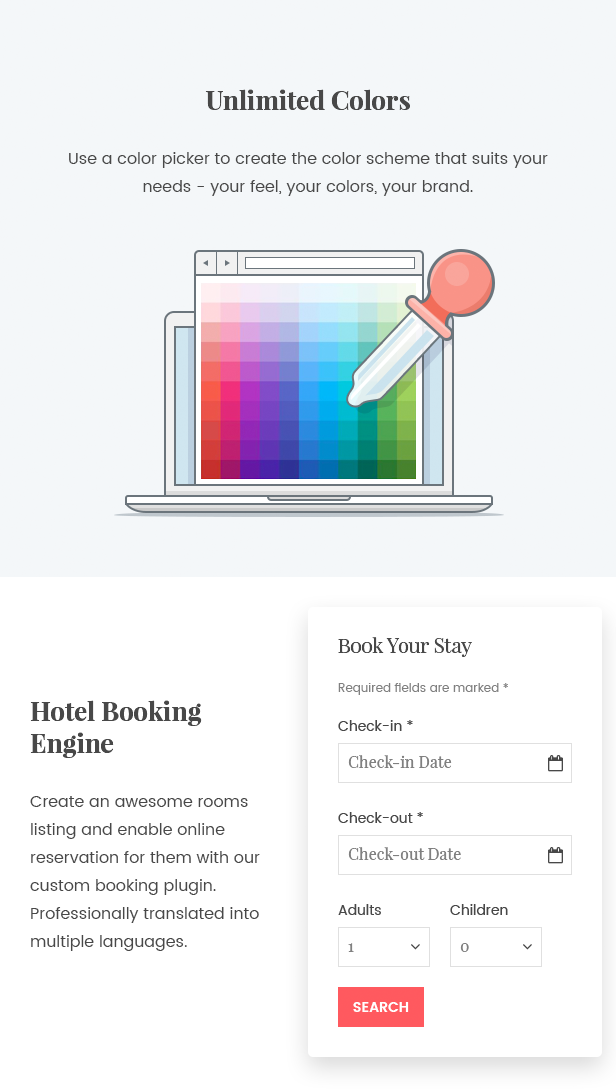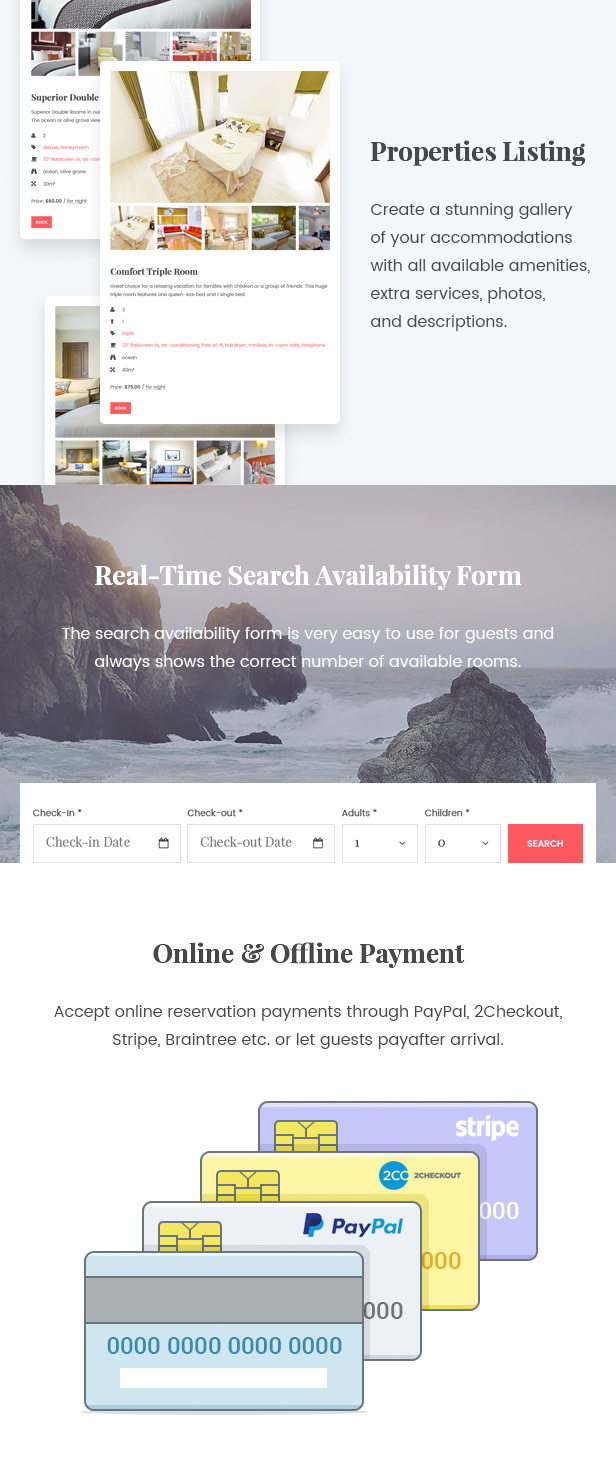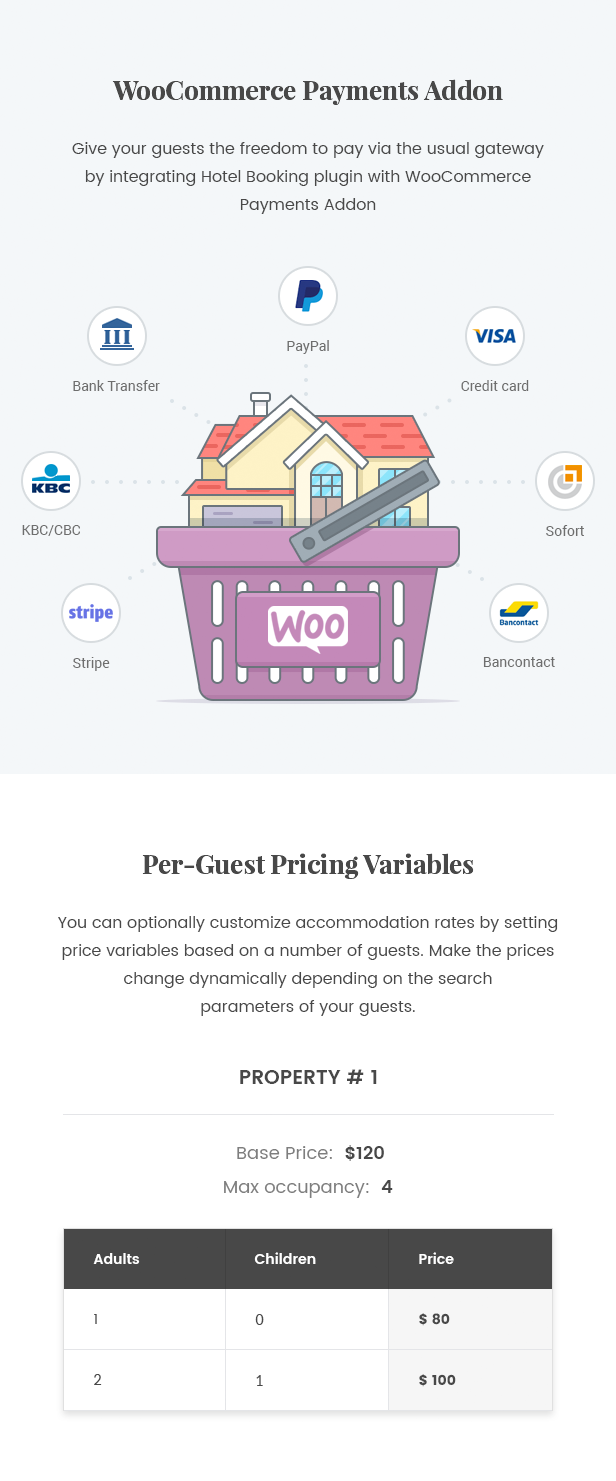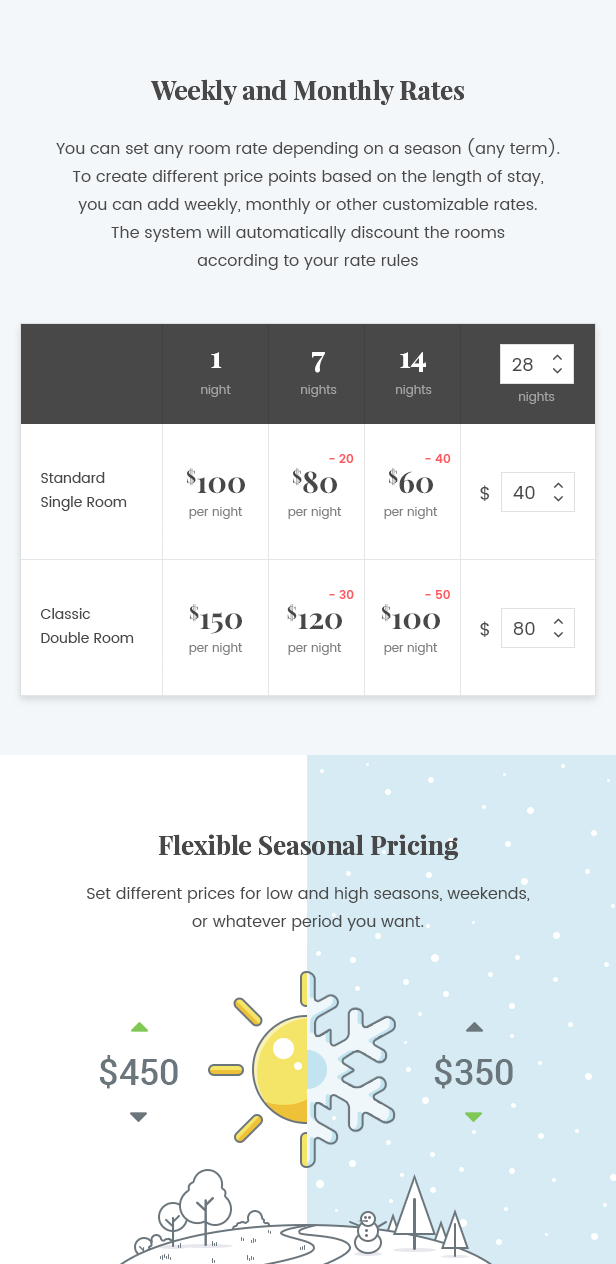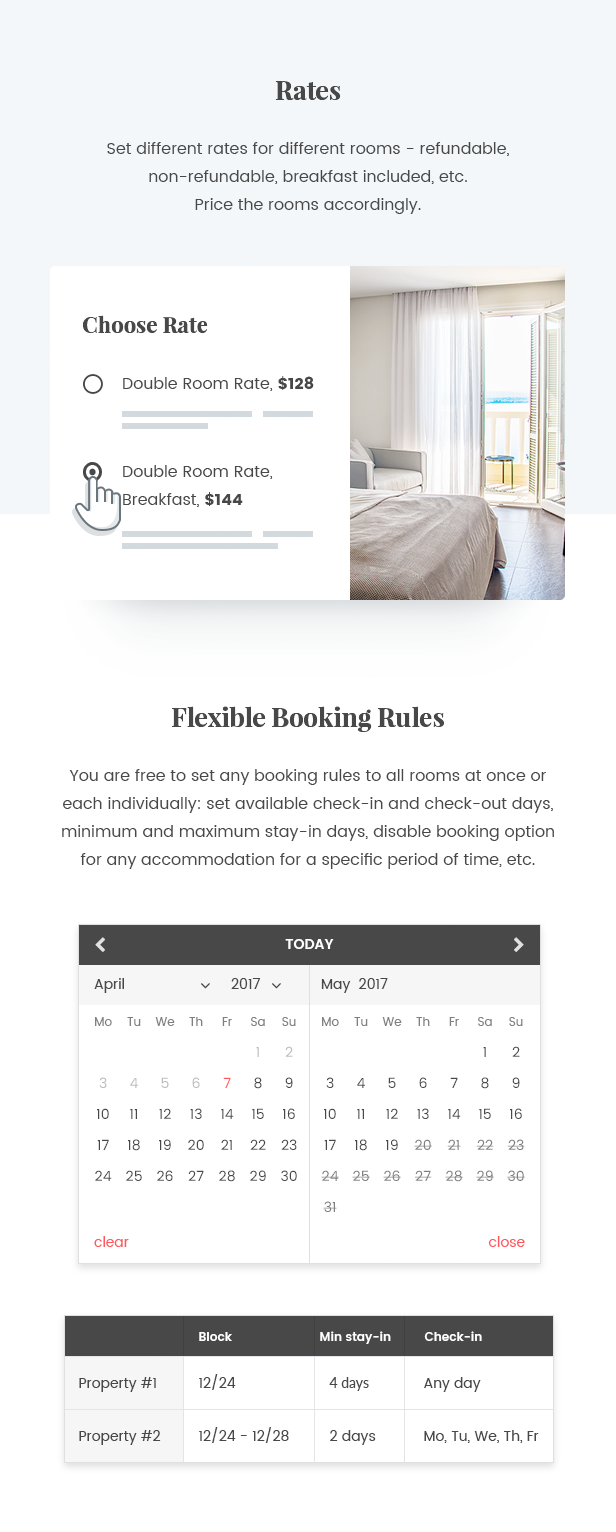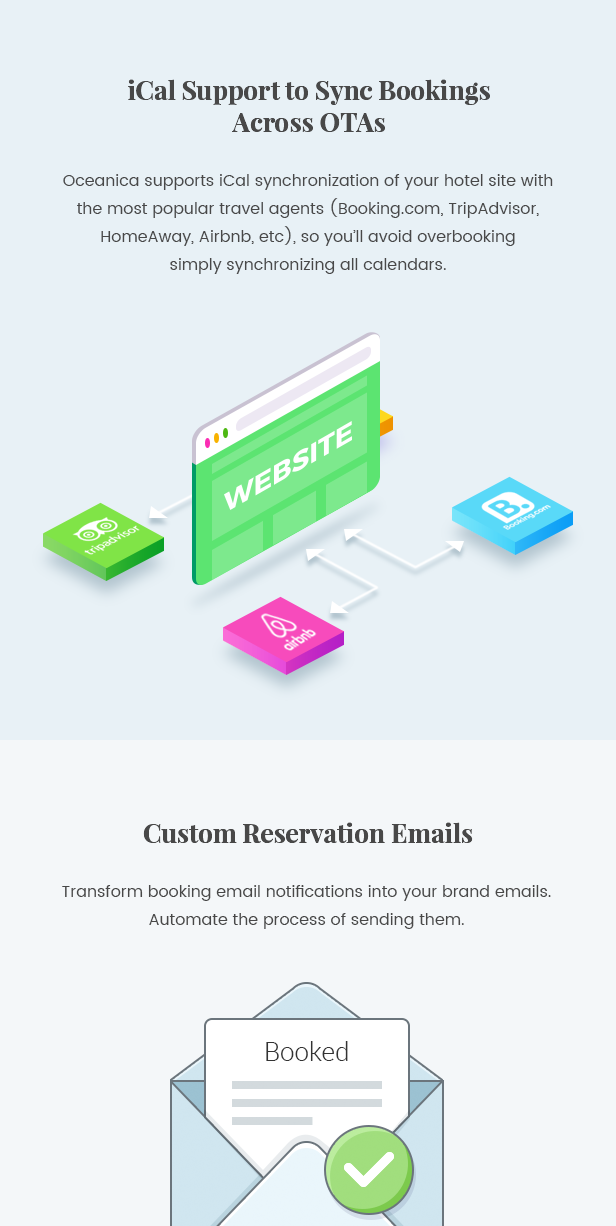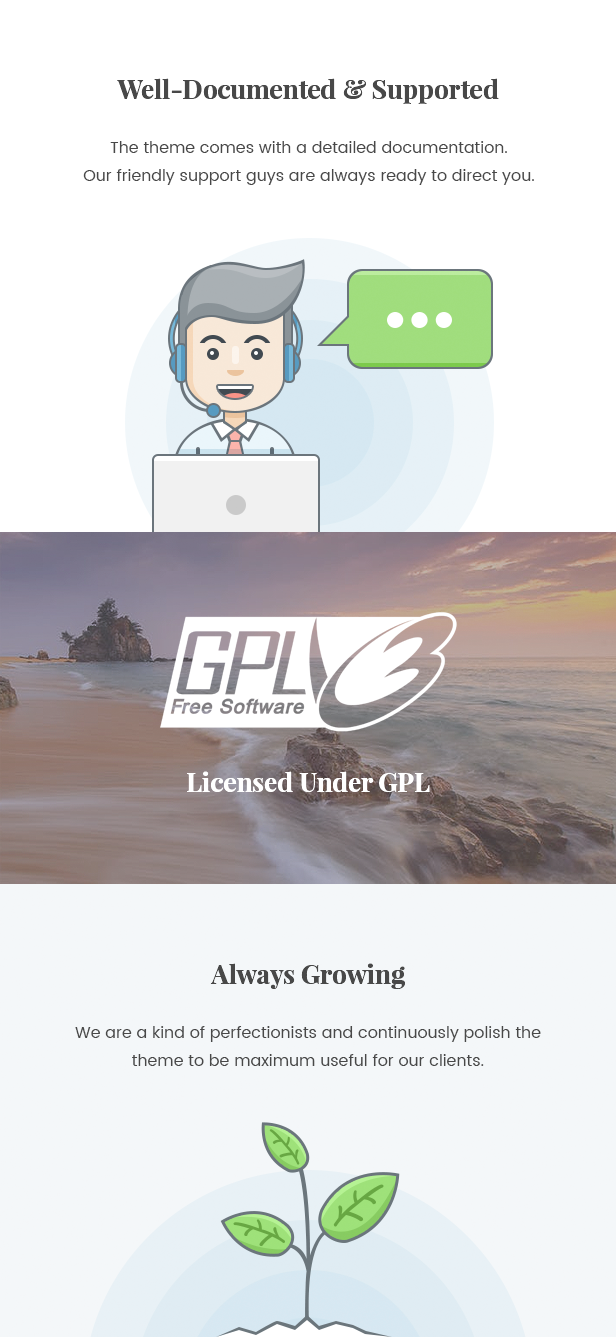 What makes Oceanica Hotel Booking WordPress Theme special?
Oceanica WordPress booking theme is a fully handcrafted theme – both design and reservation functionality are made by our team. You'll enjoy how seamlessly this WP rentals theme works, in visual and functional harmony.
Developing Oceanica, we wanted to make it maximum lightweight, without redundant functionality. No wrong plugins, no SEO problems. Now you can manage all-in-one hotel reservation plugin, add major content and put your business online so much faster.
The balanced mix of versatile functionality and universally applicable minimalist design makes Oceanica a truly multipurpose booking website template that can be used for different types of hospitality establishments regardless of their concept or size.
Oceanica comes with deep native integration with WordPress functionality. It means your customization will be easier and you won't lose your content even if you change the theme. That's why Oceanica will be the right choice if you're looking for a WordPress booking theme suitable for both novice users and WordPress developers.
Changelog

= 1.9.0, Feb 12 2019 =
* Hotel Booking plugin updated to version 3.1.0.
  * Added new blocks to Gutenberg.
  * Added option to switch to the new block editor for Accommodation Types and Services in plugin settings.
* Added option to set the Price Breakdown to be unfolded by default.
* Improved design of Accommodation titles in Price Breakdown for better user experience. =
* Added styles for Hotel Booking Reviews addon.
* Minor bugfixes and improvements.

= 1.8.0, 14 Jan 2019 =
* Added theme support for WordPress 5.0 (Gutenberg).
* Hotel Booking plugin updated to version 3.0.3.

= 1.7.0, Sep 19 2018 =
* Hotel Booking plugin updated to version 3.0.0:
  * Introducing attributes. By using the attributes you are able to define extra accommodation data such as location and type and use these attributes in the search availability form as advanced search filters.
  * Improved the way to display the booking rules in the availability calendar.
  * Added the new payment method to pay on arrival.
  * Added the ability to create fixed amount coupon codes.
  * Added the availability to send multiple emails to notify the administrator and other staff about new booking.
  * Fixed the bug appeared in the Braintree payment method if a few plugins for making payment are set up.
  * Added the ability to set the default country on the checkout page.

= 1.6.0, Jul 30 2018 =
* Hotel Booking plugin updated to version 2.7.6:
  * A new way to display available/unavailable dates in a calendar using a diagonal line (half-booked day). This will properly show your guests that they are able to use the same date as check in/out one.
  * Disabled predefined parameters for Adults and Children on the checkout page to let guests have more perceived control over options they choose.
  * Fixed the issue with booking rules and WPML. Now all translations of accommodations are not displayed in a list and the booking rules are applied to all translations.
  * Fixed the issue with Stripe when creating a booking from the backend.
  * Fixed the issue with the booking rules not applying while checking an accommodation availability with the "Skip search results" enabled.
  * Added a new feature "Guest Management". It is currently in beta and applied only to the frontend. Here are the main options of this feature:
    * Hide "adults" and "children" fields within search availability forms.
    * Disable "children" option for the website (hide "children" field and use Guests label instead).
    * Disable "adults" and "children" options.
  * Replaced "Per adult" label with a more catch-all term "per guest" for Services.
  * Increased the number of digits after comma for setting a per-night price. This will help you set accurate prices for weekly, monthly and custom rates.
  * Improved the way to display a rate pricing on the checkout page: the price is updated automatically based on the number of guests if there are any per-guest price variables.
  * Added the Availability Calendar shortcode.
  * Added sorting parameters to shortcodes.
  * Added all missing currencies to the list of currencies.
* Added the ability to change a default anchor icon separator (editable in WordPress Customizer).
* Added a post without sidebar page template.
* Added the ability to import demo data (sample content) in one click.

= 1.5.5, Jun 27 2018 =
* Hotel Booking plugin updated to version 2.7.4.

= 1.5.4, Jun 21 2018 =
* Hotel Booking plugin updated to version 2.7.3:
  * Added the ability to add monthly, weekly and custom (based on any length of stay) rates.
  * Added a new admin data picker style.
  * Single room type data output was rewritten in actions to provide developers with more flexible customization.
  * Fixed the bug with the months localization of the admin booking calendar.
  * Fixed the alphabetic ordering of countries for non-English websites.
  * Added Summary and Description info to iCal import logs to help you easier identify bookings from different channels.

= 1.5.3, May 23 2018 =
* Hotel Booking plugin updated to version 2.7.0:
  * Added the ability to create a reservation manually.
  * Added terms and conditions checkbox to booking confirmation page.

= 1.5.2, Apr 23 2018 =
* Hotel Booking plugin updated to version 2.6.1:
  * Added the ability to set different prices for one accommodation based on a number of guests.

= 1.5.1, Mar 7 2018 =
* Hotel Booking plugin updated to version 2.4.3:
  * Added a new option to skip search results page and enable direct booking from accommodation pages.
  * Fixed the bug with check-in and check-out time not saving. Time settings were set to 24-hour clock system.
  * Added tags to Accommodations.
  * Added the following mphb_rooms shortcode parameters: category, tags, IDs and relation. Now you can display accommodations by categories, tags or accommodation IDs.
  * Added a new field to settings where you can set a standard child's age accepted in your hotel establishment. This is an optional text, which will complete "Children" field label clarifying this info for your visitors.
  * Improved the search availability calendar. Now it correctly displays the minimum stay-in days depending on a check-in date.
  * Fixed the bug with all dates displaying as unavailable within certain booking rules.
  * Fixed the bug with a custom rule not being applied because of a global booking rule.
  * Fixed the bug with the Availability calendar not showing the correct number of available accommodations.
  * Added "Blocked accommodation" status to the Booking Calendar.
  * Added a new DESCRIPTION field with the booking info to the Export Calendar in iCal format.
  * The Export Calendar in iCal format now shows the SUMMARY in the following format: first name, last name and booking_id.
  * Now the booking information from external calendars is sent across booking channels without changes.
  * Fixed the error with deleting an expiration date of the coupon code.

= 1.5.0, Jan 31 2018 =
* Hotel Booking plugin updated to version 2.4.1. Added the ability to apply taxes and fees.
* Made the theme WooCommerce ready.

= 1.4.1 =
* Hotel Booking plugin updated to version 2.3.1.

= 1.4.0 =
* Hotel Booking plugin updated to version 2.3.0. Added more flexible booking rules.
* Added support for Jetpack Content Options.
* Minor bugfixes and improvements.

= 1.3.1 =
* Theme updater updated.

= 1.3.0 =
* Hotel Booking plugin updated to version 2.2.0. Implemented bookings synchronization with online channels via iCal interface.

= 1.2.3 =
* Hotel Booking plugin updated to version 2.1.2.

= 1.2.2 =
* Hotel Booking plugin updated to version 2.1.1.

= 1.2.0 =
* Hotel Booking plugin updated to version 2.1.0. Added the ability to add multiple bookings into one reservation and discount coupons support.
* Added Shortcode Widget plugin that allows to use shortcodes in widgets. If you use Testimonials shortcode in a Text widget, please re-create it and use Shortcode Widget instead of Text widget. 
* Improved the layout of comments on mobile devices.

= 1.1.0 =
* Hotel Booking plugin updated.

= 1.0.0 =
* Initial release