The only simple and clean personal blog theme you'll ever need!
Penoolis is personal blog WordPress theme designed for bloggers or writers who like a simple, clean and spacious layout for their personal blogging site. Penoolis focuses on the most important thing from a blog, the content.
You can practically change any colors and font styles on Penoolis personal blog theme easily. You can made the style changes using our Theme Options and default WordPress theme Customizer.
Penoolis blog theme comes with a simple and responsive layout, the layout will adjust automatically when viewed on desktop and mobile devices.
Theme Features
Here are some of the cool features included in Penoolis WordPress theme:
Unlimited colors, you can change the colors, header background, main background and typography from Theme Options
Powerful theme options, powered by Redux Framework
Support all post format, suitable for personal blog
Responsive layout
Pretty neat sidebar panel when viewed on mobile device
Archives & portfolio page template
Image attachment page template
AJAX pagination
Google Analytics integration
Latest tweets
Social media links
Share buttons in post detail pages
Upload your own custom logo & header background
prettyPhoto lightbox on WordPress native gallery
Purchase Confirmation
We encourage you to spend a minute of your time to confirm your purchase at
http://www.themewarrior.com/purchase-confirmation/.
Other Blog Themes from Us
Singkarak
inFashion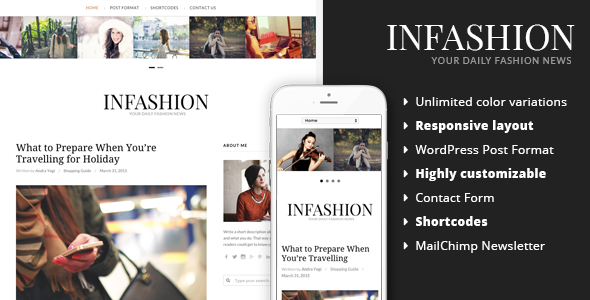 Grateful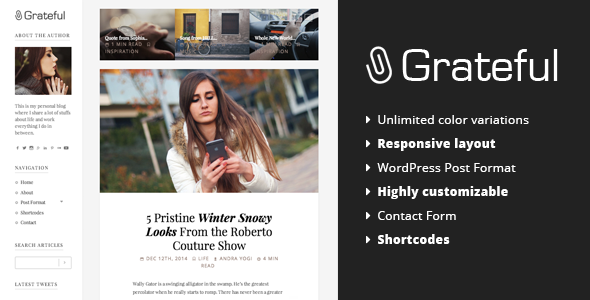 Familia
Changelog

May 20th, 2016 -- Version 1.0.8
- Fix form styling issue

June 30th, 2015 -- Version 1.0.7
- Update prettyPhoto
- Fix sidebar widget padding

November 10th, 2014 -- Version 1.0.6
- Fix theme options css output
- Fix toggle sidebar open & close trigger
- Fix theme options not loading
- Update ReduxFramework to v3.3.9.6

March 27th, 2014 -- Version 1.0.5
- Replace Option Framework with ReduxFramework
- Add TGM Plugin Activation to install required plugins
- Remove PressTrends
- Fix sidebar toggle arrow shortcut issue

January 27th, 2014 -- Version 1.0.4
- Update Options Framework to v1.7.2
- Revamp hidden panel, moved it to the left hand side
- Change portfolio zoom image, now using 'large' image
- Fix "Load More" button being cut-off
- Fix other small cosmetic issues
- Add options to enable / disable avatar & logo

November 8th, 2013 -- Version 1.0.3
- Fix Load More button position issue in responsive view when viewed on Firefox
- Reduce padding-top on #main-content for mobile phones
- Adjust single-warrior_portfolio.php to match the new version of Warrior Portfolio plugin
- Remove unnecessary text in the header

October 31nd, 2013 -- Version 1.0.2
- Fix theme customizer not saving
- Add several color options to theme customizer
- Minor adjustment to style.css

October 29nd, 2013 -- Version 1.0.1
- Add portfolio plugin
- Add supporting page templates to display portfolio
- Add Mixitup jQuery plugin
- Fix several minor CSS issue
- Fix iPad slow scrolling issue 

October 22nd, 2013 -- Version 1.0.0
- Theme is released