Polo is a feature packed responsive Joomla! Theme with over 160+ demos ready to go for all kinds of business website. Ecommerce ready, optimized for SEO includes support.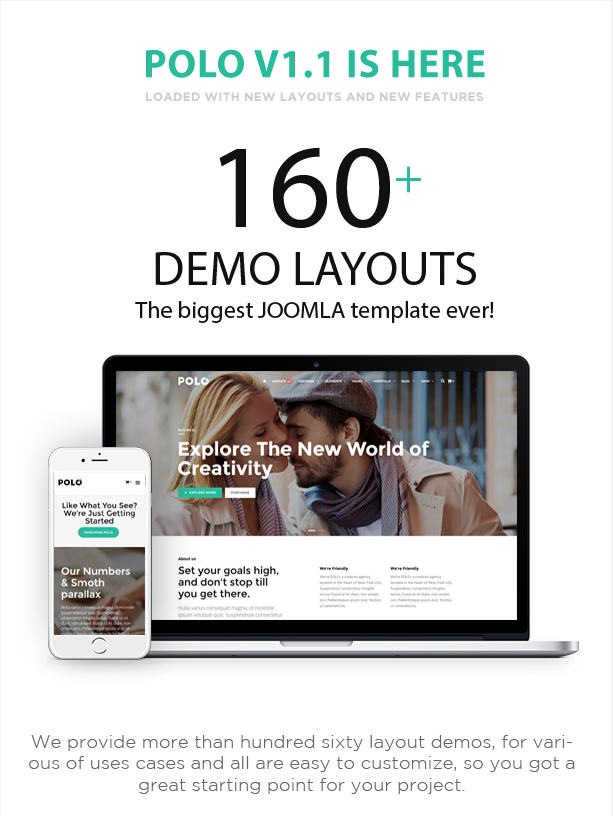 Polo Buyers Reviews And Comments
Literally, HUNDREDS of Starter Templates
Never start with a blank page again! With Polo for Joomla! we have got you covered with literally hundreds of fully featured website demos to choose from covering a huge range of personal, business, niche, creative, sport, creative and hospitality industries – to name just a few.
Check out the Demo Page now and take one for a FREE test drive!
Everything from Corporate to Blog has been carefully crafted to give you a head start with the most powerful and flexible CMS available, Joomla!
This includes all inside Pages, Headers, Footers, Page Designs, Templates and web elements so you can get on with the business of populating your website with killer content.
Bundled Plugin Power
Not only will you save heaps but you also get to extend the functionality with Joomla! with some of the heaviest hitting plugins, but they are all included in the one off purchase price of Polo.
-
SP Page Builder
Trusted by over 400,000 people across the world, with SP Page Builder you'll be creating killer pages with the ease of drag & drop. With a completely visual way of building pages, SP Page Builder is fast, easy to use and best of all happens in true time so you can be sure of your changes before committing them to the live site.
-
Layer Slider:
With 5 designed themes that include 5 layers each, Layer Slideshow will bring a really unique look to your website build. Create stunning artistry with limited design knowledge – load your own images using the Joomla Media Manager, edit some text and you are done!
Modern Responsive Design
Polo has a truly Responsive design that enables it to scale across all of today's modern devices. From laptops to smartphones, tablets to smartwatches Polo has you covered. Switch up your design with a wide range of Page Layout choices from wide to boxed, and your content populates it automatically with a graphic optimized for the screen size being used.
No matter what device your users are on, Polo has you covered with no coding required.
Truly Multipurpose
Take a look at some of the demos to get an idea of how Polo can work across multiple web design disciplines to meet almost any need from a website perspective. Everything is covered with eCommerce, an amazing array of header styles, coded to perfection so that your website is fast and light as well as optimized for conversions and SEO.
Whether you are looking for a straight blog platform loaded with features, or need a viral magazine website with all the latest social integrations, Polo has a template bursting with usable web elements to help you create exactly what you are looking for.
Optimized for Speed and SEO
Paying careful attention to detail Polo is right up to speed with the latest updates for Search Engine Optimization. Great code means a fully validated website free of bugs and errors, as well as integration with the plugins you need to get up and running fast.
All of current best practices around SEO has been taking into account encompassing both technical and creative elements required to drive the best rankings, improve traffic flow and increase search engine awareness, so you can sit back and get on with business.
Web Elements
Creating a killer website shouldn't be too arduous whether you are a first time developer or a seasoned freelance specialist who knows the ins and outs, we get it and that is why Polo is packed full of the best kinds of Web Elements for you to use with ease. Accordions, Pricing Tables, Lists, Logos, Call-To-Action, Audio, Video, Buttons and so much more all ready to implement on posts, pages and wherever you need them, take a look now!

Features
Sp Page Builder PRO (no need to buy extra license, extension included as free in our pack)
Unite Slider (no need to buy extra license, extension included as free in our pack)
Layer Slider (no need to buy extra license, extension included as free in our pack)
Quick install
Documentation
Free Support
Responsive template
Mega menu
Build on Helix Framework
Page builder custom addons
Import theme's settings in pack
Slider import in pack
Sources and Credits:
Helix framework
Jbeasyformmaker
Layer Slider Joomla
SP Page Builder
What is included in package:
Sp Page Builder PRO
Unite Slider
Layer Slider
Owl carousel
Jbeasyformmaker
Articles Latest Pro
Quickinstall
Documentation
Template
Plugins
Import
Support
Other information
Note:
The images you see in the screenshots are used for demo purposes only, they are not included in the download package, the original ones are replaces with placeholders.
Thank you very much.
Don't Forget to Check Our Featured Joomla Themes
TopBiz – Responsive Corporate Joomla Template With Page Builder
iAdvice – Business Consulting and Professional Services Joomla Template
Shyinn – Responsive App Landing Joomla Theme With Page Builder
ClockFast – Multipurpose Responsive Joomla Template With Page Builder
Ratio – Material Design Agency Responsive Joomla Theme With Page Builder
Theone – One Page Parallax Joomla Theme With Page Builder