CV, Portfolio & Resume WordPress Theme with Blog

CURRENT VERSION 3.0
(see Change log at the bottom of this page)
ShiftCV
is a contemporary, responsive & modern Resume, Portfolio with Personal Blog WordPress Theme. It combines simple and clean design with a fresh, colorful & refined display solutions.
This extremely creative, trendy & versatile Curriculum Vitae WordPress theme works for CV, Vcard, Resume, personal blog, review portal, magazine. It's perfect for copywriter services, designer bureau, developer organizations. Also fits photographer, fashion, personal profile and lifestyle blogger and other professionals who wish to showcase their agency works, company career and firm corporate business card.
How to Upgrade Your ShiftCV to 3.0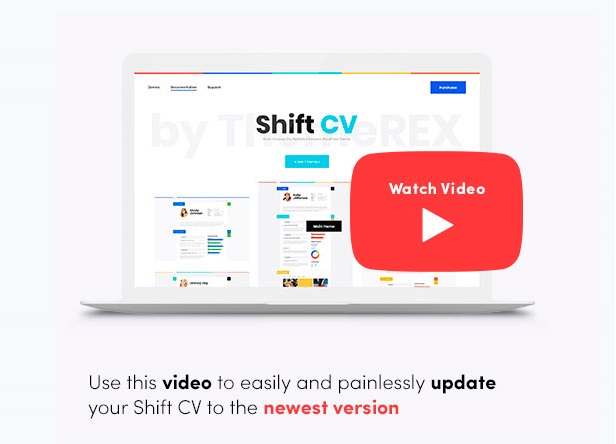 CV, Portfolio & Resume WordPress Theme features
7 unique skins of onepage CV card + personal blog.
Print & Download CV options
Elementor Page Builder
Dozens of ready-made shortcodes
Compact, responsive & clean design
GDPR Compliant
With the powerful set of shortcodes and widgets you can showcase your skills, job experience and achievements, missions and priorities, provide testimonials, and showcase your portfolio on one page.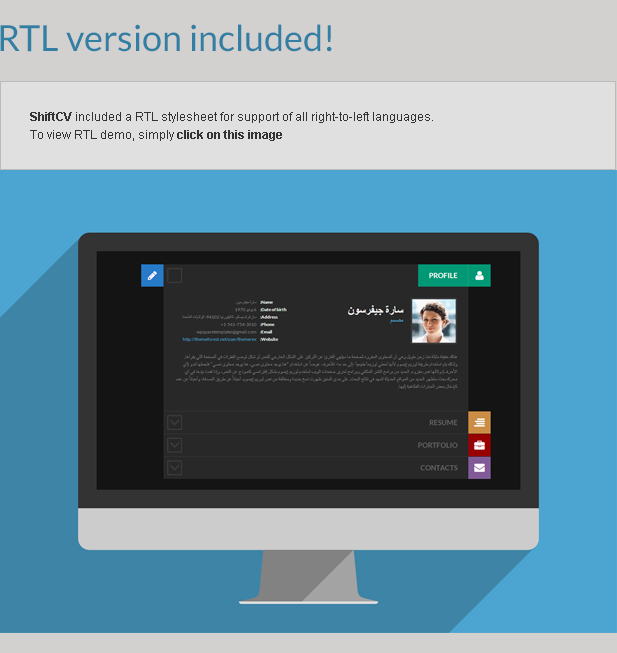 What Our Customers Say:





ShiftCV WordPress Theme Features
Flat design
Responsive Layout
Custom Theme Options Panel
Translation ready
Localized (.po & .mo Files Included)
WordPress 3.8+ Tested and Ready
Enable/Disable Retina Option
Blog Post Formats: Standard, Gallery, Video, Link, Quote, Audio
Pick any accent colour
Widgets: Skills Level, QRcode Widget, Recent Posts, Recent Comment, Twitter Widget
ThemeRex Twitter Widget: we have developed the widget that corresponds standards of Twitter API 1.1
Templates: Blog, Blog Author, Resume Page, Print Page
Great Support
21 layered psd files
Documentation included
Regular Updates

How our customers customize ShictCV

Samuel Solis
Deniz Acar
Jonathan Heres
Zito Claudio
Waldo Orlandini
Dominik Hopko
Surender Dhaleta
Wendy Butcher

PLEASE, NOTE! The theme is designed for free WordPress version downloaded at wordpress.org only. We do not guarantee the theme's full compatibility with installations on Wordpress.com, due to limitations in website control and theme customization.

Change log

24.11.2018 ShiftCV 3.0 – Release
- Design update; 
- Elementor compatibility is added; 
- Contact form 7 is added;
- 6 new skins are added;
- Header and Footer builder is added
- GDPR compatibility is added
16.10.2018 Version 2.3.3 – Update
- Important pre-update
11.11.2016 Version 2.3.2 – Update
- Compatibility with WordPress 4.6 is improved; 
- Switcher for Mail function is added
29.04.2016 Version 2.3 – Update
- Compatibility with WordPress 4.5+ improved; 
- Translation of the blog dates fixed;
- Wrong order of Name and Lastname in the print template fixed
18.01.2016 Version 2.2 – Update
- Compatibility with WordPress 4.4.1 is imrpoved;
- 'Mixed content' issues when using SSL(HTTPS) is fixed;
- 'Blue dots near social icons' issue in Chrome is fixed;
- The display of single date in resume is fixed. Now is possible to specify only date 'To' to show single date with resume item;
- Problem with displaying an incorrect date format and sort order in the CV's print version is fixed.
31.01.2015 Version 2.0 – Update
- Added: navigation buttons when viewing pictures of portfolio section.
- Added: Alt parameter in the shortcode 'image'
- Maximum length of message in contact form is increased. 
- Fixed: print resume form (sorting order is changed, data display in month is added)
28.03.2014 Version 1.9 – Update
- Display of a blank field with an icon of cellphone in contacts, if telephone number is not specified, has been removed
- Animation for custom social networks icons;
- The display of date in resume is fixed, within one year is foxed
- The error 'jquery.cookie.js is a XSS attack' that occured when  some hosting provider has ModSecurity turned on, is fixed
- The error with the behaviour of mechanism of remembering an active tab is fixed
- The error with responsive version in IE is fixed
10.02.2014 Version 1.8 – Update
- RTL version added
- An option 'profile section collapsed by default' added
13.01.2014 Version 1.7.0 – Update
- Filling out the fields in the section "Profile" is now optional (header.php)
- One can select the section that should be expanded by default (theme-settings.php, _front.js, footer.php)
- After page reload, the viewed section will be opening automatically (footer.php, _front.js)
- We have added three extra fields for social networks with an option of independent icon upload (header.php, theme-options.php)
- Now it's possible to change the order of sections (index.php, theme-options.php, template-resume.php)
- Quotation marks in the section 'Testimonials' became optional, now they can be switched off in Theme Options
- Post's date display in the Resume section is improved
04.12.2013 Version 1.6.0 – Update
- 'Testimonials' section is added on the homepage
- An option to select format of month display for resume and testimonials is added
28.11.2013 Version 1.5.0 – Update
- Field "Month" has been added to the description of the job place 
- The bug when entering email in contact form from IPhone is fixed
- Slovak language is added
13.09.2013 Version 1.4.1 – Update
- The bug in theme options that has blocked the display of 'Section titles' is fixed
6.09.2013 Version 1.4.0 – Update
- Bug with qr-code's size is fixed
- Formatting of the text in posts is improved
- German language is added (thanks to alpf0000)
- 'all get_site_url'  is replaced with 'to get_home_url' 
- Bug with drafts display in section 'related posts' is fixed
- Usability is improved (author's picture became clickable, as well as post style are changed)
- Bugs in theme localization are fixed
- The list of 40 google fonts is added
- Full date is added in posts (optional). Date format can be selected in WP settings
15.08.2013 Version 1.3.0 – Update
- Post formats Status and Quotes have been added
- The bug with the link to profile has been fixed (when blog is assigned as homepage)
- Category Order field has been added, where the order of a category's putout in the list is being set up
- An option to display *.swf-file in PrettyPhoto in the Portfolio secton has been added
10.08.2013 Version 1.2.3 – Update
- The bug with QR-code in the contact form has been fixed
- The message-box styles in the dark color scheme has been fixed
- The title of the button "Upload image" has been changed into "Upload"
04.08.2013 Version 1.2.2 – Update
- An option to switch the profile off is added
- The scroll button is added to the comments form
- Sharing-links are opening in the new tab
- Resume now obtained the ASC-DESC switch
- The icons of Skype, Pinterest, Twitter (latest vers) are included
30.07.2013 Version 1.2.1 – Update
- A possibility to show teaser in the full post text for the blog is added (optional)
- An option to insert google analytics is added
- Settings for title hierarchy (H1-H6) for blog are added
29.07.2013 Version 1.2.0 – Update
- The error in localizations of the Theme Options sections is fixed
- Styles for code insertion into the post's or page's text is added
- A possibility to set up an option 'Download Resume' is added
- An option to set up the description of item's portfolio is added
- All the scriptis are updated for actual versions
25.07.2013 Version 1.1.2 – Update
- Fixed the issue with long last name in Profile section
- New option to change each categoty color in Resume section
20.07.2013 Version 1.1.1 – Update
- An option to add a result link in the Portfolio post, or add video
- The issue of translation for the title in the contacts section is fixed
- The bug on print page is fixed. Now the posts without a date will also be printed
- The anchor is removed from the link 'read more' in the blog-post
- Indent for paragraphs on single post is added
18.07.2013 Version 1.1.0 – Update
- An option to add a result link in the Portfolio post, or add video
- An option for a user to add the title for each secton on homepage
- Translation files
- The support for hieroglyphs is improved
- An option to create posts in Resume section without indicating the period
- An option to choose the sidebar and its location (left or right) for each of the 
  categories and its posts
13.07.2013 Version 1.0.0 – Release
14.07.2013 The error of the Print page display is fixed