STORYLINE BOARD WORDPRESS THEME
Please welcome – STORYLINE BOARD Theme! Different, creative, innovative and user friendly theme that you may enjoy having for your portfolio, blog, online magazine, personal site or something else. This is a stand-out-of-the-crowd product, a perfect board to display your creative work or just amaze your friends with a new generation blog.
STORYLINE BOARD is:
a break-the-clutter WP theme
creative, progressive & trendy
for ones that like to get noticed
suitable for facebook
so much more…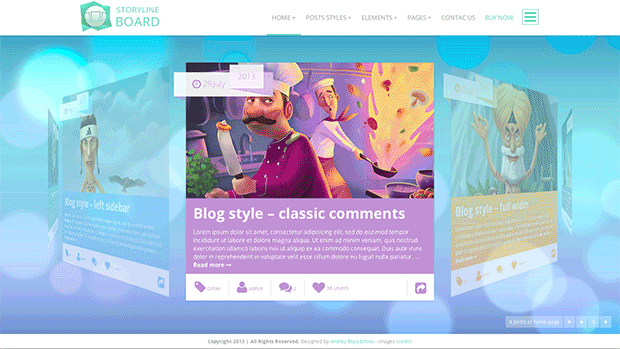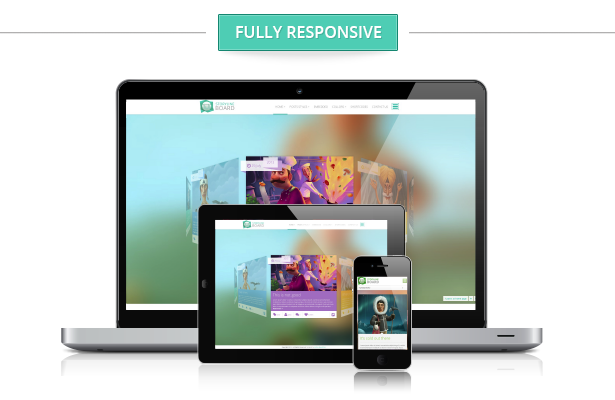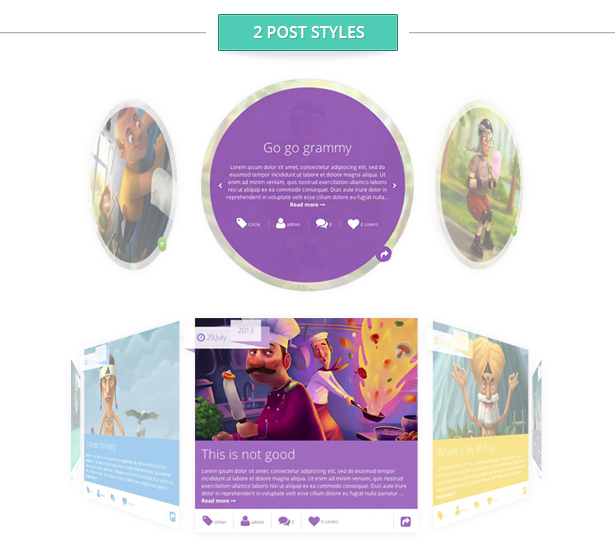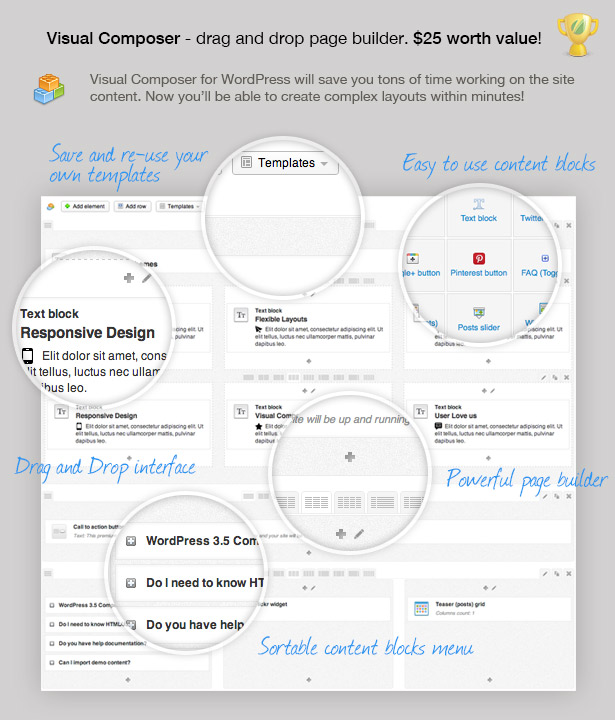 FEATURES
20 color schemes
8 incredible scroll effects
WooCommerce support
2 different post styles
2 different comments styles
Drag & Drop page builder
Background slideshow
Select infinity scroll or pagination style to display posts
Lots of different post settings
Video embed option
Welcome message
Removable footer
Unlimited colors
Typography options ( 600+ google fonts)
Translation to your language trough admin panel
Change posts order option
Add posts with future date for events type usage
Automatically hide posts if date is older then "today" or +/- custom days from current date. Ideal for automatically hiding past events
Set default post styles to avoid adding them every time when you add post
Enable / disable slideshow if post images are more then 1
Custom background for every post
Facebook comments
Custom image roll over settings
CSS3 and JQuery powered effects
Easy install with a Step by Step Screencast that even WordPress beginners can follow
Example theme Data with Menus, Posts, Pages is included
REQUIREMENTS
PHP5+
Installed WordPress 3.4+
if you going to use it as facebook teb/app you need to have:
facebook developer account
SSL certificate
USED PLUGINS
Visual Composer for WordPress – Included
I recommend this – requires plugin installation (not included)
Contact Form 7 – requires plugin installation (not included)
TweetScroll – requires plugin installation (not included)
IMPORTANT NOTE:
The images seen in the preview are NOT included in the download package.
CREDITS
Special thanks to
Andrey Gordeev
for his beautiful artwork used in the preview
Flexslider
Codrops
UPDATE v2.5 – 22 December 2014

- FIX: Added support for latest version of WooCommerce 2.4.x

UPDATE v2.6 – 24 April 2015

FIX: Security fix for latest XSS vulnerability in TGM Plugin class - http://marketblog.envato.com/news/wordpress-item-security-vulnerability

UPDATE v2.5 – 22 December 2014

FIX: Important Page Builder compatible issue with WordPress 4.1

UPDATE v2.4 – 14 November 2014
- IMPORTANT: Major update of the theme VC Page Builder and fully compatibility with WP v4.0 which fix several problems
- IMPORTANT: Added support for the latest version of WooCommerce 2.2.8
- NEW FEATURE: Slider mouse parallax effect 
- FIX: Auto rotation bug 
- FIX: Several visual bugs 

UPDATE – 18 February 2014
- FIX: Improved lightbox(full image size view) experience on mobile devices 

UPDATE – 16 February 2014
- NEW FEATURE: Greatly improved Facebook and Twitter sharing metas (twitter "card" is now supported). SEO improvements.
- NEW FEATURE: Added deep linking for the post slider. Now when you go back the slider will scroll to the last opened post
- NEW FEATURE: Added Disques comments
- FIX: Improved scroll bar (it's now scroll normal when is dragged ) 
- FIX: Facebook comments window misalignment (firefox ie)
- FIX: YT and Vimeo video now display correctly  
- FIX: WP 3.8 admin options visual fix

UPDATE – 04 December 2013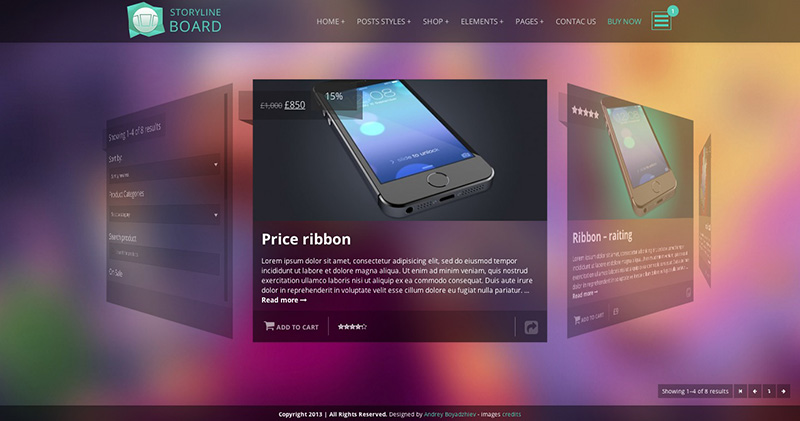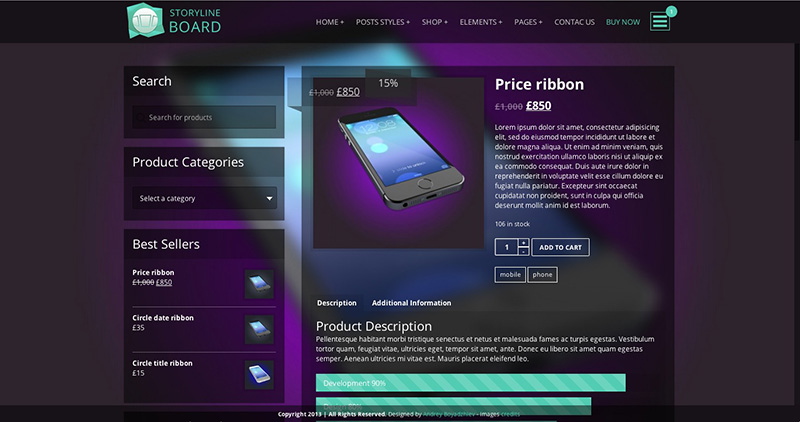 - NEW FEATURE: Woocommerce support
- WooCommerce: 2 types of product display
- WooCommerce: 2 types of load (pagination / infinite scroll)
- WooCommerce: 2 extra widget areas ( at scroll page and product page)
- WooCommerce: All theme features are also available 

- NEW FEATURE: Dark glass color scheme
- NEW FEATURE: Option to select featured image behavior 
- NEW FEATURE: Option to disable bounce to top effect

- FIX: Second lvl submenu overlapping
- FIX: Mobile menu hover 
- FIX: Proper work of tab bars
- FIX: Proper work of tour bars
- FIX: Can't hide ribbon on circle type post 
- FIX: On/off images slideshow  
- FIX: Images slideshow border bug 
- FIX: Unable to scroll in pages/post on Ipad/iphone 
- FIX: Comment icon will now hide if comments are disabled  
- FIX: Comment icon open white screen

If you find slip bugs please report them trough my profile contact form and i'll do my best to fix them asap
Update 21.08.2013:
Price table plugin support
3 more scroll effects - spiral top, spiral bottom and classic flip
Bug fixes
Update 14.08.2013:
Youtube video backround ( muted/unmited, auto repeat/play once, show/hide controls, starting sec.)
Posts slideshow feature
Minor bug fixes
Check out the new YT video teaser feature: Here

Other Projects