The Navigator is ideal for travel blogs and/or location guides. This directory-based theme utilizes Google maps to display exact locations and provide users the ability to interact with the location. This theme could also function as a real estate listings directory or store locator.
WordPress version available here
What buyers are saying:
"This is amazing!"
- okanc
"Excellent theme. Perfect…"
- DragonX
"This theme is absolutely amazing.. I'm lovin' it."
- kaledonder
"Wow. I mean, wow. You outdo yourself every time. Great work on this theme."
- mochajen
"I simply cannot believe this template. Awe inspiring."
- squarejack
"Awesome theme, great documentation. Thank you so much!"
- BigTim
"I don't know of an easier template for the cost. This rocks!"
- RChippa
Example Live Site:
Features:
Supports Google custom fonts library
Google Maps integration
Slideout widget panel
Full screen image backgrounds
Draggable and collapsible windows
Easy logo customization
FREE version upgrade if you purchased this theme
Advanced jQuery animations and effects
Changelog

v1.2.4 - Dec 2016
* Fixed: issue with loading animation script.

v1.2.3
*Improvements - general code improvements

v1.2.2 
* Fixed - Loading issue in the Chrome browser.

v1.2.1 - Jun 2015
* Removed: prettyPhoto lightbox plugin due to vulnerability.

v1.2 - Aug 2011
* Fixes reported issue with iPad.

v1.1 - Aug 2011
* Fixes reported issue with menu spacing.

Latest Release… VYSUAL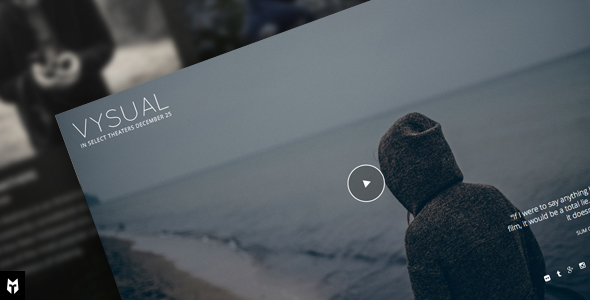 Words can't express how satisfied I am not just with this theme, but the support… Looks exactly like a professional movie site should. My production has a very high standard and it was crucial the website reflected that standard. Thank you Chris!!!
- samgosper