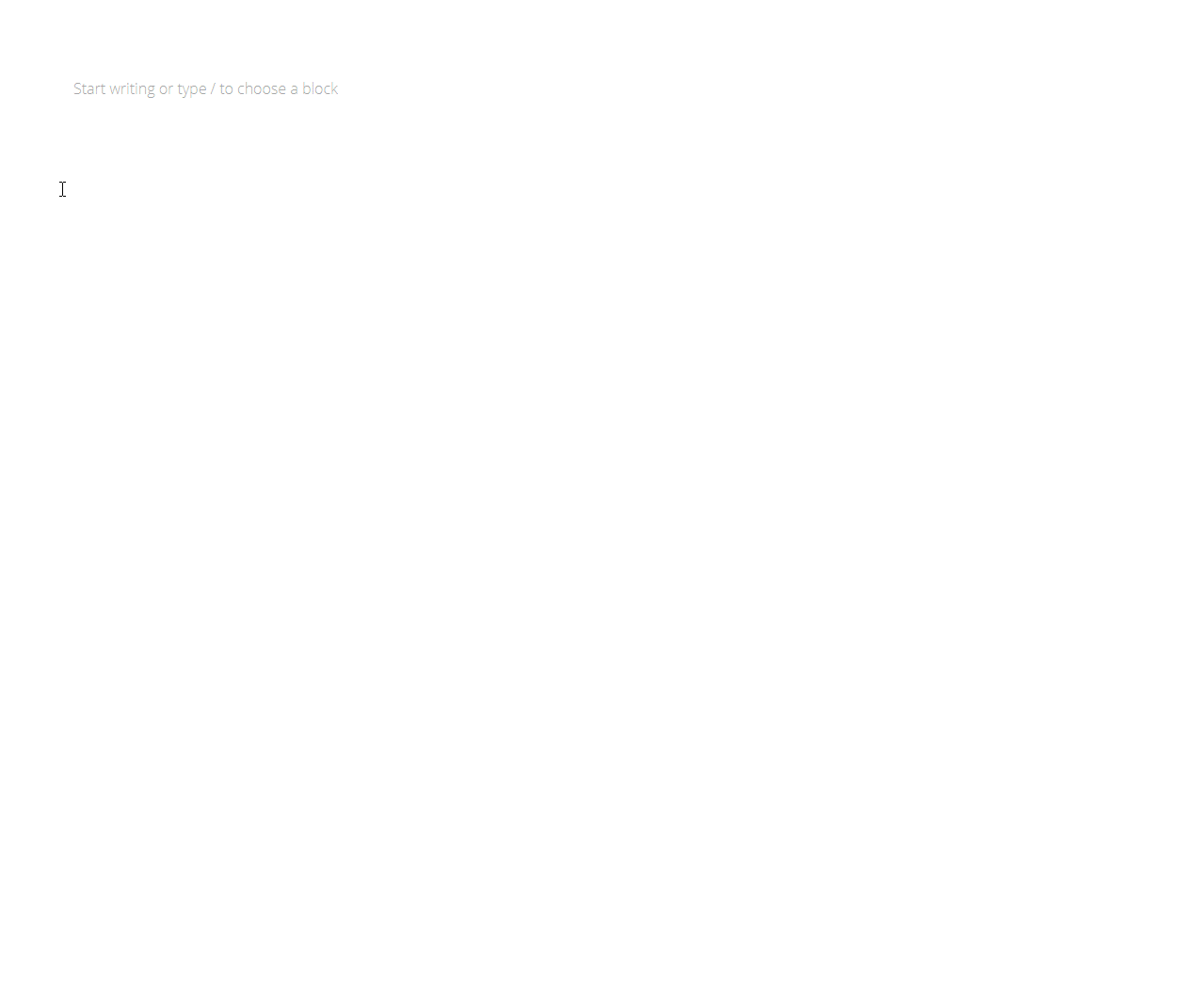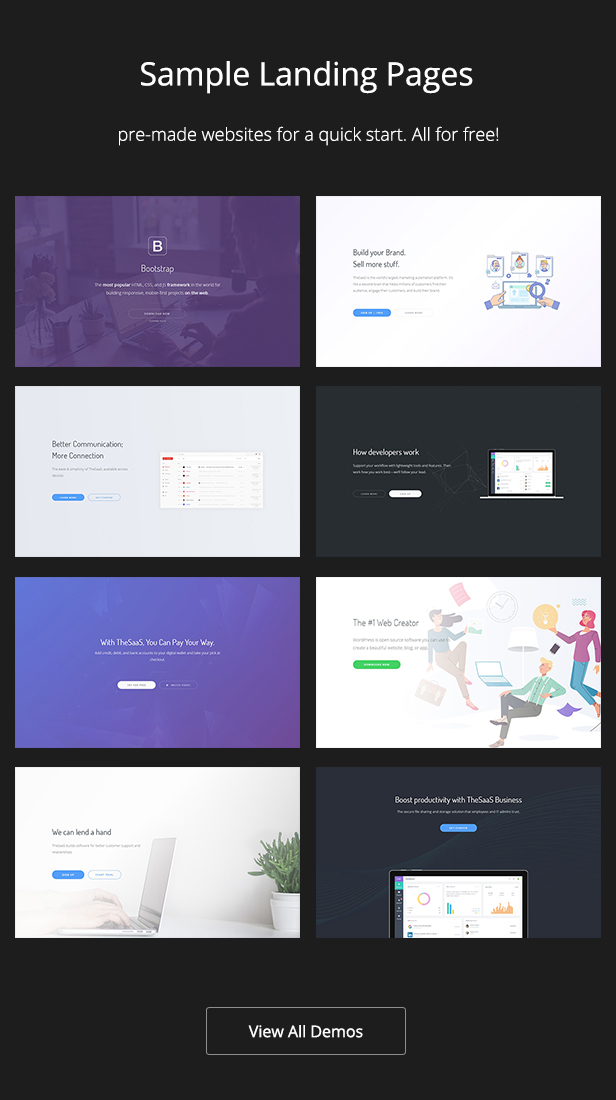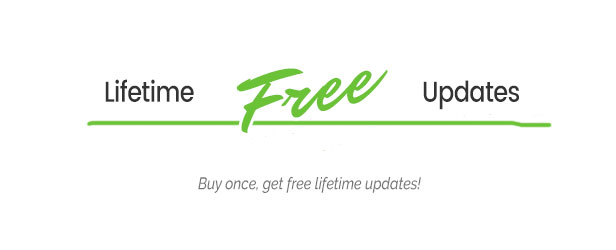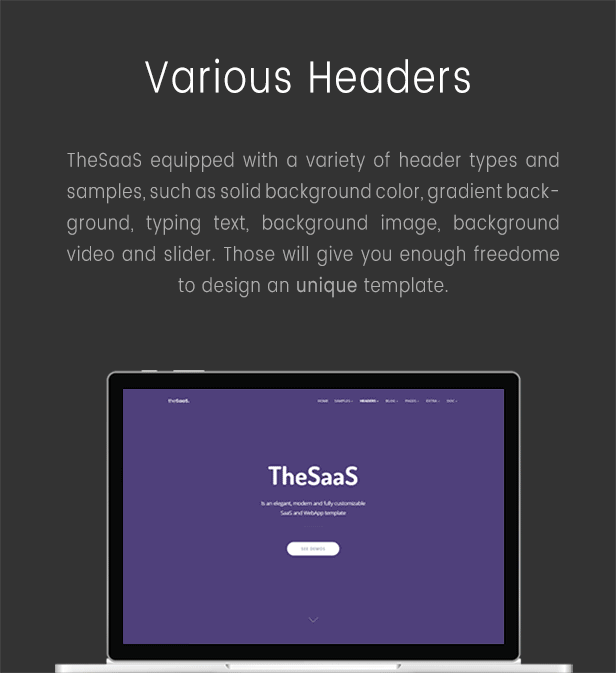 Overview
TheSaaS X is a responsive, professional, and multipurpose SaaS, Software, Startup and WebApp landing theme powered by Bootstrap 4. TheSaaS X is a powerful and super flexible tool, which suits best for any kind of landing pages. TheSaaS X is definitely a great kick starter for your web project.
TheSaaS X design is harmonious, clean and user friendly. TheSaaS X has a huge collection of plugins and UI components and works seamlessly on all major web browsers, tablets and phones.
Features
Visual page builder
Using Gutenberg Page Builder
Valid HTML5 & CSS3
Web App, Software, Mobile, SaaS Product Based Theme
Built on top of Bootstrap 4
Bootstrap Like Data API and classes
Responsive layout (desktops, tablets, mobile devices)
Clean & Modern Design
Fully customizable
Developer friendly code
Includes several landing page samples
Extend utility classes
+100 block variation
Browser support
TheSaaS supports all modern browsers (Chrome, Firefox, Safari) including IE11 and Edge.
TheSaaS X
= 1.0.5 =
* Released: May 01, 2019
Add    : Ability to change pricing tab buttons text (monthly/yearly).
Update : Removed icon settings from Customizer > Site Identity. You should set your logo from Layout > Navbar.
Update : Show all submenu items by default on mobile devices, so the parent item can be a link.
Fix    : Warning on portfolio blocks if a category has not set for a portfolio post.
Fix    : Iconbox component couldn't change the icon (i.e. in Explore #1).
Fix    : Feature block #11 duplicate and switch mirroring problem.

= 1.0.4 =
* Released: April 01, 2019
Add    : Ability to add reCAPTCHA v3 to contact forms (See Customizer > Site Configuration)
Fix    : Embeds wasn't rendering correctly.
Fix    : SoothScroll shuttering issue on Chrome 73+.
Fix    : Contact-Form-7 to use custom primary color for submit button.
Fix    : MediaUpload wasn't able to pick an image for a Card because it was inside Dropdown.

= 1.0.3 =
* Released: March 12, 2019
Add    : Basic form styling for "Contact Form 7" plugin.
Add    : Ability to set suffix string for count up component.
Update : Vendors (Bootstrap, Popper, Jarallax, SmoothScroll).
Update : Some improvements in WooCommerce pages.
Update : Social icons to open link in new tab.
Update : Icon picker to have "clear" button to remove selected icon.
Fix    : The Elementor error regards the_content not found.
Fix    : Form title on Contact block #7 wasn't changing.
Fix    : Navbar type wasn't changing and it was always sticky.

= 1.0.2 =
* Released: February 01, 2019
Add    : Ability to set receiver and subject in contact form blocks
Add    : Support shortcodes in html block and TheThemeio blocks
Add    : Ability to change primary color from Customizer > Style
Add    : Basic support for WooCommerce. Better to not use it yet if you're not in hurry.
Update : Remove "success-message" from email text sends from contact form
Update : Better success message position in contact blocks #5, #6, #8
Update : Add "mailto:" scheme to email in social icons if they don't have
Update : Contact #2 to remove E, P, F abbrs if related text is empty
Fix    : There was problems with using Elementor plugin
Fix    : Few improvement in style and script

= 1.0.1 =
* Released: January 17, 2019
Update : Brand image to have 50px max-height
Update : Set a default navbar menu after One-Click Demo Import
Update : Don't save customization styles to a css file
Fix    : Warning regards count() function
Fix    : PHP error after OCDI if the menu has not set to a location
Fix    : Email icon wasn't displaying in social icons
Fix    : Constellation was consuming a lot of CPU resources in the page builder

= 1.0.0 =
* Released: January 14, 2019
Initial release
TheSaaS
= 1.3.6 =
* Released: Jan 08, 2019
- Add    : Ability to add Medium social icon to the footer and team members
- Update : Call to action #6 to remove image if it's not specified from page builder
- Fix    : Video background play on iPhone with adding "playsinline" attribute
- Fix    : Second level of navbar wasn't displaying correctly in mobile devices

= 1.3.5 =
* Released: Oct 01, 2018
- Add    : Ability to add Telegram social icon to the footer and team members
- Update : Remove the whitespace after typing text and before postfix text
- Fix    : Mobile navigation wasn't closing if a link was anchor to same page

= 1.3.4 =
* Released: Aug 01, 2018
- Add    : Ability to filter posts by category in content blocks
- Update : Hide empty fax/phone inputs in the contact blocks
- Fix    : Close navbar if an anchor clicked on mobile devices

= 1.3.3 =
* Released: May 25, 2018
- Add    : GDPR compatibility in comment form 
- Add    : Ability to set topbar buttons to open in new tab from the Customizer
- Add    : Footer layout #6 to the Customizer
- Update : WooCommerce templates to support version 3.4
- Fix    : Misc block #1 to display all jobs instead of 5 jobs
- Fix    : Some alignment issues on mobile devices
- Fix    : The issue with lity.js which cause wobbling YouTube/Vimeo videos

= 1.3.2 =
* Released: April 05, 2018
- Add    : Include xing social icon to team blocks
- Add    : Separate links for monthly and yearly plans in pricing tables
- Update : Broken links to footer and subscribe pages of thesaas-html
- Update : Disable darker color for active outline buttons (portfolio filter)
- Fix    : Warning on PHP 7.2

= 1.3.1 =
* Released: March 10, 2018
- Add    : Ability to include particles in Customize > Header
- Add    : Ability to hide single post's metas from header (In Customizer > Show/Hide Feature)
- Update : Better layout for Cover #8
- Update : Content #1 with ability to hide cateory
- Update : FontAwesome URL to the new URL
- Update : Load font-weight of 400 for custom title font-family
- Update : Keep the SCSS files in the published theme; /assets/scss
- Update : Portfolio blocks filter button changed from .btn-info to .btn-primary
- Update : Remove .bg-fixed from shop headers
- Update : Outdated WooCommerce templates
- Update : Some of the texts in WooCommerce templates wasn't translatable

= 1.3.0 =
* Released: February 02, 2018
- Add    : Feature #15, #16, #17
- Add    : Ability to have monthly/yearly plans
- Add    : Ability to disable sticky and light text for topbar from customizer
- Add    : Ability to define custom javascript code for a page from page builder (See page settings)
- Update : Make images visible on mobile devices for Cover #6 and Feature #2, #4, #9, #10, #14
- Update : Better display on mobile devices for Feature #3, #11 
- Update : Minor CSS improvements
- Fix    : Search functionality in the admin wasn't working correctly
- Fix    : Classic blog layout wasn't converting double lines to paragraph

= 1.2.5 =
* Released: January 01, 2018
- Add    : Ability to set a different logo for footer (See Customize > Site Identity)
- Add    : Ability to put topbar buttons inside collapsed menu in small screen devices (See Customize > Topbar > General)
- Add    : Ability to define custom css code for a page from page builder (See page settings)
- Add    : Xing to social icons
- Add    : Ability to hide cart icon from topbar (See Customize > Show/Hide Feature)
- Update : Feature-3 to hide image if it's not set
- Update : Cover-3 and Cover-12 to display second button in small screens
- Update : Improvements to Cover-8

= 1.2.4 =
* Released: December 03, 2017
- Add    : New contact blocks; #5 and #6
- Add    : Share buttons to blog posts
- Add    : "No Header" page template to remove header from your page
- Add    : Ability to set backspace delay of typing text
- Update : Better background position for CTA blocks
- Fix    : Strip all html tags from OG tags and limit the description size
- Fix    : Increase cart count badge after adding an item to cart
- Fix    : Hide logo of Footer #5 if user selected to hide footer logo

= 1.2.3 =
* Released: November 17, 2017
- Update : Support for WordPress 4.9

= 1.2.2 =
* Released: November 03, 2017
- Add    : Ability to change slider behavior in testimonial blocks
- Update : Feture #3 to display in small screen devices
- Update : Support WooCommerce 3.2.x
- Update : Better footer navigation in small screen devices
- Update : Assing meaningfull alt text to images instead of dots (...) for better SEO 
- Update : Minor design improvements for shop items
- Update : Minor responsive improvements
- Fix    : Edit title text for Textual Feature #11
- Fix    : Issue with show/hide buttons in Feature #3
- Fix    : Submenu had some issues with long menu text

= 1.2.1 =
* Released: October 15, 2017
- Add    : Several new contact block variations
- Add    : Footer layout #5
- Add    : Support One Click Demo Import plugin
- Add    : Support Disqus commenting plugin
- Update : Footer layout #1 to accept copyright text
- Update : Work on some responsive issues
- Update : Minor bug fixes and improvements
- Fix    : Double css loading in child-theme

= 1.2.0 =
* Released: October 02, 2017
- Add    : Ability to overwrite blocks in child theme
- Add    : Ability to create new blocls in child theme
- Add    : List and classic blog types (See Customizer > Site Configuration)
- Add    : 3 new footer layout (See Customize > Footer)
- Add    : Ability to mute/unmute background video
- Add    : Ability to modify buttons style in pricing blocks
- Update : TheElementor page builder
- Update : Change placeholder text for contact block #1
- Update : Several code improvements to increase page speed
- Update : Better structure for customizer options
- Update : Child theme
- Fix    : Change data-type to data-typing which had conflict with WC
- Fix    : Vertical position of header text on video background covers
Notes
Some of the images and videos in the demo are for demonstration purpose only and are not included into the download package.
Credits