Attention! Unfortunately this theme is quite old and it's almost impossible to make it compatible with newest version of WordPress (particularly visual shortcodes in text editor). Therefore we have to discontinue it.
It still works fine with WordPress up to v.3.7 though. So we're not removing the theme from ThemeForest in case you need it.
Please consider updating to our newer and most advanced WordPress theme yet – The7 (solid 5 stars, 9500+ purchases, tons of features, regular updates and more!): http://themeforest.net/item/the7-responsive-multipurpose-wordpress-theme/5556590

Sick and tired of faceless WordPress themes? Looking for minimalist design done the right way? Need a unique multipurpose theme that is fully responsive, retina-ready and optimized for mobile devices; with beautiful minimalist design, impressive set of features and power to customize every aspect of its layout and appearance? And do all that in only a couple of clicks? Then search no further: Unicorn is created specially for you!
Unicorn is powerful multipurpose theme that will help you to build practically any site: from big corporate sites with catalog of products to studio sites with portfolio, photo albums and video gallery; business, technology, creative studio, photography… anything that you can imagine!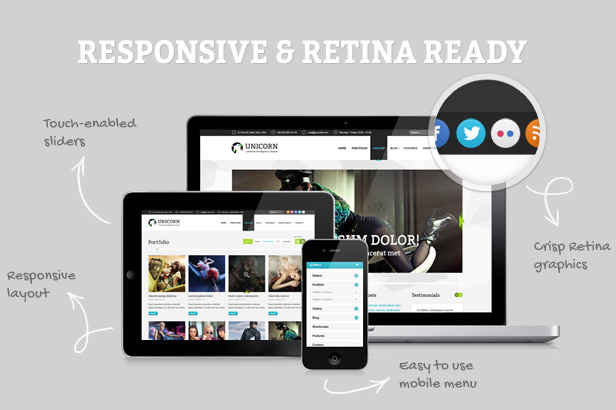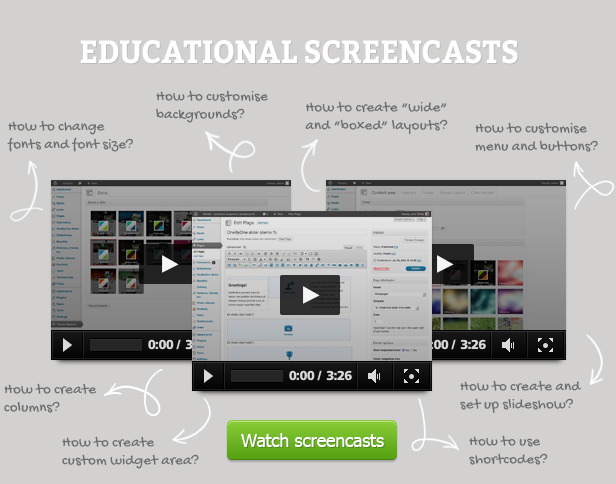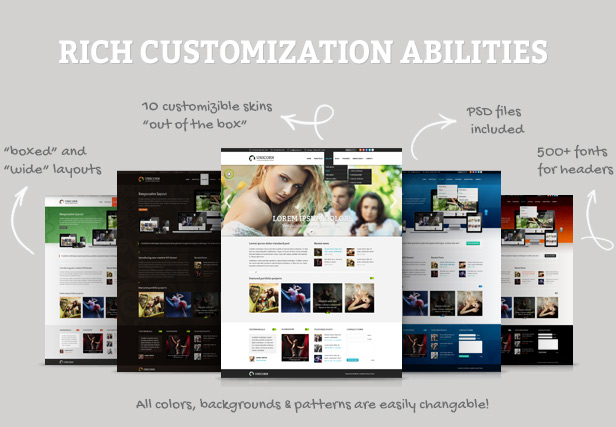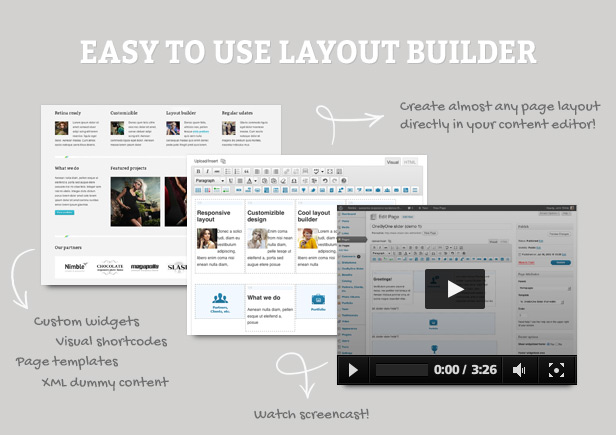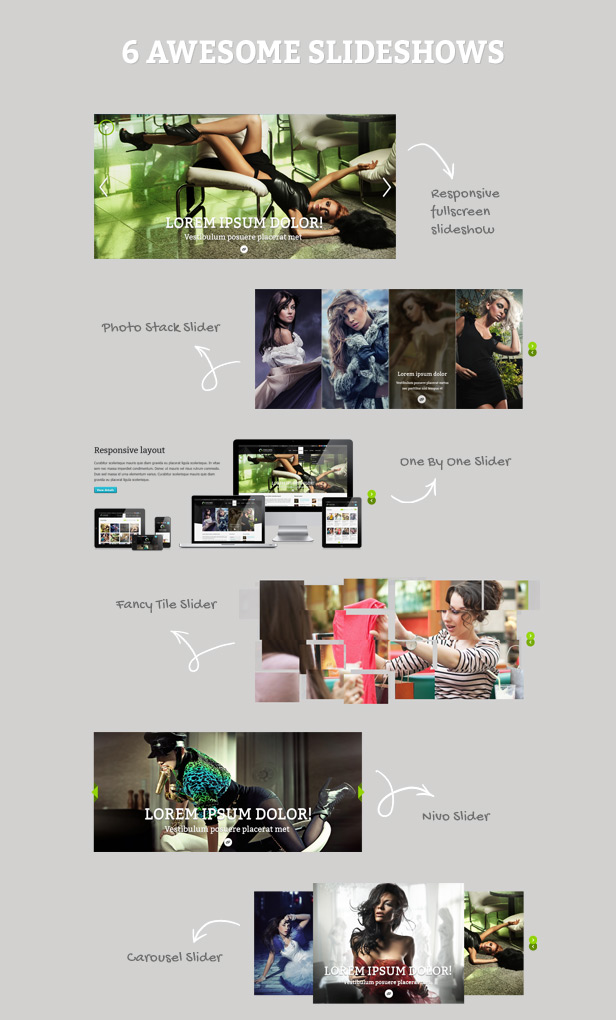 What sets Unicorn apart from its competitors:

Beautiful minimalist design. Ultimate set of tools for theme customizations. 10 gorgeous skins "out of the box". Customize literally everything – starting from page backgrounds and small color accents to font size, color and font-family. Moreover you can customize background of every page individually! No coding skills required.

Responsive. Retina-ready (all images except OneByOne slider). Optimized for mobile devices. From this moment on, you do not need to choose between responsive theme and beautiful one! Unicorn is beautiful and responsive. Nuff said.

Revolutionary layout builder. No more mess with shortcodes or another complicated interface! Build complex layouts directly from the WYSIWYG. Play with it for 10 minutes – and you'll be amazed how easy and natural it is!

Display any type of content in 3 clicks with preset page templates. Philosophy behind page templates in Unicorn is simple: create a page, choose appropriate page template, and click "publish". That's it – page is ready! Need to fine-tune the content output? Take advantage of the rich and intuitive set of advanced options.

Premium class support for free. Faced a problem? – No worries. Our customer support service is always there to help you. Get your problem resolved within 24 hours*.
Advanced users and webmasters will be pleased to know that all PSD files, required for deep theme customization are included. Furthermore, dummy content is also included to the theme package.
AND it is iPad mini ready!
Features list:
Powerful theme customization tools: customize everything via simple and intuitive interface in your admin panel.
10 amazing skins for different purposes included.
Fully responsive and optimized for mobile devices + convenient mobile menu (tested on all actual iOS devices and Android 4.1 Nexus 7).
Retina displays ready (and extensively tested on rmbp). Retina images can be enabled/disabled in 2 clicks via admin panel.
SEO friendly
Unlimited number of page layouts with revolutionary layout builder. Create custom layout with only couple of clicks in your .
Responsive fullscreen slideshow – photographers and anyone who needs showcase-style pages will fall in love with it!
5 awesome sliders highly customized for Unicorn: Nivo, Photo Stack, jFancyTile, Carousel, OneByOne.
Create pages for different types of content in 3 clicks: create page, select template and hit "publish". Boom, your page is already there! No additional setup required.
Custom post types to store different types of your content: slideshows; photo albums; portfolio; video; team; benefits; testimonials; partners, clients, etc.
Ajax filtering for portfolio, photo albums, catalog, photo and video gallery.
8 layouts (4 with sidebar + 4 full-width) for Portfolio and Photo Albums (two-levels gallery).
4 layouts for Photo and Video Gallery.
Changable image height in portfolio and gallery!
17 page templates:
page with slideshow (5 slideshows; with sidebar and full-width layout);
page with OneByOne Slider (with sidebar, full-width and with blog);
portfolio (with sidebar and full-width);
photo albums (with sidebar and full-width);
photo gallery (with sidebar and full-width);
video gallery (with sidebar and full-width);
blog;
page with blog and slider (homepage with blogroll);
blank page (with sidebar and full-width).
Password protected posts in Blog, Photo Albums, Portfolio, Photo and Video Gallery.
Unlimited widget areas.
Translation ready. Supports WPML.
19 custom widgets.
24 custom shortcodes with wide range of settings.
Lots of social icons.
Like buttons in blog, portfolio and catalog posts, photo albums and video gallery.
Mobile layout settings: mobile logo, enable/disable widget areas and some background elements.
PSD files for all skins included.
Testimonials
A grate theme. It's perfect for reuse, easily editable and file and code organization is very good. Money well spent. My compliments. bart1208
GRT WORK !! Gorgeous on all levels (even mobile Amazing!) sterlingwilliam
Excellent job on this! It's exactly what I've been looking for. Super easy to use and offers a lot of options out of the box. Good luck with sales! drivenbypassion
WOW , Guess who just saw a New FAV WP THEME ?!! Really amazing/smooth/modern/beautiful and GRT on iphone looks like too (whew, glad you have Smooth dropdown menu, even on top notch themes, some designers have older school popout menu bar on mobile view) Was going to ask if compatible with Woocommerce for selling few products but see above YES … sterlingwilliam
Love this piece of work ! Five stars ! linuskristensen
I'm writing a comment after a long time, nice theme really:) wishes best sales for you… Regards, Codestar
One of the best themes I've seen. Congrats. sbaghomian
Great design ! Especially I liked the color harmony. You are a great inspiration for me !< retinalsin
This theme looks so sharp on rMBP – excellent work:) OllieMcCarthy
Need some help?
Faced a problem? No worries – our premium class customer support service is always ready to help you.
Support requests are being processed on business days from 8:00 to 17:00 (GMT 0.0) [normally] within 24h in the order they were received.
Please note that the fastest way to obtain support is to submit a request via our online Help Desk: http://support.dream-theme.com/. Requests received via ThemeForest comments and personal messages, email, Twitter or FaceBook will take much longer time to process or can be not addressed at all!
Check out our featured WordPress Themes: