Vintage WordPress theme – Unique in design, rich in features and easy to use as you see it. Multi Purpose and responsive as we said, it is designed to display creative portfolio, photo gallery, modern business blog etc.,
Responsive Design, Multi Purpose Layout, Premium Quality, Semantic Markup, Detailed help Document, How to Videos, Top Notch Forum Support, Regular Theme Updates are the key reasons to purchase this theme. Localization Supported (We prepared .pot file & .mo files for Roman, French, Russian, German, you just need to translate it to other language .mo files)
Easy to use Admin Panel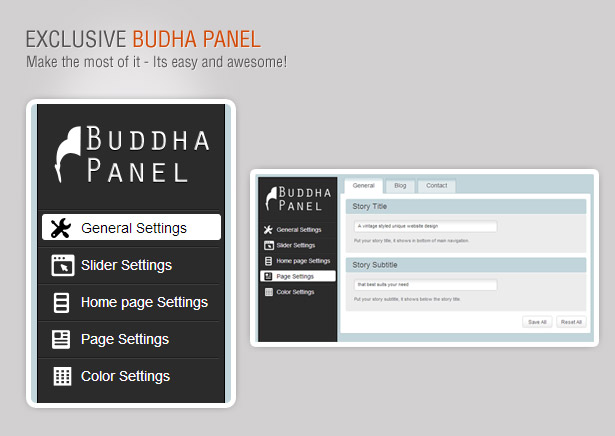 Vintage Skins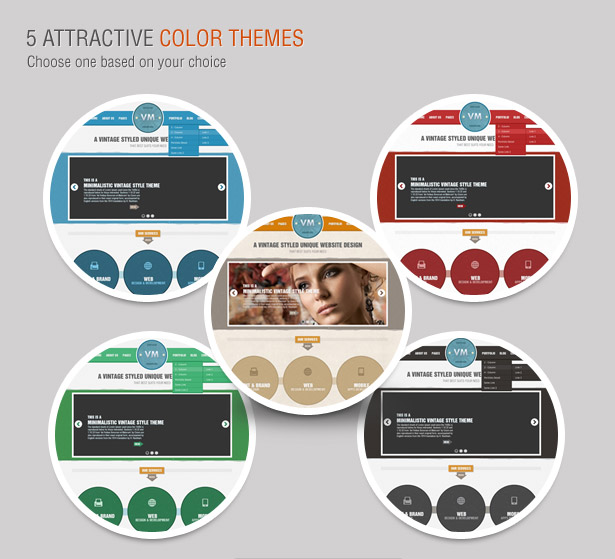 3 Different Home page Layouts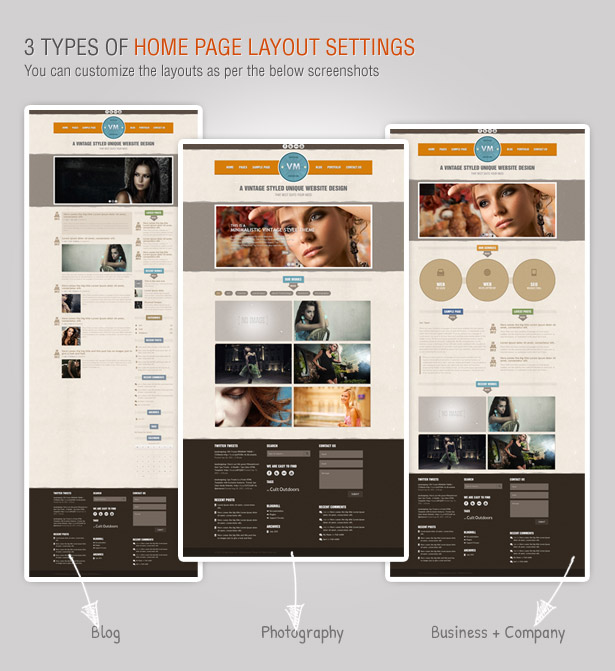 3 Home page Sliders easily Manageable from Back-end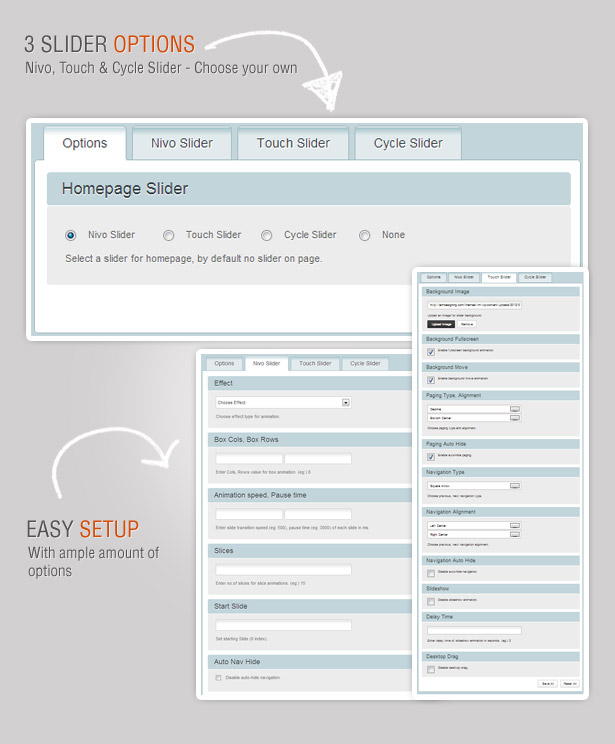 Effective Home page Settings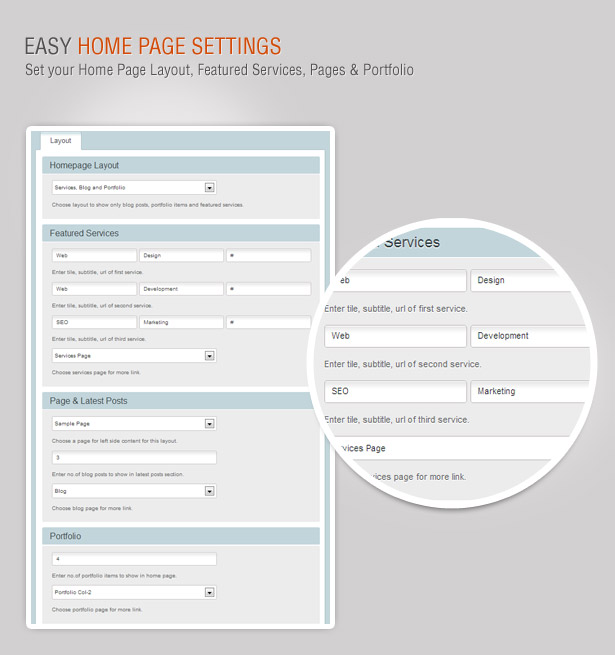 Many Useful Shortcodes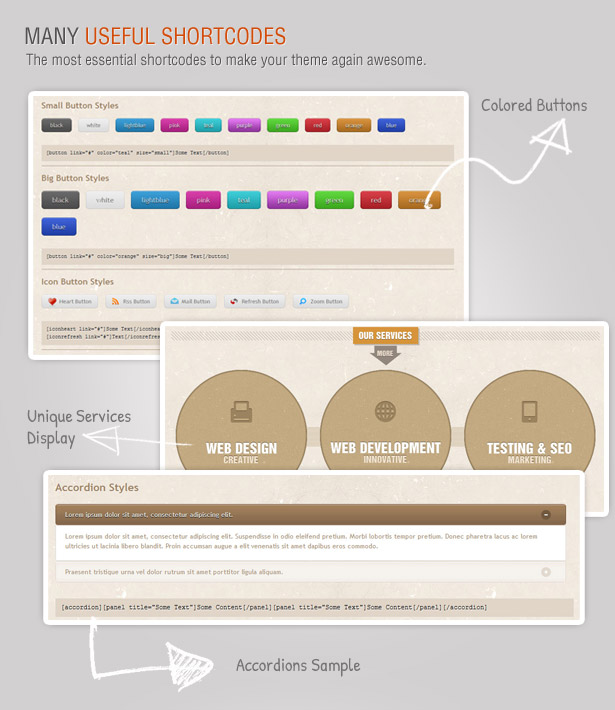 Easy to Switch, Stylish Background Patterns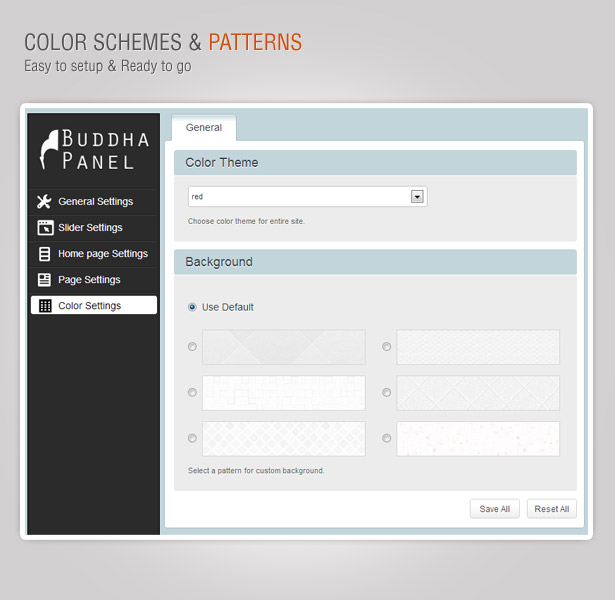 Clean and Effective Footer Management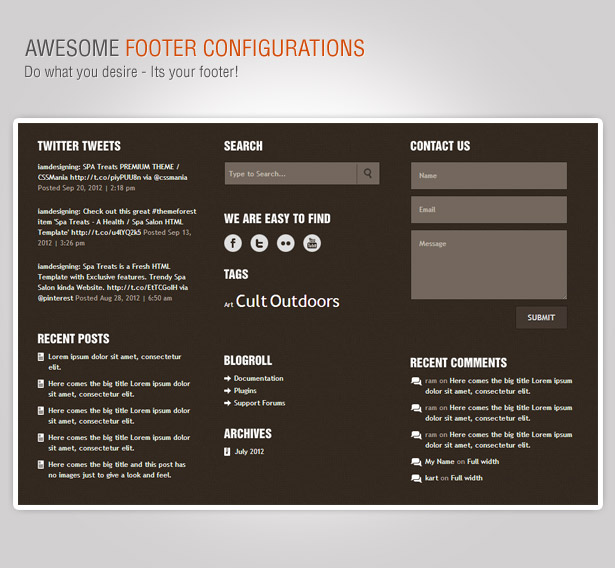 Launch your website with easy to install demo data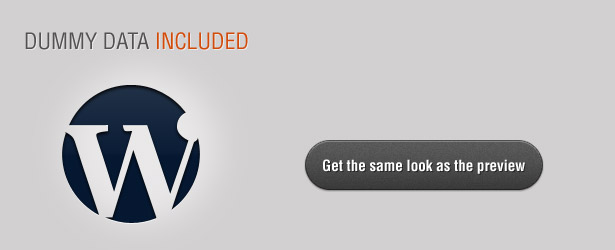 Internationalized

Exclusive Videos, Forum, Email & Comment Support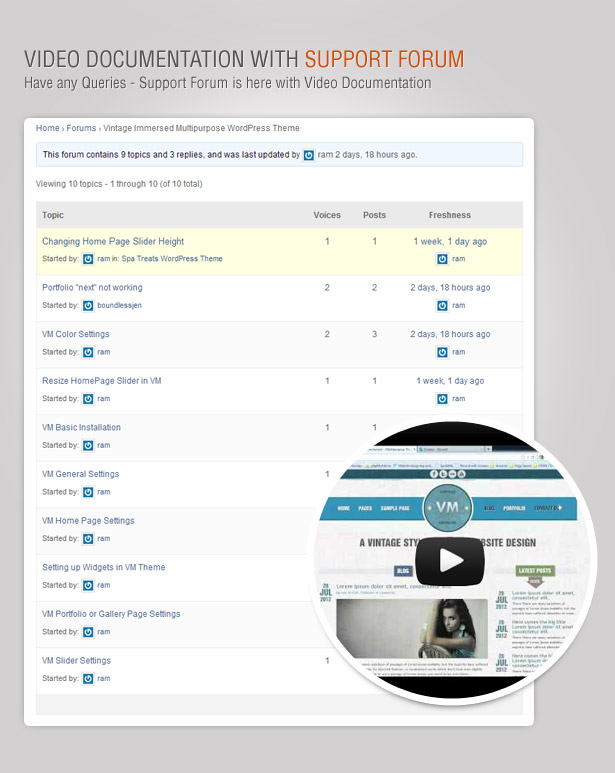 Features of Vintage WordPress Theme:
The themes comes with tons of features to customize the site easily. Our motto is "Make it simple for users" . Some of the features are listed below!
3 Home Page variations
- Blog with Sidebar
- Portfolio
- Services, Blog & Portfolio
Home page slider with 3 options
- Nivo Slider
- Touch Slider
- Cycle Slider
Portfolio with isotope jQuery Sorting
- 2 Column
- 3 Column
- 4 Column
Vintage Skin Colors
This Theme comes with 5 skin color options which can be activated at your WP admin panel.
- Vintage Default
- Blue
- Brown
- Red
- Green

More Features:
5 Exclusive color themes
Designed for WordPress 3.0+ version.
Additional option for changing background pattern.
Logo and Favicon uploader.
Wordpress 3.0 Menus.
Blog with Multilevel threaded comments.
Licensed Isotope Jquery Filtering for Gallery Pages.
Easy to use admin panel (Buddha Panel).
Search and Archive Page Included.
4 Widgetized areas.
6 custom widgets.
6 Template Pages (Portfolio…, Contact, Full width).
Typography Page Provided.
Several Useful Short codes like columns, buttons, accordions etc…
Extensive Documentation.
Pricing Table short code.
Full-width page with slider.
Forum Support and how-to Videos.
Layered PSD's included.
Works well in all major Browsers: Internet Explorer, Firefox, Opera, Safari, Google Chrome.
Take a look at the demo version, where we managed to showcase every possible feature of this theme. Feel free to test the Portfolio section and its filtering features and column management options, Blog section and its uniqueness…
I'm also ready to your suggestions to improve this template. If you can't find something what you think this template really needs or you spot that something is wrong, please leave a comment and I'll get right on it! And you don't need afraid to leave without support because that's not the case. So don't be shy, if you have question just ask! I'm going to do my best to help you
NOTE: Images used in the demo are not included for download, these images are copyrighted, if you are planning to use the photos we can provide the links to buy license.
Testimonials for Vintage Theme
Love, love, LOVE this theme, and support response is excellent! – TwoJStudios
Thanks for the great layout, this is just what I needed – smnola
Kudo's to DesignThemes! Sent several questions & modifications, and had my response within 1 hr! Great support! – BuddhaPi
Beautiful theme! Great job – the-bnu
Disclaimer: Images in the demo are not included in the download!
* VINTAGE IMMERSED Changelog *
2015.06.25 – version 2.7
 * Fixed XSS vulnerability in prettyPhoto jQuery library
2015.05.06 – version 2.6
 * Fixed XSS vulnerability
 * WordPress 4.2 Compatible
 * Language Files updated
2013.12.17 – version 2.5
* WordPress 3.8 Compatible
* Some BPanel design tweaks fixed

2013.11.25 – version 2.4

* WordPress 3.7.1 Compatible
* BBPress forum plugin Support
* Some responsive issues fixed

2013.10.17 – version 2.3
* Dummy Data xml Updated
2013.09.03 – version 2.2
* WordPress 3.6 Compatible
* Touch Slider updated
* Posts navigation reworked
2013.07.31 – version 2.1

* Contact Form-7 Ready
* Widgets design tweeks updated

2013.07.01 – version 2.0

 * Fixed New Twitter widget api
 * Some minor shortcode issues fixed
 * Some design tweeks updated
2012.10.16 – version 1.1

 * Responsive ( includes options to enable / disable responsiveness) at backend.
 * Fixed Twitter widget error
 * We've  added "Pricing Table" page.
 * We've added new Template page(tpl_fullwidth_with_slider.php)
2012.08.20 – version 1.0
 * First release!
Our Featured WordPressThemes