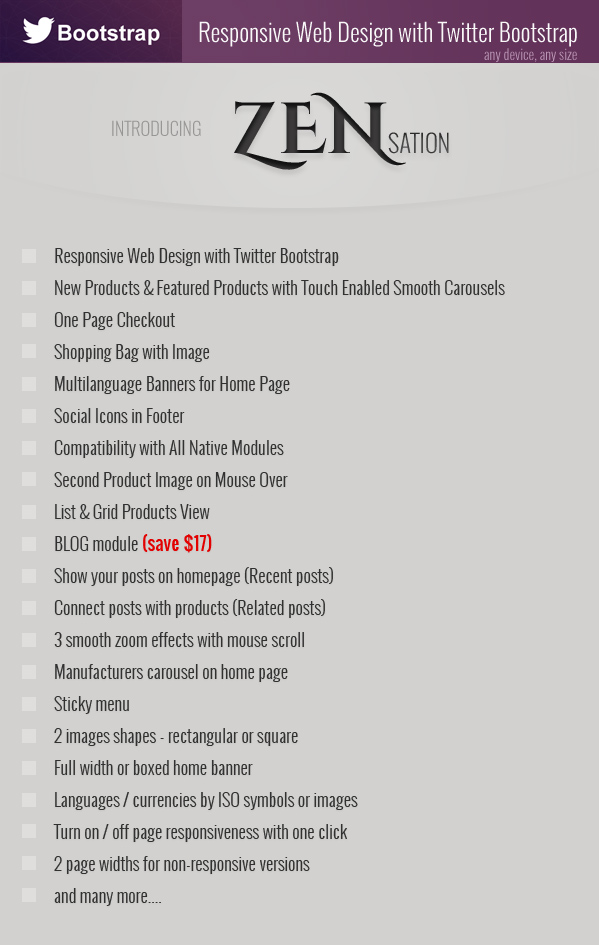 About ZENsation theme

ZENsation is a modern, elegant multipurpose theme.
Theme is SEO friendly and compatible with all popular browsers and systems.

Prestashop compatibility

Theme compatibility: Prestashop 1.6.0.6 to 1.6.1.13
There are no modifications in core files so you are able to upgrade your store in future.

Expected updates

I have a list of functionality which I will include to this theme in the nearest future.
Below you can find a few of them.

BLOG module (already done in update 1.5)
Google Rich Snippets (already done in update 1.2)
Megamenu (already done in update 2.5)
Full page width banner on the home page (already done in update 1.1)
Social Addons for products (already done in update 1.7)
If you have any problems with theme installation or you just want to contact me please go to the FAQ (Support) tab at first.
Theme is delivered with documentation where you can find installation steps.
You can also follow this video tutorial, take a look how installation is easy:
Theme Installation Tuts (youtube)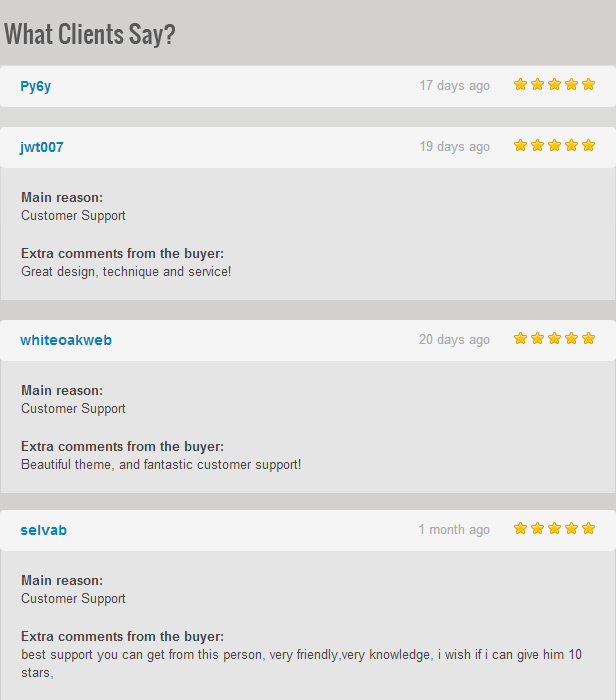 Thanks so much!
UPDATES (detailed information in changelog.txt delivered with theme):
2.8
(23.05.2017)
FIXED missing product second image on hoover on Prestashop above 1.6.1.x
UPDATED Revolution Slider module to the latest version
2.7
(27.01.2015)
FIXED missing state filed on registration form
FIXED few small css issues (aligns, z-indexes, etc.)
ADDED compatibility with Prestashop 1.6.0.11
UPDATED Revolution Slider module to the latest version
2.6
(15.09.2014)
FIXED image zoom for square images
FIXED quick view issues
HIDDEN add to cart button on product lists when product not available or has a combinations
FIXED orders history on customer account
ADDED forgotten styling for Bestsellers module
ADDED page scroll for pagination on product lists
FIXED catalog price rulse on product page
2.5
(03.09.2014)
ADDED Mega Menu module
ADDED Quick View button on product lists
ADDED Reduced Price badge on product lists
ADDED Old Price & Discount value on product lists
UPDATED Blog module
UPDATED Revolution Slider module
UPDATED Cart mechanism
FIXED small issues
W3C optimization
2.4
(29.05.2014)
FIXED wrong font on product lists
FIXED related posts module on product pages
FIXED inactive view button on product lists
2.3
(27.05.2014)
Improved documentation
FIXED images shape changing while pagination
FIXED color attributes icons on product page
FIXED small visual problems
FIXED product comparision
FIXED CMS links in footer
FIXED wrong price in total on 5-step checkout
2.2
(12.05.2014)
Many bug fixes for Prestashop 1.6.0.6 (refer to changelog.txt)
Improved Theme Editor – over 650 google fonts to choose from
Stopped support for Prestashop 1.5
2.1
(28.04.2014)
FIXED zero price issue when product has attributes on Prestashop 1.6.0.6
2.0
(28.03.2014)
ADDED new social icons in footer
FIXED small bugs during installation on Prestashop 1.6
1.9
(19.03.2014)
UPDATE for Blog
UPDATE for Revolution Slider
ADDED compatibility with latest Prestashop 1.6.0.5
1.8
(16.03.2014)
NEW amazing module: Revolution Slider
1.7
(02.03.2014)
BLOG updated – fixed few small issues + new feature: you can connect posts to products (related posts) and show it on product page
NEW zoom module for product page: choose between 3 new zoom effects
fixed product reference number on a product page
NEW share module for product page
NEW function for theme editor: now you can add sticky header menu to your page
1.6
(14.02.2014)
CRITICAL BUG fixed: important only for users of ZENsation v1.5 (products disapear where filter is selected on products list)
added new features for Theme Editor (possibility to choose beteen country flag or ISO code and between currency sign and ISO code)
1.5
(11.02.2014)
added BLOG module
added Theme Editor module
possibility to turn ON / OFF responsiveness (+ 2 widths to choose for non-responsive version)
possibility tu turn ON / OFF footer text ("ZENSATION – Fully responsive prestashop theme based on Twitter Bootstrap")
possibility to turn ON / OFF shadow below images
possibility to choose between rectangular / square images for whole store
possibility to choose between wide / boxed home banner
added POVERRIDE module (do not install if you already have a running ZENsation theme – only for new installations)
1.4
(20.01.2014)
Fixed magnifying glass (top search) visibility on firefox and IE
Removed hoover effect for view & add to cart buttons on mobiles (now buttons visible all the time)
NEW icon on products now is a link to the product
1.3
(07.01.2014)
Added manufacturer slider module on homepage
Added multilingual banners module on the bottom of homepage
1.2
(06.01.2014)
Added google rich snippets
Added arrows (left/right) to home slider
Added manufacturer name on product page
Added missing image format in cart
Fixed product carousels on ipad (vertical)
Fixed product display on lists for products with one image
1.1
(28.12.2013)
Improved translations for Italian, French, German, Dutch, Spanish, Turkish.
Modified homeslider module – full width sliders now available.
1.0
(27.12.2013)