QantumThemes: Premium Music Wordpress Themes
Professional Music WordPress Themes

If you are building a music website for a musician, band, dj, producer or radio station, you're done searching: this is the right place. We have 20 years of direct experience both in the music and radio industry, and in web design, SEO and programming. Our themes are the result of passion, hard work and deep love for what we do.
We work our hard every day to make our customers happy and successful in the music industry.
That's why many of them buy all of our themes!
Choose happyness: build your site with Qantum Themes!
Hey! We know… Qantum has no "U"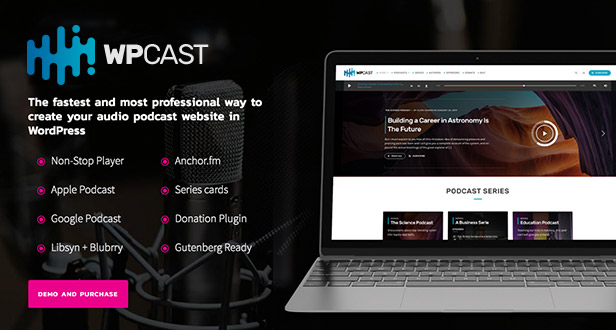 WpCast is a super responsive and easy to use
WordPress theme for audio podcasters
, that offers full integration with all of the most important channels for podcasters, as
Apple Podcast (ex iTunes podcast) Google Podcast
and many more. WpCast allows to import all of your podcasts from providers as
Libsyn
,
Blubrry
,
Anchor.fm
or any other existing podcast RSS feed. The UX for WpCast is amazing, in fact this theme is conceived to allow the same experience you wold have with a podcast app, featuring a rich and responsive player, that allows you to enqueue the podcasts you want and listen it from the featured non stop player.
This is the first and unique theme on the market with a featured non stop podcast player with playlist together with a full podcast series management tool and design, making it the most advanced (yet simple to use) tool to create both single-author or multi-author podcast websites.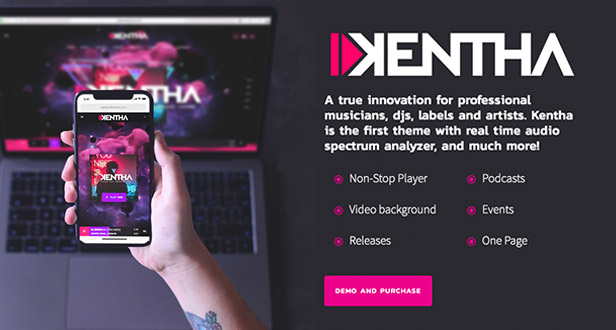 Kentha Music WordPress Theme can transform the music listening into a 360 degreen engaging experience:
conceived to give you the power of transmitting 100% of your music emotion to the visitors
Kentha is in fact the first and only music website featuring a
real time music spectrum analyzer
that allows to see the music frequencies of your tracks, and use video backgrounds for every page, album, podcast or artist.
Kentha is not like any other music theme, as its features rise the bar of music WordPress themes to a whole new level and offers at the same time an A grade performance, to guarantee an enjoyable experience and optimal SEO results for your artist webpage. And today, with the Kentha Radio plugin, you can add all the functionalities of OnAir2 to Kentha, transforming it in the perfect radio station WordPress theme!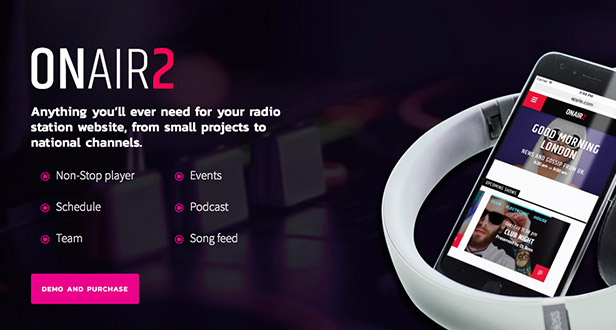 OnAir2 dominates the market of
radio station WordPress themes
thanks to the
most astonishing and complete set of tools for a professional radio station
. Its features, which are including shows schedule, team members, podcasts, events, shows slider and much more, are a 360 degree swite of tool that, together with a complete customizability, provide the most amazing theme for building a
radio station website
.
You can host an endless number of radio channels and integrate the stream with all the major providers as ShoutCAST, Icecast, radio.co, Airtime Pro and many more, decide the design of your player and pull in real time the song titles from your radio channel.
We are very proud to say that the theme is being used by hundreds of professional and national radio stations, even famous ones! And you will not find any other similar product on the market.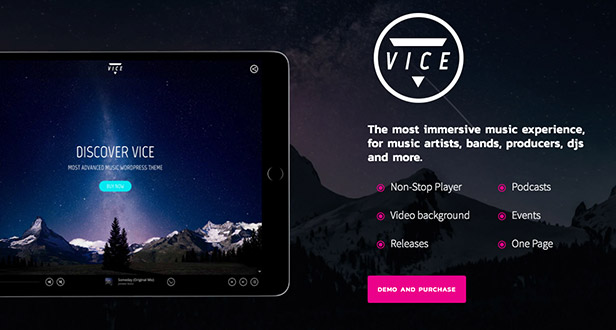 Vice was born from a dream: transforming a music website into a really amazing experience, and allowing a fan to lieve a piece of the magic that the artist created with his music. This theme, designed first in 2015 and now still top seller and fully upgraded, is the first theme bringing to WordPress a non-stop bottom bar player, later copied by many of other music Wordpress themes and websites.
Yes, we invented it and took it to Themeforest, and now you can build the perfect minimal WordPress theme with Video Background and One Page design to impress your visitors with a never-seen-before website. Vice allows to create the most immersive music experience and to bring your visitors into your world of music.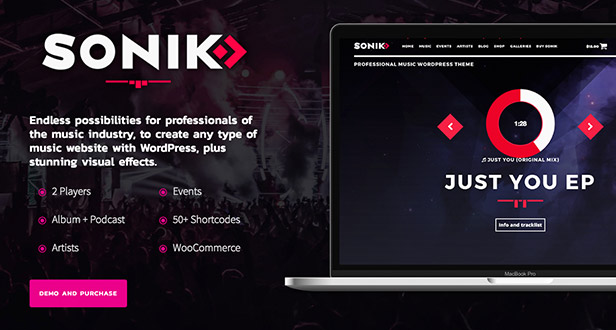 Sonik puts on the table some pretty innovative functionalities for the Music WordPress Themes market, as animated polygon backgrounds, 2 player integrations, a featured circular player, Triple View pages and much more. Intended to allow the maximum compatibility with external plugins, Sonik does not have ajax navigation, but has instead a built-in minimal cookie system that remembers and restores the state of the player on page change. Within our product family, Sonik is probably the theme with more features and more customizations, while sharing releases, artist, radio channels, schedule and events functionalities with other themes from our brand.
A solid classic yet innovative music theme with a very wide field of applications within the professionals of the music industry.
Public Collections
View All Collections