Our Products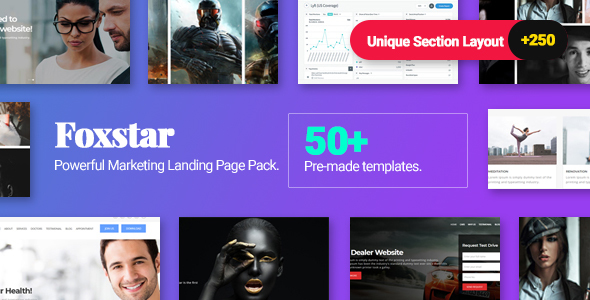 FOXSTAR includes 50+ landing pages, each landing page has a unique design and a high conversion rate that will be great for your next project. It also have html drag and drop html page builder. It allows you to create landing pages with 250+ blocks without a line of code. Builder has an ability to export your landing pages as a html template. Foxstar is a fully responsive. Whatever you are browsing from mobile tablet or desktop/laptop, the landing page will be fit all screen sizes. FOXSTAR has everything you need to launch your site within next few hours!
About Us
Thanks for checking out our profile.We are always trying our best to make pretty good awesome web templates. If you would like to see more don't be afraid to scroll all the way down or just check out our portfolio in the forest.
Support
We're truly appreciate that you've chosen our items. Customer satisfaction is our priority and we understand that sometimes you need help. We provide friendly and helpful support for all our items.
You can reach us using contact form in the right panel or just mail us (wowthemez@gmail.com). Support for our customers is provided on business days: Mon-Fri 10:00am-6:00pm (GMT +1). Standard reply time is within 24-48 hours.
Don't hesitate to ask, we are here to help you!
Public Collections
View All Collections