Welcome!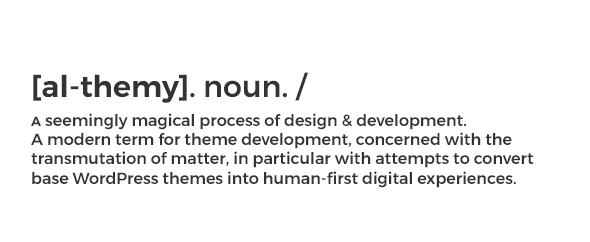 We are Althemist Studio – international web design and development agency. We invest our knowledge and 10+ years experience to ensure the WordPress themes we develop serve the right purpose, boosting your brand and making your every-day work easier so you could concentrate on your main business.
THEME SUPPORT
Theme support is offered to verified customers by our dedicated forums only. Support requests made by email, tweet, live chat or any other method will be redirected back to the forums.
While you could access the forums and our knowledge base any time around the clock, keep in mind we're located in Bulgaria ( Eastern Europe, GMT +2 ). Our general support hours are Monday to Friday, 08:00 – 18:00h. We can usually provide feedback on any support queries within 2 – 8 hours on working days, whilst we will also commit to answer any queries during weekends and holidays within 12-24 hours.
Please, do keep in mind we're probably in different time zones and sometimes when the queries are more complex it may take up-to 24-48 hours before we provide feedback.
Public Collections
View All Collections