Andrea Saccà - Magento Theme Designer & Developer
Hello! I am Andrea Saccà,
a web designer, entrepreneur, web designer based in Italy.
I started working with Magento since 2008, and from that day I have never stopped studying and improving my knowledge about this great open source platform.
Here a quick timeline about my experience:
2016 – Launch soon new Magento Themes…
2015 – Author of the Book "Mastering Magento Theme Design" Buy Here
2015 – Speaker Meet Magento Italy
2015 – Started my Web Agency Company "1604lab S.rl.l"
2015 – Started MAGENTIAMO: The most important blog in Italy about Magento
2014 – Speaker Meet Magento Italy
2014 – Magento Frontend Developer CERTIFICATION
2014 – Emphasis Magento Theme on Themeforest
2011 – Started my Freelance Career
2009 – Experiences in some Web Agency
2008 – Start working with Magento
I specialize in creating Magento Themes but with my company and great experienced Team, we also provide premium and dedicated Magento support.
Actually with my Company, 1604lab S.r.l. based in Italy, we provide custom E-Commerce for small, medium and big companies, focusing on creating tailor made design.
We also launched in 2014 a blog called Magentiamo, wich is growing so fast and it is actually the most important blog about Magento in Italy.
We also offer custom optimized with High performance Magento Hosting, Courses, and support for Magento.
Thank you for reading!
Links for References:
IMPORTANT!Please don't forget to rate the theme when you buy it on themeforest, it will help me to grow up and to give to the customers other info about my job.
You can rate the theme in your donwload section, simply clicking on the Rating star!
Thank you
Enhance your websites with my beautiful, fresh and clean design!
Emphasis – Responsive Magento Theme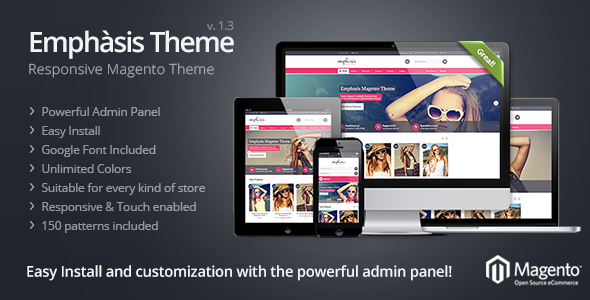 Public Collections
View All Collections