Good to see you here..
Hi, I am Mehmet BALKAy and I am designing print templates for my happy clients.. My all clients are very happy and have no problems with my works..
If you want to join my happy clients group
and you need any freelance work please send me an email via my profile or visit my website : www.balkay.net..
You can see my all other works in my website.. Please , feel free to contact and ask your all questions about my works or other subjects.. I will be glad to help you..

my skype id : balkaymehmet

I have the first %100 recommended brochure design service on microlancer! (17.07.2013)
You can check here :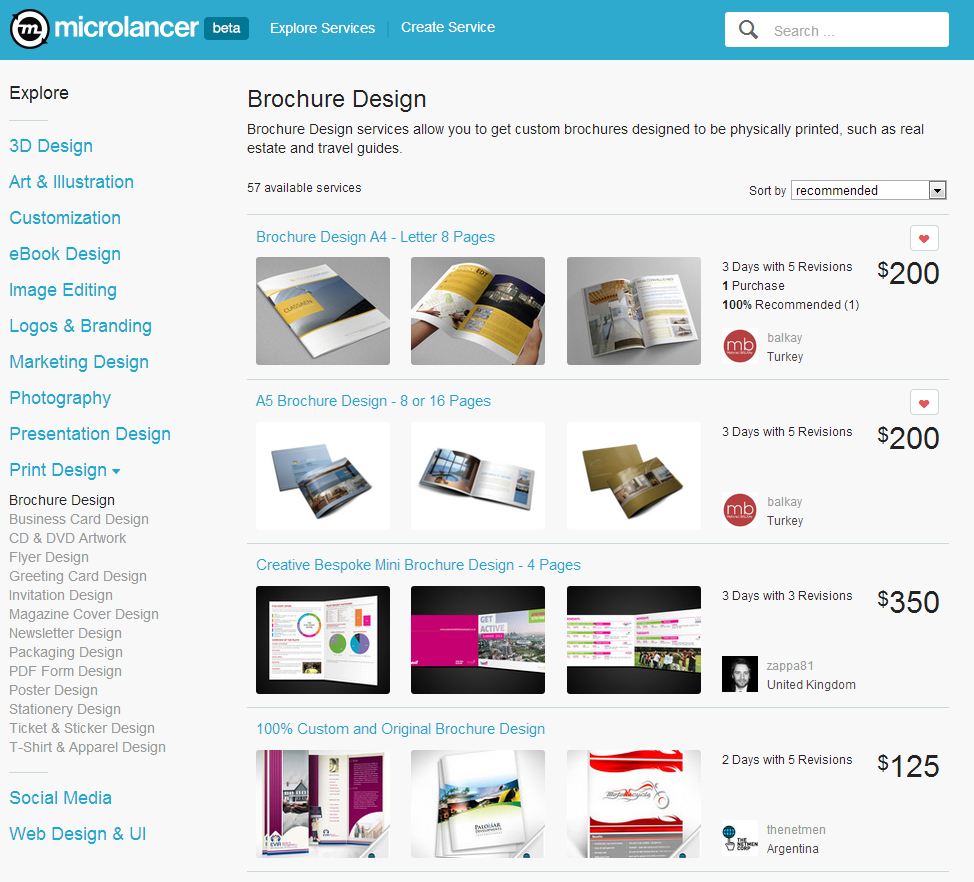 So, buyers can not wrong !


If you gave low rate to my works , please contact me about what was bad with my work.. I will be help you about it..

What did they say about my works?


Mohammad Ashraf Patel on BALKAy.net
When I enrolled Mehmet to do a freelance job a year ago, i was skeptical as I was his first freelance client. His template design on Envato was just so cool, that I needed to give this eager designer a chance..
A few weeks later, and after dozens of mind changing adjustments, Mehmet delivered a beautiful brochure which my clients loved!
Mehmet's patient, listens to what you want, but also inputs his creative thinking if he feels it will not look good.
We've just completed our second brochure for the year, and just begun our exhibition stand graphics..
I trust Mehmet to deliver yet another amazing design!


DanMichael on Brochure Design A4 – Letter 8 Pages Service
Mehmet is a great communicator and very persistent at working with his clients to make sure you get exactly what you are looking for! Very happy with the high quality work, our report looks fantastic, thanks!

yomrholmes on Brochure Design A4 – Letter 8 Pages Service
Mehmet rocked it. I've never requested a print design project before, but now I'm inspired to run more print promotions! Well done!

CityGirl6 on Architecture Brochure Template
Thank you for being so helpful in making my requested changes to your file to accommodate US formatting. I appreciate your great communication and quick work!

creativeheadquarter on Technology Company Brochure V01
Elegancy with Perfection, Awesome Work!!!

Rewroc on Clean Hotel Brochure
Looks very clean and professional. Good luck!

Sleightofhand on Elite SwimWear Catalog Template
Nice work, some great layouts

saddad on Corporate Annual Report I
very nice design I really like it , it's one of the most beautiful Annual report in this website

broluthfi on Photographer Portfolio Brochure Template III
simple, elegant… good luck with sales buddy..

tellioglu on InStyle Hotel Print Pack..
Congratulations on the best quality brochure work, man I've ever seen

candeed on Company Brochure 2013 Part 07
Cool brochure template, Balkay! Clean but strong as always.. Good Luck!


Public Collections
View All Collections