Profile
Hello World::
/I'm a graphic design major with extensive experience in digital arts.
//I love designing stuff, it's my full time job… I design, you get paid.
/// I like llamas
::end message::
_
FREE PROJECT FILES
Hi, as a thank you gift for you guys/girls I have decided to upload free AE project files on here. I will be deciding which files get uploaded to Videohive and which ones get uploaded here.
Which means you will get a fully animated, professional project file, w/ audio and a PDF guide for free – that would other wise have been uploaded to Videohive for sale. Check back ever so often to see what new files are up here:
If you want to preview the files check out my Youtube channel I will upload the previews there.
::All files are HD ready and are AE CS4 and above compatible::
1. Color Streak :: Logo Stinger http://www.mediafire.com/?nhh399jwo5a4lez
2. Easy Commercial Maker http://www.mediafire.com/?el414mqpbaww9yb
3.Retro Logo Stinger http://www.mediafire.com/?rodpgpn5ea16n0p /
/
/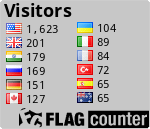 Public Collections
View All Collections