Regarding the Responsive Mega Menu Complete Set (2020-06-17)
More than 5000 people bought this menu and I want to thank you all for your purchases. This item has been disabled for more than 2 weeks because of a security issue, I submitted an update 14 days back but it still hasn't been reviewed by the Envato team.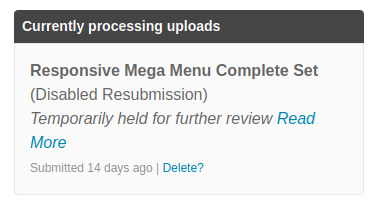 What is the security issue?
My menu includes this contact form which has been disabled for security reasons
https://codecanyon.net/item/ajax-contact-form/50846
That's all I know, the Envato team didn't tell me what the issue is. Until this contact form will be updated, I just removed it from the menu.
I believe that If you're not using the contact form you should be fine. It's only about removing the PHP file and the scripts, this is what I submitted as an update and the Envato team is still trying to investigate the latest changes I submitted. I would like to make the update available elsewhere but it's forbidden by the terms of conditions so please contact Envato directly if you need this update urgently.
They decided to send 5000+ emails to all of you suggesting to contact me, that's not the smartest thing they could come up with but anyway, I apologize in advance if I'm not able to respond to everyone.
Best regards, Guillaume
Update 06-22-2020
My menu hasn't been reviewed yet, I submitted it more than
3 weeks ago
to fix a supposed security issue that no one was able to describe me. I would expect the review team to process such items quickly so customers would get an update as soon as possible. Anyway thanks for your patience, for now it seems that envato can't handle requests so contacting them may not help.
Hello ! I'm Guillaume and I'm a frontend developer with UX/UI skills based in Prague. This is my old portfolio I developed between 2009 and 2014, now I mostly work on single page applications using React. Feel free to contact me for your projects