Hi, welcome to my portfolio!
Previously, my music has been heard on channels such as BBC, E!, CNN, TVE and Channel 4 UK and I hope you are able to find a piece of music that can enhance your project.
I will be constantly updating my portfolio so if you do not find anything that hits the spot, you can get in touch and we can work together towards the best solution for your project or come back at a later time to explore new tracks.
You can also visit my website at www.patrickmooremusic.net
I wish you all the best in your endeavours and hope my music can contribute to your success!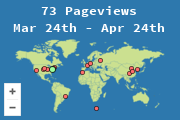 Public Collections
View All Collections