Welcome to R3 General Designs
Futuristic Modernism and classic elegance together.
If you want a personalized logotype, Im available for freelance work. Contact me using through Envato or sending me a message to my profile page.
More of ten years of expertise in agencies and design studios, developing designs of many kinds and marketing/advertising campaigns.
Testimonials
Zack M. (USA) Thank you so much for your help.  I will definitely be using more of your templates in the future. (Menu Template)
Martin V. (USA) This looks great. I will definitely refer you to anyone else that I can, your work has been very good and so has your service and advice. (Logo design)
May W. I really like your menu, and it makes my life so much easier to help my parent restaurant to make a new menu. (Menu Template)
Agustin S. (Argentina) This help me out so much. It's cool, well designed and easy to use. And in photoshop or indesign! (Menu template)
Fernando B. (Puerto Rico) Excelent! Thanks for the service… Excelente! Gracias por el servicio… (Logo design)

Trust in R3GeneralDesigns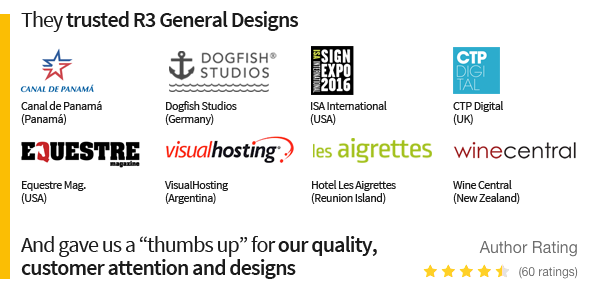 Public Collections
View All Collections