Hello!
We are team of designer & coder who have a great passion to create useful and innovative web marketing related designs to strengthen your business and achieve better conversions.
Notice
We're about preparing important updates on our online template editor! Improvements & added some more useful features for our lovely users

Make sure to subscribe to our newsletter, we'll let you know when it's ready


Support related
If you have any questions or need support that you didn't found in the Help docs. please feel free to contact us. Please send us your support request / question, or any advice via
contact form
in our profile page. We will respond you usually within 24 hours in Monday – Friday.
Freelance availability
Currently
available
to take new casual freelance works for email template design and development related
only
.
Check
this featured service on Envato Studio
Some great feedback from buyers on our products
Purchased to use with phpList as an HTML template.

Very easy to use and customize, simply copy and paste the block you need and you're ready to go. Responsive view works well, no discrepancies.

No issues so far, thanks.

- sh_son on Bellaputri – Usable, Responsive Email Template
Awesome template, simple and easy to work with ! - mcharbonneau on Arini, Clean Business Newsletter Template
I've purchased maybe 5 templates in the past week looking for "just the right one". I'd get only so far along, and then see it just wasn't what I really wanted (I'd found those by looking for highest reviews or most sales).

This template is band new, and thus has few sales, and I think I'm the first review – but I am certain s going to be a winner. It's really good. Clean, simple, but it's responsive, there are enough color options and for me, the MailChimp integration was flawless. Finally the PSD file is pre-sliced and named, and changing colors from saputrad's colors to mine was the easiest re-color job I've even done (I only know enough PSD to be "dangerous" – the was the color elements are defined, I just needed to click the "color overlay" part of the layer and dial-in what I wanted. Boom. All in, and EXCELLENT value, and really appreciate the author's work. 5-Stars. Highly Recommend.- newdaycigs on Professional Responsive Email Template – DeWin's
5 Stars man! (I didn't just type it.. I actually rated it)
I just have to say that these templates are awesome. Purchasing this was so worth it. The functionality is great and the layout's and everything.
- Chris on Flatmail, Flat Responsive Email Template
Great, simple template, thanks. Works great with Campaign Monitor… - gormanphil on Responsive Modern Email Template – KLEEN
It´s a great tremplate! Ease to use and a wonderful layout to impress our customers. And the best of all, great support of the designer! He is very helpful. Berry, Enerjoy - Enerjoy on Metromix Responsive Email Template
First off let me Thank you for the fact that you go the extra mile and include Campaign Monitor templates. That's great!

Just the fact the email worked with Benchmarkemail I will rate you 5 stars. The Design is incredible and different as well.

VERY HAPPY! – agentpowerup on Clean Minimalist Email Template – Anish
I do like it very much! Super clean, semantic and nicely commented. It works beautifully too I just left you 5 stars! – janna21 on Mobile Friendly HTML Email Template – Pertamax
Featured item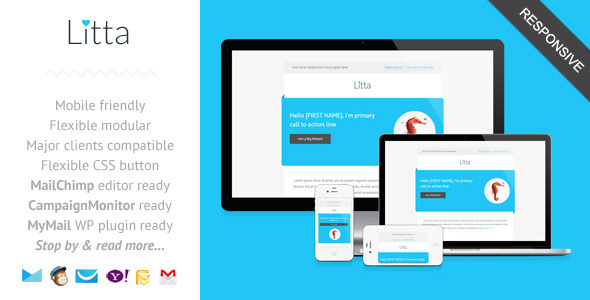 Public Collections
View All Collections