Real Premium Drupal Themes
Its been a very long time since I am working on creating Drupal themes. Client Satisfaction is my primary goal, I always try to put my best in what ever I do. Its been very pleasure to work here with themeforest community. If you have any questions regarding the theme please contact me via contact form visible on the right sidebar of this page.
Latest Beautiful Premium Drupal Theme Released: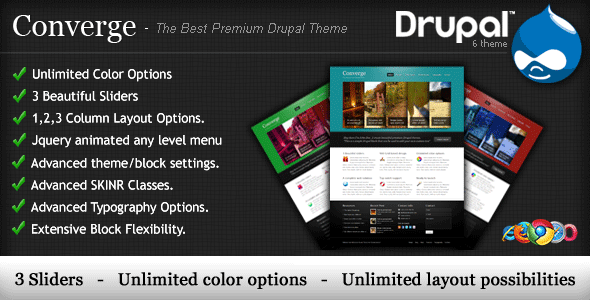 Testimonials from other Themeforest Members
Though all the testimonials from the theme buyers are posted in the respective themes or you can see them in the comment section of them. Here are few more testimonials from the theme buyers other than already posted in theme details page.
I have bought this theme for one of my projects : www.nailssecret.es. I must say that the theme is really complete and themesmania has an excelent support. A great option to be considered! Good theme, quality and really flexible.

best regards,

Miguel
I am exceptionally pleased with the beautiful theme and I can't thank TM enough for the (very) prompt and courteous help and assistance that I received during installation. This is one provider whose support you can truly rely on.
There loving this template, this is a beautiful theme even more so because the author actually answers the people who buy the template, unlike other templates I have purchased.
And i want to thank you for your very very fast support…
Best wishes and take care of oneself in hard times
I'm so pleased with the quick and courteous help I got from the designer on implementing this theme—plus, it looks fantastic. Our web team reviewed literally hundreds of templates before choosing the one that would be the backbone of our new website. This one was the clear winner, and we couldn't be happier! We'll recommend to anyone. Thanks!
I just wanted to thank themesmania for prompt support via email. I look forward to seeing more of your work very soon I hope!
Thank you for this template, same what I'm looking for, and has found it now, but it's above my expectations. Really many thanks for your time for designing the clean and elegant drupal theme.
This is the second theme I have bought from this developer and it is exactly what I expected after my first purchase. Support is stellar with quick responses and a solution is always available in the end. A very good theme and (most importantly) excellent after sales support. Highly recommended.
I've put a comment before, but I forgot to mention something important, "actually, you changed my view for Drupal and I am one of people who have used Drupal because of this template only, note that I am not an expert in programming, but I call all the designers who needs to highlight their work in the use of this template . Please let us see your creativity in Drupal in new templates.
I installed this theme and it has been working great! Any problems I've had during the installation, themesmania helped me work through almost instantly. Very responsive and professional! Installing it using the profile was great because it included a lot of modules I would have had to install anyway and saved me a ton of time. At the same time I've learned a lot about drupal just be seeing how things were setup. Worth every penny. I highly recommend the theme for both the design and the support.
just want to thank themesmania for exellent work and support! Themesmania helped me work through almost instantly. His themes (especially this) favorably for usability and price of the others. I have not seen so far many really good resources on Drupal theming like themesmania. I wish the author new excellent themes and many satisfied customers !
More thanks to themesmania for again taking time to give me after-sale support. That is huge in my book since the issue was not due to the theme and totally my fault. Excellent customer service – Thanks!
Thanks for a wonderful theme! Great design and good opportunities to adjust the page so it fits you perfectly! I had a few questions about the theme, and I got great response back in a few minutes! Incredible support!
Love this theme! I'm new to Drupal and had many questions about getting this set up. Themesmania was very helpful and quick to respond to my requests. Thanks for all your help!
Thank you themesmania, This theme is soo great. And your support is even greater !
Not only does this look great and have and incredibly configurable design, but the support was just awesome. Thanks!
Themesmania has been a pleasure to work with! I originally went somewhere else to purchase a theme and had the worst service possible! I then came here and was helped promptly and professionally. Thank you so much for the help, especially since I'm a beginner. The design is great too! I will definitely be back with other website themes!
As everyone else has expressed, I can't say enough good about the theme and creator. Excellent theme and outstanding support.
This is an excellent theme This is very helpful for people new in Drupal. We were able to customize the site easily. Great job themesmania!
Excellent theme for the money. Has a great interface and advanced features like a jQuery slider, nice touch. Also, support was excellent. We are a not-for-profit and it can be difficult finding support for these kinds of things, ThemesMania treated us great.
Great support, one of the best developers I have worked with. He sorted the IE problems (see my previous comment above) quickly and efficiently. Can't get any better, great theme coupled with a supportive developer.
Just had to say I absolutely love this theme and just purchased another one of yours (newest Simple Theme). Keep up the fantastic work and I look forward to buying more! I keep thinking of websites to make just to use use these themes! Also, wrote about this particular theme a bit in my blog, http://www.themecatch.com/articles/most-impressive-premium-drupal-theme, not intended as spam or source for hits. Ended up using another wonderful theme here (PixelCraft) for that website. Anyway I'm blabbing! Hope you don't stop making themes though, it'll sure make other companies doing the same for Drupal, bump up their quality~ Cheers, Jessica
Purchased! Glad to see your hard work building the template and your excellent support is paying off. Reading all the positive comments had a lot to do with me buying this. I have purchased many items on themeforest and for the most part developers give good support. Had a few disappear, but it looks like you have exceptional support. Keep it up and you will profit greatly.
Thanks themesmania. Pretty impressive your knowledge of drupal. Really good. One of the best Drupal developers with whom I had to do. Very accurate and helpful. Thanks.
Themesmania just went above and beyond support. He got on my site and fixed something I was trying to create. I will be purchasing another template tomorrow when I start on my next Drupal site for the support alone. Can't recommend him enough.
Very Nice Theme! I am new to Drupal and am working on rebuilding our company's existing website using Drupal. Started off with Drupal 7 in January and purchased this theme hoping that modules and such would get updated quickly as well as the theme. Well, I've now realized that it's gonna take longer for all that to happen, so we have decided to use Drupal 6 for now. I installed the City Magazine theme this week and had just a couple of challenges, all of which were due to me being a Drupal Noob I think. I contacted themesmania for help and they got back to me in a timely manner and helped me get things resolved. It is great to get such good support for a great theme, especially when you are new to all this Drupal stuff. Thank you for creating and supporting this excellent Drupal theme! Keep up the good work.