Portfolio of Tommy King
Thank you for your interest and please follow!
Do you offer any support or modifications on your files?
Yes, I do and would be certainly happy to discuss on any modifications. Just fill out the form to the right of my profile page with your question and I should get back to you within 1-2 business days (EET).
What is the easiest way to reach you?
The form at the right on my profile page

Where to follow?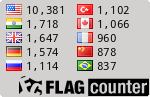 Public Collections
View All Collections