Hello, we are Themes2go
We are a young and dedicated team of designers and developers totally committed to WordPress, with a huge love for quality web design and great attention to usability and functionality. Our first objective is the satisfaction of our customers because we aim at building a long-term relationship based on trust with all the private customers and agencies using our WordPress themes.
Need Help?
What's new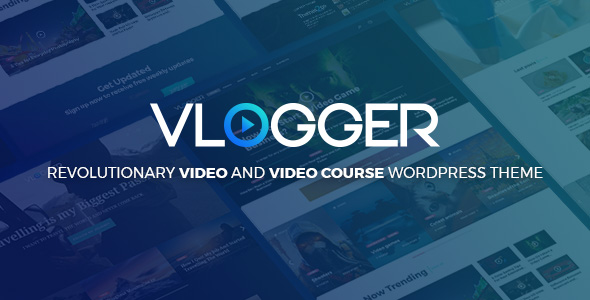 Vlogger is the perfect Video WordPress theme for YouTubers, Video Tutorials, Online Courses and video blogs. A premium template to monetize every type of video content, from fun videos to professional tutorials.
Our WordPress themes
Our professional background comes from a 15+ years experience in the freelance web design environment, so your needs as a web designer, agency or private customer are a key factor of our projects. In this epoch where a number of themes in the market keeps rising, we feel that still something is missing: a new series of products easy to install and configure, powerful enough to fit all the needs of a certain niche, but free from the bloat of code and options of a typical multipurpose theme.
We know very well the modern work environment where agencies and freelancers are working nowadays, where customers often have small budgets and the work needs to be delivered on time and respect certain cost boundaries. For this reason, our WordPress themes development always starts with a deep market research to extract all the key factors of the most successful websites in a certain niche, and with our WordPress themes we want to provide all the tools you need for your website, without struggling among thousands of plugins, compatibility issues and installation problems.
Our themes are what you need, right now, without hassle, and with a good grade of design customizability, so that your website can be built in no time and without incurring in the typical problems of generic themes. This new brand, Themes2Go, stands exactly for this: a cost-effective product ready to use, already including all the special functions you need.
Why you will love us
Our long-term objective is to become a point of reference for all the web agencies and freelance web designers looking for an effective and reliable way to satisfy their customers. To achieve our objective, our WordPress themes are very tight to their niche, rich of specific complementary functions, fast and easy to customize. Making a website with a "Themes2Go" product means saving time and installing quality. Our customer support will help you with blazing-fast response times, and all our software are created to drive you from the first steps to the final result with ease. Once you try our products, you will choose them for every new project, because making a website has never been easier.
Marketing approach
Aesthetic isn't everything, as you know that building a website has one main reason: making money. That's the way we always start from a win-win approach that is helping your customers to find new customers. To achieve this, our WordPress themes are designed with a strong marketing concept in mind and includes all the tools needed to properly showcase your services and product, attract new visitors and increase revenues. You may find other themes with thousands of functions, but this just means spending lot more time looking for what you need, while we provide exactly the tools that your website requires to become a perfect selling machine.
Hot now
Public Collections
View All Collections