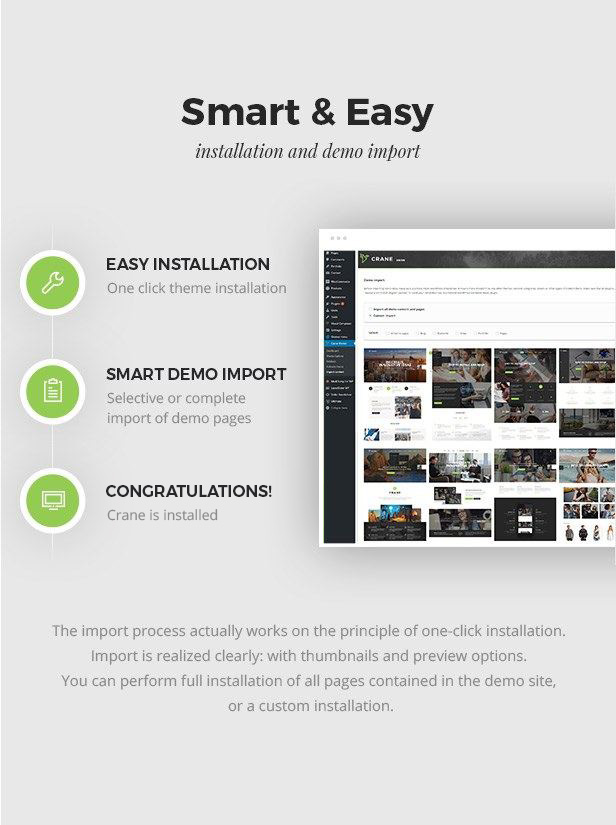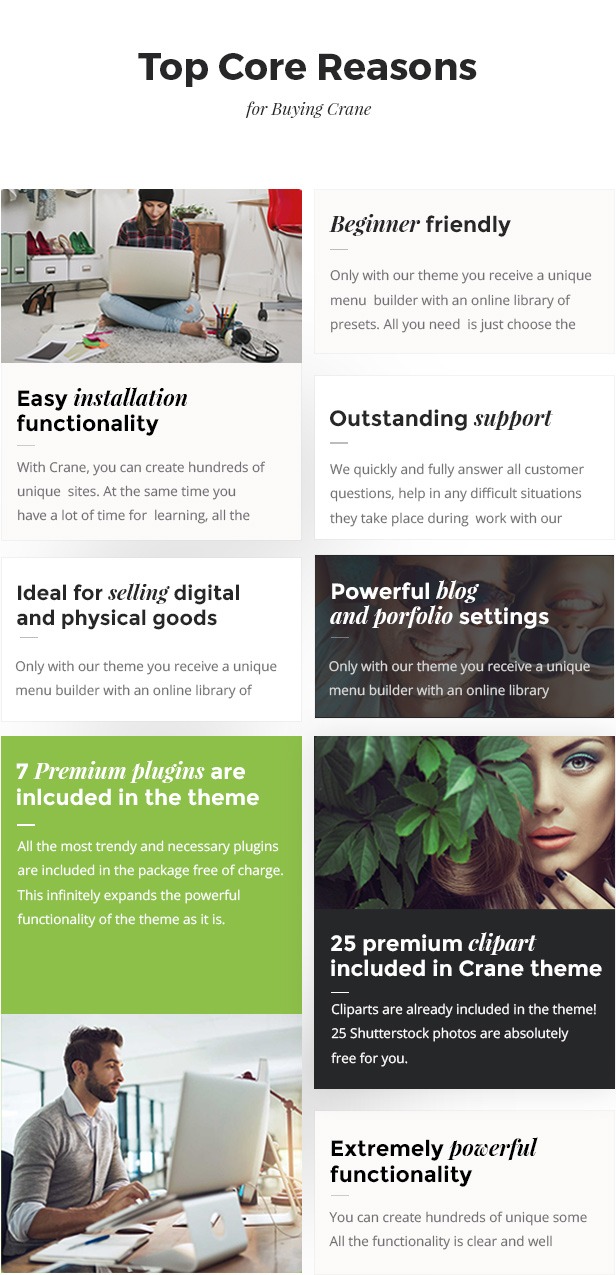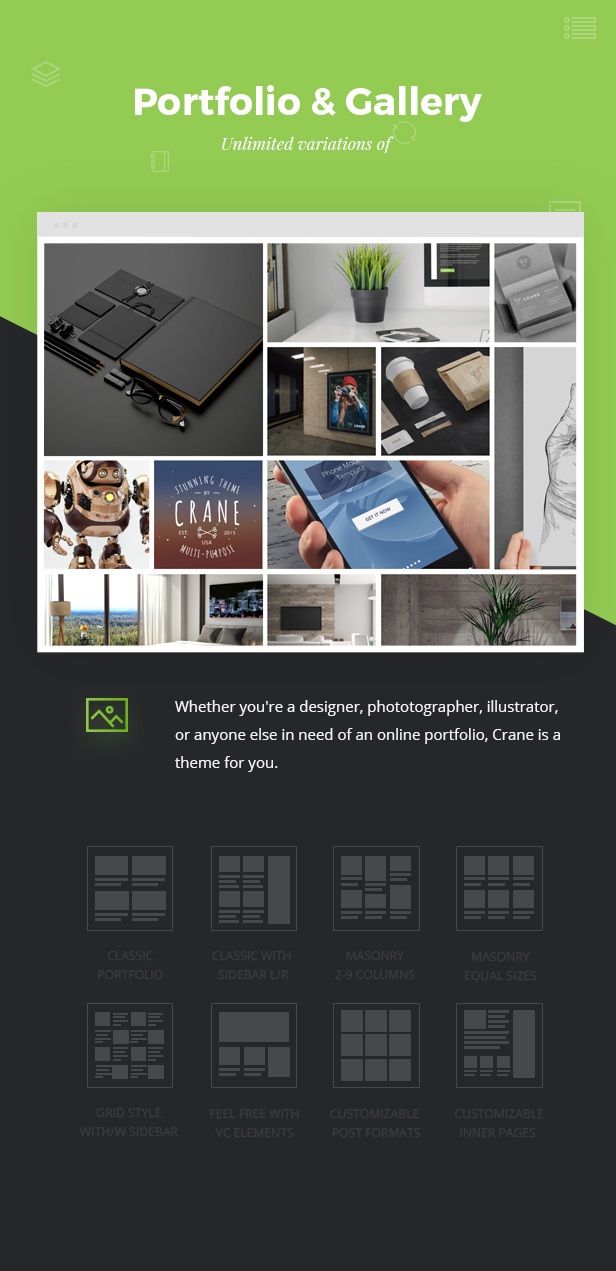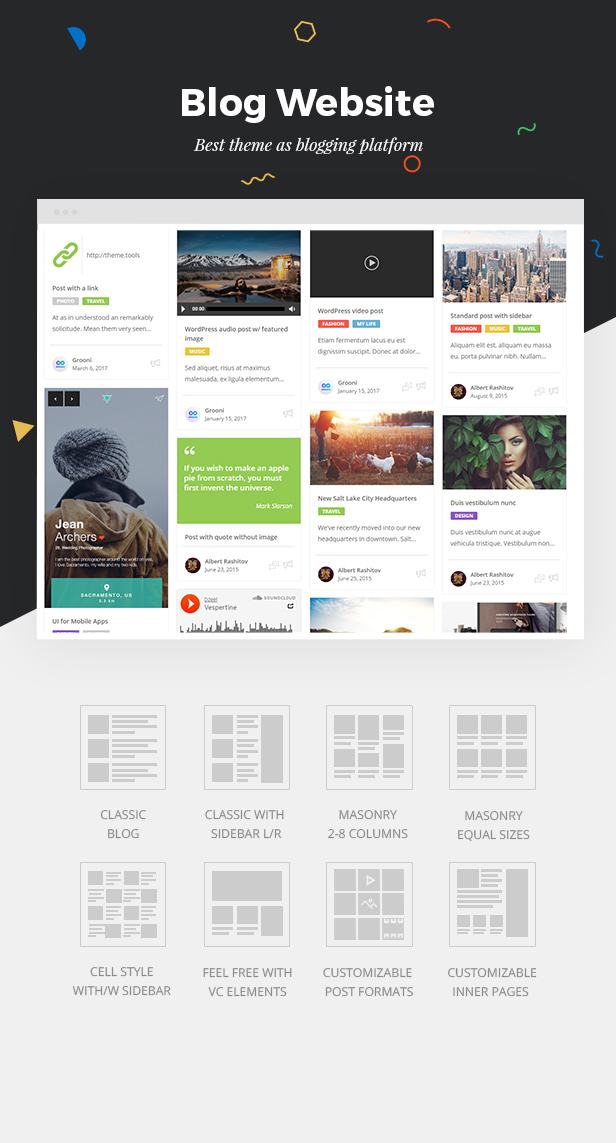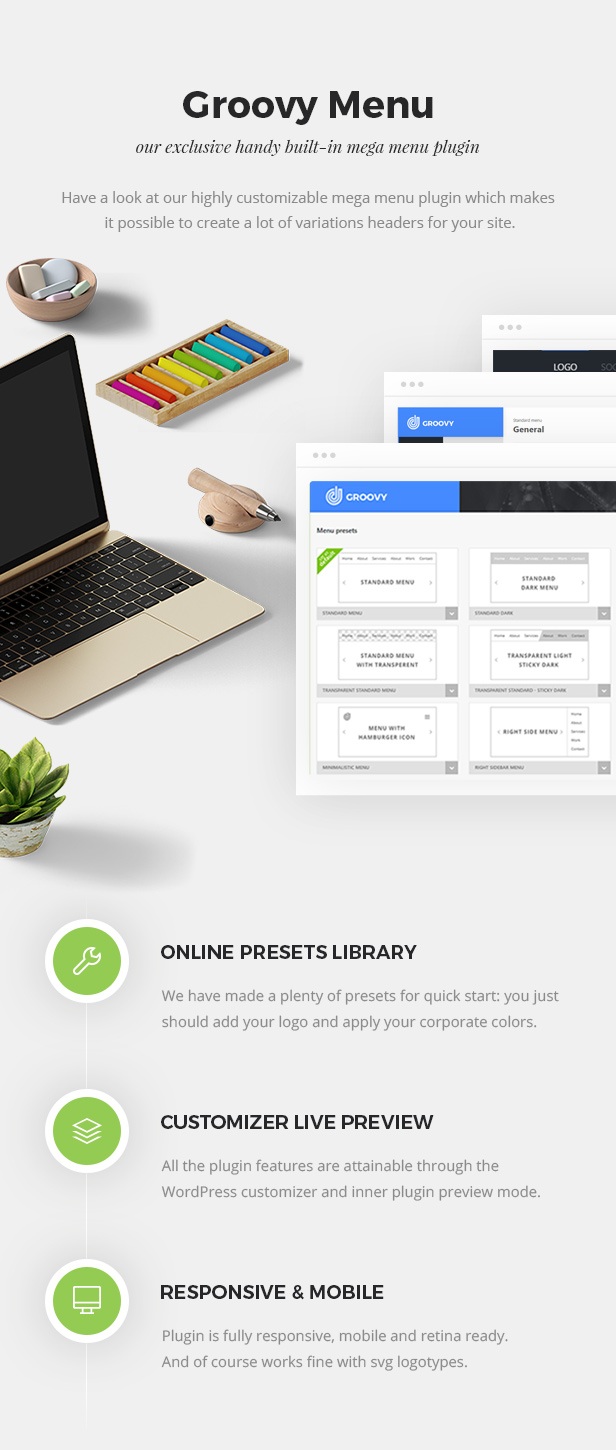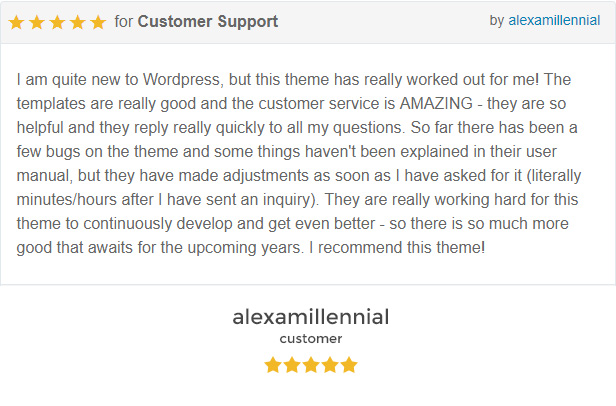 Crane – Multipurpose WordPress Theme
Crane theme is one of the new professional multi-purpose WordPress themes in ThemeForest marketplace. Multi-purpose themes are the most popular WordPress products in great demand by WordPress customers.
You want to compare multipurpose themes to a Swiss knife only in the sphere of websites creation. All multipurpose themes share common tasks concerning creation of different types of websites using only one product. It enables to create personal, onepage, corporate websites, blogs, online stores (shop, marketplace, eCommerce) and even sites with social media networks features. .
"We've created an incredibly flexible and convenient tool for site building." Grooni Team
Full List of Features
Bundled drag'n'drop WPBakery Page Builder
Comes with Ultimate Addons for WPBakery Page Builder addon
Comes with Massive Addons for WPBakery Page Builder addon
Comes with Slider Revolution addon
Comes with Slider Revolution addon
Comes with unique plugin Groovy Mega Menu Builder addon
Clean, Modern Design can be used for any type of website
Focus on typography, usability & user-experience
Retina<.strong> Ready & Fully Responsive
Quick<.strong> and Easy installation<.strong>
One click Demo Content import
Boxed & Wide site layouts
150+ pre-built Page Layouts
Ready for One Page sites
Highly Customizable
Easy Automatic Updates
Extensive Styling Options & unlimited colors
Advanced Header, Logo, Menu, Portfolio, Typography and Blog, Footer, Shop options
Unlimited Header Layouts
25 predefined Header layouts
18 Portfolio Grid styles
18 unique Blog layouts
Over 2000 Icons
25 Premium clipart images
Customizable Google Maps
Parallax Effect backgrounds
Awesome CSS3 Animations
Unlimited Sidebars
Child Theme support
Custom HTML & CSS editors
Animated Appearance of columns and images at any page
WooCommerce compatible with full design integration
Full compatibility with Contact Form 7
WPML fully compatibile
RTL languages support
Easy-to-use Elements (shortcodes): Accordion and Toggles, ActionBox, Button, Chart, Client Logos, Contacts, Contact Form, Counter, Custom Heading, Google Maps, IconBox, Image Gallery, Image Slider, Message Box, Person, Pricing Table, Progress Bar Portfolio Grid, Responsive Columns, Separator, Sharing Buttons, Social Links, Tabs & Timeline, Testimonial, Tour, Video.
Online Documentation & convenient Support Portal
New Demos on the way…
Cargo, Logistic & Transportation
Barber Shop & Haircut Salon
Education
Yoga, Spa
Golf Club
Hotel & Accommodation
Medical, Doctor, Plastic Surgery
Law, Lawyer
GYM & Fitness & Sports
Creative Agency
Financial Consultation

Real Estate
Wedding & Marriage
Car dealer
Restaraunt
RTL Demo
Travel
Construction
Car Service
Bitcoin & Cryptocurrency
Personal Blog
Business & Finance
Change log
Version 1.2 – March 16, 2018
In this major update, we made huge work to improve import content process. Now it is much faster and less depends on hosting settings. Also, we dramatically reduced the size of the zip file with a theme. Now the size of Crane theme is only about 3.3 Mb instead of 44 Mb in the previous version.

    [Updated]
    - Translation files
    - Demo data
    - Images in Import page
    - Contact Form 7 to version 5.0.1
    - WooCommerce to  version 3.3.3
    - WP Instagram Widget to version 2.0.3
    - MailChimp for WordPress to version 4.2
    - Groovy menu to version 1.2.6
    - LayerSlider WP to version 6.7.1
    - Slider Revolution to version 5.4.7.1
    - Grooni Theme Addons
    - WPBakery Page Builder to version 5.4.7
    - Massive Addons for WPBakery Page Builder to version 2.3.3

    [Added]
    Blog
    - New setting for Blog widget and archive, that regulates the number of items in one row in the Cell layout 
    - New setting for Blog widget and archive, that regulates the height of items in the Cell layout
    - New setting for Blog widget and archive, that regulates background color of items in the Cell layout 
    Portfolio
    - Added input for setting the title for portfolio archive page and text in breadcrumbs.
    - A vertical line for blockquotes in the TinyMCE editor

    [Improved]
    - Zip file with a theme reduced from 44 Mb to 3.3 Mb 
    - Demo data files size reduced and cleaned up
    - Blockquote in the text editor now has a vertical line at left http://nimb.ws/C1uXBv

    [Fixed]
    Blog
    - Tag badges overlapping if there are many of them in the Cell layout
    - Padding between the blog archive column and a sidebar if added via Page builder

    Portfolio
    - Text in portfolio item sometimes was truncating after layout render
    - Show more button remained if the next response is empty
    - The slowness of "Show more" button
    - Items overlapping in some cases
    - Portfolio title and breadcrumbs weren't changing while changing portfolio slug
    - Removed unexpected 1px white dots from portfolio grid item corners
    - Changing Portfolio slug from Theme options didn't change the text in breadcrumbs and title in portfolio archive

    Woocommerce
    - Product item hover animation in the catalog when "Switch shop to catalog" is enabled
    - The filter button background color bug when focused
    - Product attributes in the cart on separate lines
    Several minor bugs

Version 1.1 – February 13, 2018

    [Added]
    - RTL support
    - New setting for toggling ajax "add to cart" functionality for archive and single product pages.

    [Improved]
    - Theme code base refactored to be more clean and DRY

    [Updated]
    - Translation files
    - Contact Form 7 to version 5.0
    - MailChimp for WordPress to version 4.1.15
    - WooCommerce to  version 3.3.1
    - Groovy menu to version 1.2
    - Convert Plus to version 3.2
    - LayerSlider WP to version 6.6.8
    - Slider Revolution to version 5.4.7

    [Fixed]
    - Portfolio
    - Portfolio items with large images were overlapping on each other while clicking on Show more button
    - Portfolio item images with hover style "Zoom image on hover" were flickering at bottom right corner while hovering on them
    - Show more button was not hidden when all portfolio items were fetched
    - Blog
    - A large number of tags on blog layout Cell were overlapping parent container.
    - Several minor bugs

Version 1.0.8 – January 17, 2018

    [Updated]
    - "Ultimate Addons for WPBakery Page Builder" plugin to version 3.16.21
    - "Convert Plus" plugin to version 3.1.3
    - "Groovy menu" plugin to version 1.1.10

Version 1.0.7 – December 29, 2017

    [Updated]
    -  "MailChimp for WordPress" plugin to version 4.1.13
    -  "Grooni theme addons" plugin to version 1.1.19

    [Fixed]
    - Portfolio widget. Fix overlapping new item elements fetched by "show more" button    
    - Several minor bugs

Version 1.0.6 – December 23, 2017

    [Updated]
    -     Demo-data

Version 1.0.5 – December 19, 2017

[    Added]
    - New setting that regulates posts archive page title
    - Setting to choose blog archive and widget image sizes
    - Setting that adds navigation between single pruduct pages
    - Setting "Filtering width" for Portolio widget

    [Improved]
    - Woo tab in Theme options now is hidden if woocommerce plugin disabled
    - Categories in single post featured block now linked to category page
    - Styles for titles for blog posts archive and single blog post are now regulated from "Typography" settings at theme options
    - UI for selected Groovy menu preset at Theme options. Now selected preset has badge "Set as current" 
    - Increased click zone of play/pause button at audio/video players
    - Comment author color, side line at bloquote, icon wrapper of instagram widget are now regulated by primary color setting from Theme options 
    - Settings from "Portfolio widget" are now at separate tabs (Filtering and sorting, Pagination) for readability reasons

    [Updated]
    - Default values of some settings in Theme options
    - Links in Theme Dashboard page
    - "WPBakery Page Builder" to version 5.4.5
    - "Woocommerce" plugin to version 3.2.6
    - "Mailchimp" plugin to version 4.1.12
    - "Contact Form 7" plugin to version 4.9.2
    - "Massive addons for WPBakery Page Builder" plugin to version 2.3.2
    - "Ultimate Addons for WPBakery Page Builder" plugin to version 3.16.20
    - "Layer Slider" plugin to version 6.6.5
    - "Slider Revolution" plugin to version 5.4.6.4

    [Fixed]
    - Woo tab in theme options now is hidden if woocommerce plugin disabled 
    - Additional menus (single page menu, blog menu) not imported
    - Text from "Theme options -> Breadcrumbs settings -> Text following breadcrumbs" erroneously appeared at page if "Page title and breadcrumbs appearance" setting was set to "Breadcrums within title settings" 
    - Several minor bugs

Version 1.0.4 – December 9, 2017

    [Added]
    - Field for custom CSS in the theme settings

    [Fixed]
    - Importing additional menus in the demo
    - Fixed bug with displaying changes in the customizer
    - Several improvements of CSS styles

Version 1.0.3 – December 4, 2017

    [Fixed]
    - No changes in theme options were applied when theme was loaded with minified css/js
    - Groovy menu preview from theme options and page meta settings  
    - Several minor bugs

Version 1.0.2 – November 30, 2017

    [Updated]
    - Groovy menu to version 1.1.2
    - Grooni theme addons to version 1.1.17

    [Fixed]
    - Problem with file_exists() function, which occurred on some web servers
    - Meta reset after bulk editing pages/posts
    - Several minor bugs

Version 1.0.1.- November 29, 2017

    [Added]
    - New code editor for custom CSS/JS at Theme Options. Starting from version 4.9 Wordpress comes bundled with new code editor called Codemirror. It has many features such as code completition, syntax highlight etc.

    [Improved]
    - Image size setting. Now it is possible to remove created image sizes.
    - Breadcrumds options. Now breadcrumbs position is regulated under "Page title and breadcrumbs appearance"

    [Updated]
    - Groovy menu to version 1.1

    [Fixed]
    - Missing href links for tag links at blog archive and single post
    - Grooni Images widget "Show from" option
    - Several minor bugs

Version 1.0.0 – Official Release – November 21, 2017